On September 1, at an event hosted by The WEEK and Mojo, an exuberant Kanagana Ranaut gripped her audience in an animated, bare-it-all chat, where among other things, she spoke about her preference for freedom over a golden cage even if freedom meant being homeless. A fortnight later, as I watched her deliver a sizzling performance in Simran as Praful Patel—a Gujarati immigrant in the US—the resonance with the real Kangana was immediately established. Known as 'Praf' to her friends and colleagues, Praful Patel is a 30-year-old divorcee who is financially independent, ambitious, strongly non-conformist and ferociously guards her freedom, especially against her parents' frantic efforts to get her hitched a second time.
Packaged and presented with a mix of love, emotion, drama and casual humour, Simran has the female protagonist at the helm and revolves around her idiosyncrasies. Employed as a housekeeper in Georgia where she lives with her parents in a middle class household, Praf gets drawn to a life of crime after her tryst with gambling at a Las Vegas casino. One bad turn leads to several more and soon she finds herself in a tight spot, slapped with a debt that rounds off to $50,000. Her dream of buying her own house comes crashing down and with her pockets empty and life under threat, she is driven to bank robbery. As her criminal misdemeanours continue, the media labels her as the lipstick bandit.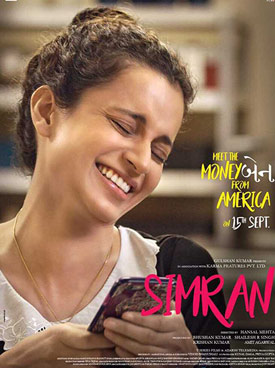 Simran is a light-hearted film, with humour that tickles your bones—a chirpy Praf with her modest earnings bargains for a ten dollar hat or sheepishly opts for beer and peanuts as against pink champagne at a high-end casino, she makes you want to relate to her and fall in love with her. Hansal Mehta has given us a very different kind of a film, especially in comparison to his style of cinema which is mostly based on real tales of marginalised section of the society. However, what beats logic is that the film is named Simran, but there really is no Simran in the story, except for a passing reference to the 'ja Simran ja, jeele apni zindagi,' scene from Dilwale Dulhaniya Le Jayenge that shows up. The songs in the movie are so baseline that they are easy to forget. Also the Gujarati accent thrown in by the cast isn't exactly believable.
At some point, one can relate Kangana to her role as Rani in Queen, especially when she breaks down as Praful in the casino, upon having lost all her savings she had put together for the house and also when she dances with abandon at her cousin's wedding.
In terms of supporting actors, sadly, none of them make a lasting impression. More so, as Simran is undoubtedly a one-woman show.
Yet, it is definitely a must-watch if you enjoy light-hearted dramas, especially with the all-encompassing charm of Kangana who is a pro at handling varied emotions beautifully on-screen.
Movie: Simran
Director: Hansal Mehta
Cast: Kangana Ranaut, Mark Justice, Hiten Kumar, Manu Narayan, Esha Tewari Pande, Kishore Shahane, Soham Shah
Rating: 3.5/5