I am a regular on social media. In fact, I go online during the time I get at airports, before the start of my training, while going for a massage and, of course, before hitting the bed. However, I mostly (99 per cent) check only my account, and hardly reply to posts, except to comments which I feel are important.
I must confess that I am fond of posting my selfies taken at stadia, airports and monuments I visit (usually with my parents) such as the Taj Mahal, Tokyo Tower and the Eiffel Tower. My pet dog Chopsy and the flowers in garden, too, are regulars.
I love posting my photos with a background, too. For instance, now it is Christmas season, so I post pics of celebrations or, say, decorations at airports or hotels (I think people enjoy all these).
My Facebook, Twitter and Instagram accounts are taken care of by managers at the Olympic Gold Quest or the sports management group IOS. If somebody gets nasty, they deal with it.
Quite often I check how quickly I get 'likes' and comments from well-wishers. Interestingly, I get over a million likes when I meet our political leaders or film actors; I get around a few lakh likes on winning matches, or for snaps from monuments or foreign landmarks. I thoroughly enjoy it.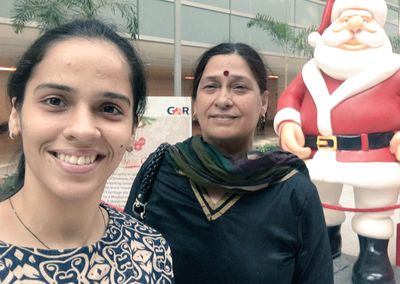 Sometimes I think social media is my means of recreation. And I should thank my well-wishers for their love and encouraging comments. That is what motivates me to be on social media.
In a way, social media is my primary way of mingling with people amid my busy schedules. It is a means of sharing, and it helps me judge my popularity.
For clicking pics, I mostly use my or my father's mobile cam. Sometimes I get upset when my father casually gives away his old mobile to one of his well-wishers and buys a new one. All the photos and memories in that phone go in a jiffy!
On the flip side, there are issues such as trolling and intrusiveness. I don't take trolls too seriously—I, in fact, enjoy some of them, taking them in the right perspective. Intrusiveness, meanwhile, is not fun, and I ensure I am insulated from intruders. I never interact with strangers or get into debates and discussions over issues.
Till now I have not had to protect myself with a firewall, and no one has ever hacked my accounts. Thus, I look at only the positive side of social media, and my ignorance in this case goes in my favour. Since I see all people as 'good', they also react in the same way.
I use my Twitter account for my satisfaction and for others to see me with my favourites—never to hurt or mock anyone. I recently gave daily accounts during the 15 days I played in China, Hong Kong and Macau, from mid-November to early December. People loved it, I enjoyed it.
Recently I was branded 'antinational' for using a Chinese-made mobile, and I will be damned if I bother about it! I enjoy my time on social media for knowledge and amusement. And I only follow myself on social media!
editor@theweek.in