Last month, I was invited to Germany to complete the last leg of the Konrad Adenauer School for Young Politicians training programme. The fourth such since its inception, this programme, supported by the German government, brings together young Asian politicians on a common platform, who are then advised on nuances of a democratic political setup and given an opportunity to engage in a dialogue with politicians and policy-workers in the four countries they visit.
Although each country's circumstances and strengths differ, the exchanges we had with representatives from political parties, associations and institutes like the Urban Redevelopment Authority in Singapore, National League for Democracy in Myanmar and Christian Democratic Union in Germany, to name a few, not only educated us to build better ties with politicians across borders but also gave us ideas on how to improve civic facilities and development works in our own countries, and insights into how they historically dealt with political situations.
Nothing, however, matched up to the experience of meeting Joachim Neumann in Berlin. Neumann, a witness to the building of the Berlin Wall and an active escape assistant from East to West Berlin, was kind enough to show us around the remnants of the wall and share his story of breaking barriers for love.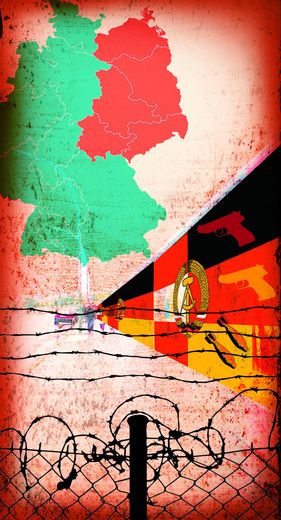 As a civil engineering student in East Berlin, Neumann risked his life and freedom while trying to flee to West Germany on someone else's passport, for a better life and "great jazz concerts", away from the requirement to sign up for the armed forces in East Germany. However, what made him keep coming back to the east was what he had left behind―his girlfriend Christa.
As he walked us through the streets on the East Berlin side, showing us the spots where the tunnels he helped excavate ended, he narrated the story of his involvement and contact with escape agents, with whom he worked for two years and six months, between April 1962 and October 1964.
While Neumann wanted to focus on his studies, the effort to get his girlfriend to escape to West Berlin took four tunnelling works that were prolonged―because of lack of communication facilities, his girlfriend getting caught by the border police and, eventually, their own efforts getting busted.
At this point of his storytelling, the young political group had lost hope of him having reunited with Christa. A Filipino delegate even quipped "oh, so sad" when Neumann told us about the police bombing their third tunnel. In October 1964, through what came to be popularly termed as Tunnel 57, his girlfriend finally escaped to West Berlin. The following year, they tied the knot.
Neumann went on to plan 60 tunnels as an employee of a construction company. He concluded his story by stressing on the importance of perseverance and focusing on the objective at hand.
The take-home? No tear gas shell, flooded tunnels or armed border police could stop him.
An amateur (and illegal) tunnel digger ended up contributing towards the infrastructure development of one of the better cities in the world.
The 75-year-old Neumann himself thinks "there is nothing too great" about his repeated efforts to get to his girlfriend or the two-and-a-half-year wait. Christa Neumann died five years ago after battling cancer.