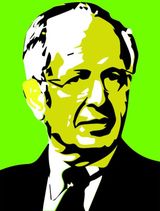 Prime Minister Narendra Modi has the right approach to release the productive capacity of the Indian economy. The problem is not finding more money to invest in India's growth story. Investments will come from domestic and foreign sources, provided they can yield good returns. Investments in new projects have been stuck too long. Public investments in the social sector have also not been producing the required outcomes. The causes in both cases are bottlenecks in execution, created by contentions among stakeholders and poor coordination among agencies. When the Twelfth Plan was being conceived in the Planning Commission, investors suggested that there should be a moratorium on laying new foundation stones. Just put finishing stones for the next few years, they said.
Some bottlenecks are at the Centre, but most are in the states (and districts and cities). Therefore, the approach of competitive federalism to motivate the states to make improvements, adopted by the prime minister, is the right one. The problems of coordination among agencies will be reduced by pressure for performance from the top, and with systematic followup. The PM himself is setting the example. And, several chief ministers are setting up their own programme management offices with assistance from professional agencies.
The 'total factor productivity' of the Indian economy must be improved. It is conventional to measure the productivity of enterprises and nations in terms of output per unit of labour. Therefore, productivity can be improved by employing less labour. However, India must employ more labour in production activities because India's large population of youth must be engaged in such activities, otherwise there can be huge social and political problems. The government's emphasis on skill development is right. But it will fail if more productive jobs are not created very fast.
India needs more productive and internationally competitive enterprises to create more jobs. For this, enterprises in India must improve their 'total factor productivity', not merely labour productivity. And to achieve this, there must be greater cooperation of employees and managers, and more cooperation with other stakeholders, too.
If there is one caution that one may suggest to leaders at the Centre and in the states, and also to industry leaders, it is this: Do not try to ram down change. Seek cooperation of stakeholders. Win their trust. India has democratic traditions and institutions; they give us high standing in the world. Whenever cooperation of stakeholders is not obtained while implementing projects or managing enterprises, or there is any sense of unfairness, stakeholders can react, by public protest or through court. Then bottlenecks will arise, reforms of laws will stall, and investments will slow down.
Modi seems to have anticipated this. Therefore, he abolished the Planning Commission and created a new NITI Aayog to replace it. The charter of the NITI Aayog requires it to promote good processes for cooperation among stakeholders, for bottom-up planning, and for cooperative federalism. The Planning Commission was focused on 'allocations'. The NITI Aayog is required to focus on the development of cooperation systems. Good cooperation systems will improve India's total factor productivity.
Maira is a former member of the Planning Commission.