Contemporary history has not been very kind to Manmohan Singh. The former prime minister himself had indicated this towards the fag end of his ten-year-long tenure. His cabinet colleague Salman Khurshid writes in a new book that many people argued after the humiliating defeat of the Congress in the Lok Sabha elections in 2014, that the electoral outcome would have been different if Pranab Mukherjee had been appointed prime minister in 2004 instead of Singh.
The book, The Other Side of the Mountain, chronicles the ten years of the UPA government, and deals in detail with the no-so-flattering perception about Singh, both inside and outside the Congress.
Khurshid writes that the selection of Singh over Mukherjee, who was the seniormost Congress leader, came as a surprise. However, he strongly defends Singh's performance as prime minister and tries to dispel the notion that he was not free to take decisions and that these were left to party president Sonia Gandhi.
"If good health continues to bless the man who led us for ten eventful years, he will certainly become the voice of the conscience of the nation in the years to come. Perhaps it was difficult to hear him in the noise and din created by the BJP in the last three years of our government, but the commotion must die down and the dust settle at some point," notes Khurshid.
He writes that Sonia was fastidious about protocol and courtesies, and that she would not have preempted any decision that was to be taken by the prime minister. "In fact, whenever I sought her intervention on any important matter, her advice to me was inevitably to take it up with the prime minister," he writes.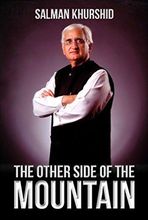 Chronicling the decade, Khurshid presents an analysis of the factors that led to the downfall of the government, including the allegations of corruption, Narendra Modi's aggressive campaign, and the street protests carried out by India Against Corruption led by Arvind Kejriwal. Khurshid reveals that he had a secret meeting with social activist Anna Hazare in Pune in June 2013, in order to reach a resolution on Lokpal, and that it subsequently led to a split between Hazare and Kejriwal.
The Other Side of the Mountain
By Salman Khurshid
Published by Hay House
Price Rs 699, pages 416