"He was not the kind to give up hope. My brother was not a coward. With this act, he was just setting an example" - Raja Vemula, Rohith's brother

"We want to take the movement forward. We do not want to project ourselves. We will stand by the students till they get justice" - Radhika Vemula, Rohith's mother
More than two months after his death, no one still knows why Rohith Vemula killed himself in a hostel room in the University of Hyderabad. When his mother, Radhika, called him home to Uppal near Hyderabad for Makar Sankranti, on January 15, he said it would be difficult for him to come. She then called Sheikh Riyaz, his best friend who is a medical representative in Guntur district, where the family used to stay earlier, and asked him to speak to Rohith. Sheikh was persuasive; Rohith said he would visit the family on Sunday. That was the day he took his life.
The university had stopped paying the PhD student his monthly stipend of Rs 25,000 in July last year, allegedly because he was raising caste-related issues under the banner of Ambedkar Students Association. In December, following a clash with members of the Akhil Bharatiya Vidyarthi Parishad, five dalit scholars, including Rohith, were suspended from the university and expelled from the hostel.
The campus clash became a huge issue when Union Minister of State for Labour Bandaru Dattatreya wrote to the university and to Human Resource Development Minister Smriti Irani that the university had become a "den of casteist, extremist and anti-national politics", and sought action against ASA members.
The five students approached the High Court against the suspension and the hearing was set for January 18, a day after Rohith hanged himself from a ceiling fan.
"His voice was strong and he seemed normal," says his brother, Raja. "I know him. He was strong and clever enough to solve any problem and he was not the kind to give up hope. My brother was not a coward. With this act, he was just setting an example."
Since Rohith's suicide, Raja has not gone back to his job at the National Geophysical Research Institute in Hyderabad. When he went to Delhi for a protest march in February, Chief Minister Arvind Kejriwal got in touch with him. "When we were in Delhi for the Chalo Delhi campaign, Arvindji offered me a job," says Raja. "I was planning to do my PhD after Rohith finished his, so that there would be one earning member in the family."
Radhika, now left with one son and a daughter, promises to follow Raja wherever he goes, even to Delhi. As a mother, she was demanding and often emotional. If Rohith did not call her every two days, she would call him, nearly weeping. If he did not visit home in Guntur for more than two months, she would tell him she was all set to take a train to Hyderabad.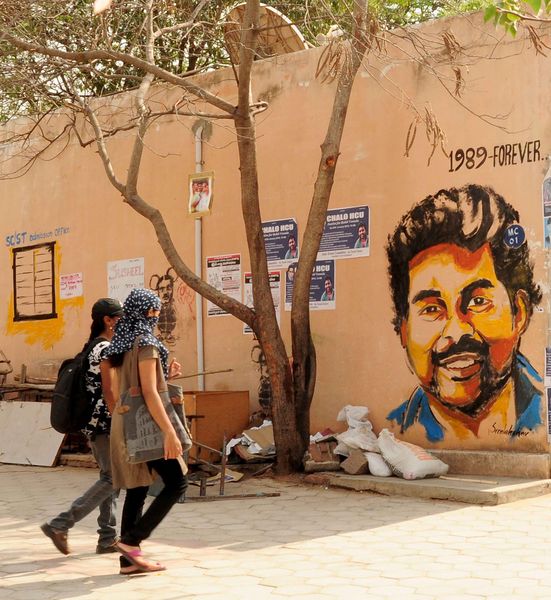 Rohith would come home, when time permitted, and "he would always have a Milkybar for me," says Radhika, with a smile. If not the chocolate, he would bring a packet of cookies; he never came home empty handed. "There were days when we did not have two square meals," says Raja, matter-of-factly. They would use a packet of pickle, which cost Rs 3, for two days.
As teenagers, the brothers worked part-time during summer vacations. Rohith worked with catering firms and Raja as a daily wage labourer. Their mother had a sewing machine and she stitched women's clothes. "We were definitely aware of our economic situation," says Raja.
When Rohith was two, his father came to know that Radhika was a dalit, a fact that his grandfather had hidden from him at the time of marriage. He became physically abusive and left the family. Their relatives, too, stopped talking to them. "The irony is that though we are proud to be dalits, Rohith's caste is being questioned because he forgot to mention the sub-caste Mala in his admission form," says Raja.
Among those who were suspended along with Rohith, Dontha Prashanth, who is doing his PhD in economics, has become well known for his presence on television debates, whether to berate Smriti Irani or to defend Rohith's caste. "I miss him a lot. He was my companion," he says. "We all felt lonely in the beginning because we had no friend circle. We slowly formed a group based on our similar socio-economic background."
HE SAYS THE humiliation was a slow process. "There is a definite alienation in the initial stages, when we realise that it is difficult to percolate into these [social] circles," he says. "At that stage, one needs a fraternity, a feeling of solidarity."
He says he came to the campus with a shirt, a pair of trousers and chappals, all of which together cost Rs 500. "If I were to sit and compare all this, my life would be doomed," he says.
Rohith, too, was grounded and was not bothered about his lack of wealth. But, when the university stopped giving him his stipend, the five felt that the entire world was conspiring against them. "He might have felt there was no way out," says Prashanth.
To protest their expulsion from the hostel, the students slept outside, near a shopping complex, in the middle of winter. "We had a lot of supporters and friends who showed solidarity, but imagine getting up every morning in the open," says Prashanth. "What was tragic was that our rooms were locked on January 1, even after the university knew that we, too, had gone to court. And though Rohith had written a strongly worded letter to the vice chancellor on December 18, no action was taken by the authorities."
Prashanth says Rohith often wondered why vice chancellor Appa Rao did not ask about them or talk to them. When the Joint Action Committee for Social Justice—a group of university students—met Rao on January 15, he said he could do nothing. "That must have been the trigger," says Prashanth.
On January 24, Rao, who has been accused of abetting Rohith's suicide, went on leave. Nearly two months later, when he resumed office, on March 22, several students attacked his office and lodge, and destroyed furniture. They said they did not want him back.
For Rohith's friends, the suicide was a double blow. They lost their close companion and lost precious time to work on their projects.
Rohith's family, however, has stopped crying. Their strength, perhaps, comes from the belief that they have been wronged. Radhika is determined to get justice and says no mother should get a shock like this.
Last year, Raja and his mother had left Guntur for Hyderabad and had found a house in Uppal. Rohith went to see them on December 29. "His favourite meal was chicken with chapatis and I would make it whenever he came home," says Radhika.
Recalling their childhood, Raja says Rohith was the mischievous one, and he the fall guy. "He was my inspiration, my guide and, most of all, my good friend," says Raja. "Where is the time for us to mourn? Since his death, we have been moving from place to place."
About half a dozen books have been written on Rohith; Radhika has helped release them all. "We want to take the movement forward. We do not want to project ourselves," she says, keeping her emotions in check. "We [came to know] about all this after Rohith's death. Vice chancellor is like a father to the students. He should be punished for not doing his job. We will stand by the students till they get justice."
Raja says the investigation is not proper and that his phones are being tapped. "They are not investigating my brother's case, but are more interested in our caste details and are wasting time. Caste discrimination has to stop," he says. "At least in universities," he adds hesitantly. "We also want a Rohith act to be passed, which would mean more transparency in investigation and administration while dealing with dalit students."
Says Radhika: "With this act, Rohith's name will survive and other mothers will not suffer. I will also feel that Rohith is around."
She wants to return to Guntur—a place where they are ostracised and humiliated, especially by relatives—as she believes Rohith died because she shifted to Hyderabad.
Days after Rohith's death, the executive council of the university revoked the suspension of the four students. But it was too little, too late.