A war memorial stands tall, facing the lake. At the foot of this structure, a small room is being built, where retired soldiers can gather. A cool breeze blows over the lake, which will play a more important role soon, with a running track set to be laid around it.
The track is part of a development plan for Madhavaram village—65km from Eluru, in the West Godavari district of Andhra Pradesh—where it is a matter of pride for every family to have at least one soldier. One couple has, in fact, sent all four of its sons to the military. 
"On an average, at least 75 boys join the Army and 40 men retire from it each year [from this village]," says Manikyala Rao, a villager. Most of them who opt for military service from this village belong to the Kapu community, but caste is not a dominant factor here. Though the Kapu community is now chiefly agrarian, there was a time when they were soldiers. They gained reputation when they took part in the famous Battle of Bobbili on January 23, 1757.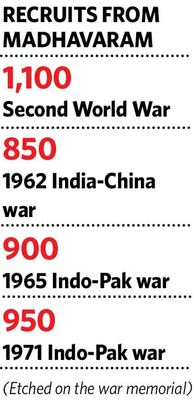 There is an interesting history behind the formation of this village. The Nuzvid zamindar family of this region had gifted the village to one of its fierce soldiers, Vempalli Madhav Rao—hence the name Madhavaram. And, with its record of sending men to the military, it has earned the sobriquet 'Military Madhavaram'. 
After retiring, the ex-servicemen often get together and discuss their experiences. All of them are fluent in Hindi, having picked up the language while on duty. They recently printed a book on the history of their village.
The saying "Join the Army and go places" was more than true for Bollam Veeraiah, who retired as a captain in 2009. He served in Jammu and Kashmir, Nagaland, Manipur, Sri Lanka, Kerala, Tamil Nadu, Sikkim and Hyderabad, and is currently the president of the ex-servicemen's association. He joined the Army at 17 and retired from the 19th Madras Regiment, having served the nation for 28 years. He reminisces about his Army days, but the memory of losing his comrade-in-arms Harihara Kondal Rao, in a mine explosion in Sri Lanka, saddens him. 
Former sarpanch and ex-serviceman Tamisetty Adinarayana says, "My grandfather joined the Army and we just followed suit. There were no doubts on our minds, as it was for desh seva." 
Neighbouring villages have also started sending their boys for desh seva. "Earlier, we used to have recruitment in the village, but now things have changed and we have to go to Eluru," says Veeraiah. Citing their history, the village leaders wrote to the Union government seeking military recruitment in the village. They also requested  granting of national status to the monument they revere.
"This is the only war memorial in both Telangana and Andhra Pradesh," says Veeraiah. They also asked for a gym and a running track around the lake for the boys to train. The defence ministry has agreed to set up an Army training centre and other related projects. Bharat Dynamics, a public sector weapons manufacturer, is set to spend Rs 11.37 crore to this effect.
"Every boy here dreams to be a soldier," says Veeraiah. "It is only after that that we consider other professions."