It looks like any of the many small eateries in south India, known for their homely food and plain settings. The Ramakrishna Naganna Hotel in Kusumanchi village, 20km from Khammam in Telangana, is hot and stuffy. It has plastic chairs and tables, hungry occupants and a ceiling fan that spins furiously, trying to provide respite from the unbearable heat.
The vistaraku (a plate made by stitching together dried leaves) tries to fly off the table, but is soon stabilised by the many dishes. The waiter carries the dishes, four at a time, in stainless steel cans that have been joined at the centre. He makes five rounds as the restaurant, since its inception in 1995, has always served 22 items―sambar, curd and 20 different curries.
"Back then we charged only Rs10 per meal," says Ramakrishna, the owner of the restaurant. The price was raised to Rs20, then Rs50 and is now Rs70. The cost of making one meal, Ramakrishna says, is Rs50.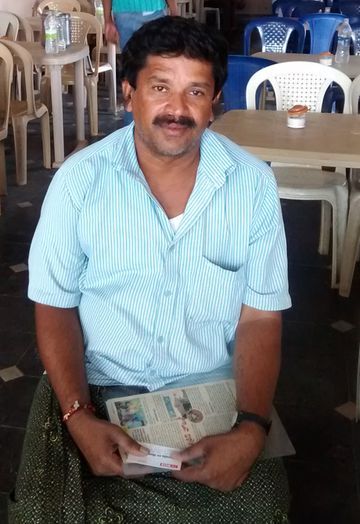 His wife, Maniamma, cooks and he does everything else. They have five helpers in the kitchen and his son and son-in-law have recently joined him at the counter. "I have never reduced the number of dishes," he says proudly. "Sometimes it is a little difficult, but there are always permutations and combinations. At times, we will make a 'fry curry' of the same vegetable or add tomato to change the taste. There are not too many changes in the quantity of rice and milk, but the fluctuations in the prices and availability of vegetables are a bit too much."
The restaurant offers breakfast, but the busiest hours are from noon to 3.30pm, when lunch is served. Tea is then served till 4pm, when the restaurant closes for the day. Ramakrishna also caters for weddings and cooks non-vegetarian food on request.
He owns six acres and uses four to grow rice and two for vegetables. He gets milk from his six buffaloes. The restaurant needs about four quintals of rice a month, most of which he gets from his fields. "We break even and I manage to feed a couple of hungry people every day from the 100 meals I prepare," he says.
Before opening the restaurant, Ramakrishna, Maniamma and their four children―two boys and two girls―were in Paloncha, where he was a coconut vendor and ran a tea and tiffin centre. When his younger brother died in an accident, Ramakrishna decided to shift to Kusumanchi.
"We get a lot of curious people who do not believe that anyone can serve 22 dishes with one meal," says Ramakrishna, whose fame has spread mostly by word of mouth. "There are people who have heard about us from someone who has eaten here and there are others who have read about us. Quite a few of our NRI patrons tell us they had read about us. We have been covered on television channels also."
About seven years ago, a Telugu television channel invited him to attend a programme. "I was sitting with eleven famous, well-read people and they felicitated me. It was a very humbling experience," he says.
His moment of glory, however, came when former chief minister N. Chandrababu Naidu visited him while on a padayatra. "I was standing there with some cups of tea, when he came and asked me if I knew the man who served 22 dishes with every meal. I told him it was me and he said, 'let us sit and talk'."