Rohit Malhotra wanted to give his burgers a twist. Restaurants often meddle with the filling of their dishes, but the business head of Barcelos India decided to play with the appearance of the bun. He came across black-coloured dishes on the internet, and wanted to give the bun a similar look.
After researching ways to add colour to food, Malhotra finally settled on adding activated charcoal to the batter. In May 2015, Barcelos India introduced the black burger in India. While the black bun was Malhotra's brainchild, other eateries, too, started experimenting with this unusual ingredient.
Anshdeep and Yashpreet Singh of Creme Borne saw a picture of black ice cream on the internet and wanted to replicate it. "Primary synthetic colours contain carcinogens that can disrupt cellular metabolic processes. So, we decided to use food-grade activated charcoal," said Anshdeep.
Their brand does not use premixes to make black ice cream. They combine milk, cream and cookie batter, and add activated charcoal in the final stage.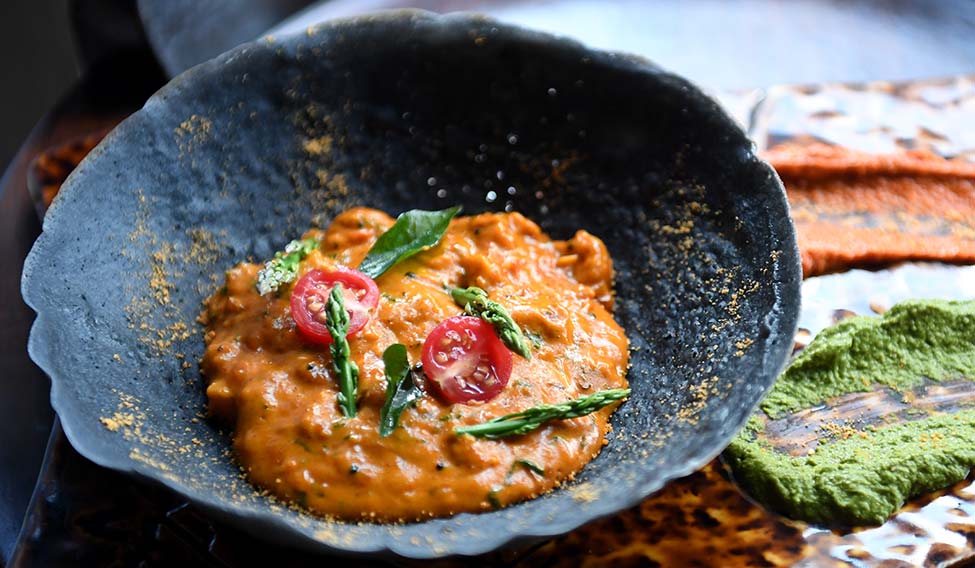 Activated charcoal is odourless and tasteless. It is made by burning coconut shells or wood to extremely high temperatures. Restaurateurs and chefs usually purchase the finely ground powder from a certified vendor, as it is difficult to produce.
In Mumbai, TAPPA's corporate chef Gurpreet Singh dilutes it with water, and uses it in tandoori kebabs. TAPPA's kebabs are a mix of chicken, activated charcoal, herbs and chillies. In the west, restaurants get the black hue through squid ink. But, squid ink leaves a strong aftertaste and is also a problem for vegetarians, says Singh.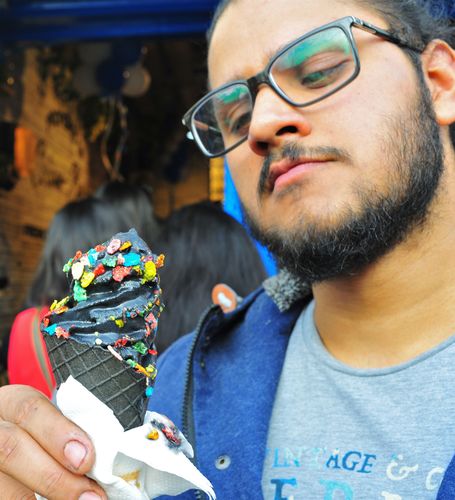 Sombir Choudhary, outlet chef of Farzi Cafe, Bengaluru, uses activated charcoal to make black appams. For appams, 20 grams of activated charcoal is mixed with water and added to the appam batter. At his Hyderabad cafe, Choudhary plays with his chicken tikka recipe by combining activated charcoal and water with black sesame seeds.
The craze to try black dishes has intensified thanks to people's experiences abroad, according to executive pastry chef Shahzad Ali, Shangri La's Eros Hotel. He makes black ice cream and macaroons, topping them with a gold-plated leaf. He also adds activated charcoal to waffle base, and to sandwiches packed with mayonnaise, vegetables, goat cheese, pesto sauce, rocket leaves, tomato and turkey.
Nutritionists, though, warn that the activated charcoal is not for regular consumption. Celebrity nutritionist Nmami Agarwal said: "There's very little evidence that suggests that it helps in detox and better liver functioning. In fact, its absorption properties can be lethal. If you consume black ice cream, you lose the calcium, potassium and other vitamins found in milk." She also warns to stay away from this product if a person is on any medication.
Shalini Arvind, chief dietician, Fortis Hospital, says activated charcoal is used to remove poison, overdose of drugs and detergent from the body. "[But,] taking it regularly to cure gas, bloating or cholesterol is not healthy, because it is difficult to map its results," said Arvind.
Despite the fad, it is advisable to consume activated charcoal after consulting your physician.