At infrastructure company Red Hat India, besides maternity and paternity leave, employees are granted leave in the event of death of a family member.
The arrival of a baby is an exhilarating, yet exhausting experience. For parents who are forced to take unpaid leave following the birth of a child, the situation is even more challenging. These days, however, companies are becoming more empathetic to employees' demands at home.
When Manuj Bharadwaj became a father a few months ago, he could become a hands-on parent by taking the three-month paid paternity leave that his company provides its male employees. Bharadwaj is an accounts executive at the software company Salesforce India, which grants 26 weeks of paid leave to new mothers and 12 weeks to new fathers. "When our baby was born, it was an incredibly exciting, yet challenging time for my wife and me," says Bharadwaj, who lives in Bengaluru. "This leave benefit provides me the opportunity to maintain a healthy relationship with my wife, and support her in her career by shouldering the responsibility of childcare. More than anything, it has been a personally fulfilling and overwhelming experience for me."
The policy applies to leave related to birth, adoption and surrogacy. Paid parental leave can be used within a year of the birth, placement or adoption of a child. "Parents are also entitled to a bonus of Rs 6,000 at the time of birth or adoption of a baby," says Jnanesh Kumar, director at Salesforce India.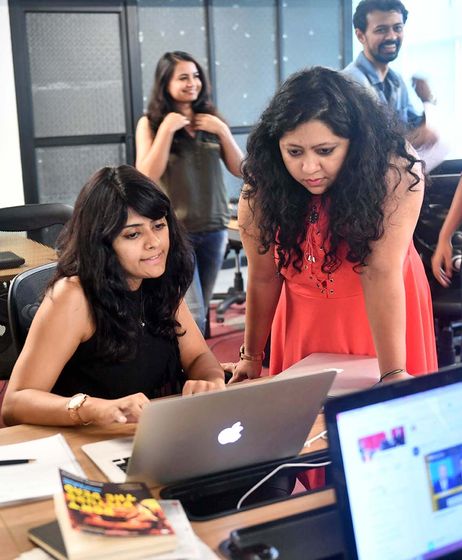 Several Indian companies are innovating their work culture and offering better leave policies. At the digital media company Culture Machine female employees are entitled to take a day off each month, during their menstrual cycle. The company introduced first-day-of-the-period leave earlier this year, after feedback from employees. "I don't feel uncomfortable opting for it even though I have a male supervisor," says Aakansha Seda, an executive at Culture Machine. "In fact, this leave has helped me perform better as I know my condition is respected by the company, and that strengthens my relationship with subordinates."
Says Devaleena Sanyal, president of human resources at Culture Machine: "The leave can be taken either on the first or second day of the menstrual cycle, depending on a person's condition. Since it is an optional leave, it hasn't affected productivity. So far, only five out of 75 women have opted for it."
Does menstrual leave compromise a woman's privacy? Sanyal does not think so. In fact, she feels it helps break the taboo surrounding menstruation. "Why should women who are undergoing menstrual cramps keep it a secret?" she asks. "Our organisation is a modern one. No one has an issue talking about it openly. Women are comfortable disclosing they are on their period as it is no longer considered taboo. Moreover, their privacy is not compromised as our HR practices are automated and the request for leave only requires the approval of the immediate supervisor."
Mumbai-based digital firm Gozoop Online allows women employees who are on their period to work from home. The company ideated this policy on March 8, International Women's Day, after a discussion with both male and female employees. "The leave will enhance the productivity of employees by making them feel comfortable," says Bansi Raja, chief happiness officer at Gozoop. "We don't restrict the leave to the first or second day of the period. We give the employee the flexibility to work from home on any day she chooses. She is not taking a day off; she is simply working from a comfortable space, in her favourite pyjamas, and in a relaxed posture. Men have been very supportive of the policy as, at the end of the day, work is not getting compromised."
Janhavi Iyer, head of content at Gozoop, has worked for the company for three years and is happy to stay on. "Who doesn't want an organisation that is sensitive to their employees' needs?" asks Iyer. "It's great to know that this option of menstrual leave is available."
Senior project manager, Shresth Poddar, says that creating a comfort zone for the team has helped men be more empathetic about a woman on her menstrual cycle. "A work-from-home facility is great as there isn't anything that the organisation is losing," he says. "I tell the two women employees working under me to inform me about their condition, without hesitation, as it is a natural process. It is about being considerate and allowing them rest, while working. We manage the work and there hasn't been a day where we have missed our targets." Employees at Gozoop also get leave on their birthdays, and half-day leave on Valentine's Day and New Year's Eve.
At infrastructure company Red Hat India, besides maternity and paternity leave, employees are granted leave in the event of death of a family member. "In times of grief, the company offers three days of compassionate leave to employees for all incidents involving the loss of a child, sibling, spouse, parent, in-law, grandparent and grandparents-in-law," says Nabanita Phukan, head of HR at Red Hat India. She believes this policy enhances an employee-friendly work culture.
When technical delivery manager Arun Eapen lost his brother-in-law and father within a week, the compassionate leave he was granted came as a great relief. "It was a tough time for me emotionally, mentally and physically," says Eapen. "However, the three-day compassionate leave helped me tackle the situation better. Such a unique benefit makes me feel that the company really cares."