Parmaben Balasara of Dhaneti village in Gujarat was among the thousands of people who faced a severe drought in Kutch in 1969. It rendered the people of the agrarian region penniless, and farmers in debt committed suicide. As women were not allowed to go out and work, they could not contribute towards overcoming the misery.
It was then that Chandaben Shroff, a volunteer with the Ramakrishna Mission, came to Kutch to help with drought relief. While in Dhaneti village, she realised that the Ahir community there was reluctant to accept food and money, and only wanted work. Several nearby villages mirrored this proud sentiment.
Noticing that these communities were very good at the craft of weaving and embroidery, Shroff asked 30 women to pack the best saris they had produced. She took those saris to Mumbai for an exhibition, where they were sold out within minutes. This experiment led to the birth of Shrujan, an NGO based in Bhuj.
As one of the first 30 women in the NGO, Parmaben played an important role. She proved herself a skilful artisan, did independent research to polish her craft and went to different villages and taught the women there. At 94, she is too old to work, but she continues to inspire others.
As Ami Shroff, who heads the NGO today, said, "Shrujan was started with the idea of empowering the women to become self-dependent. My mother had trained those 30 women, who trained others."
Rajiben Samadiya of Sumrasar village, who belongs to Megwaad Gurjar community, joined Shrujan in 1992 and could earn enough to give her son a good education. He is now a software engineer in Delhi. Shrujan has transformed the lives of many women like Rajiben while preserving traditional weaving and embroidery.
"At Shrujan, we train women so that they can acquire better skills. The work and money reach them, so they can stay at home and fulfil their other responsibilities. There's no pressure, as deadlines are given only for a few orders," said Ami.
Gita Meria, 36, who is a farmer, devotes eight hours a day to embroider a sari. "The income from farming is very unpredictable because it is dependent on the weather. Also, we do not get work throughout the year. Working with Shrujan has helped us get rewarding year-long employment," she said.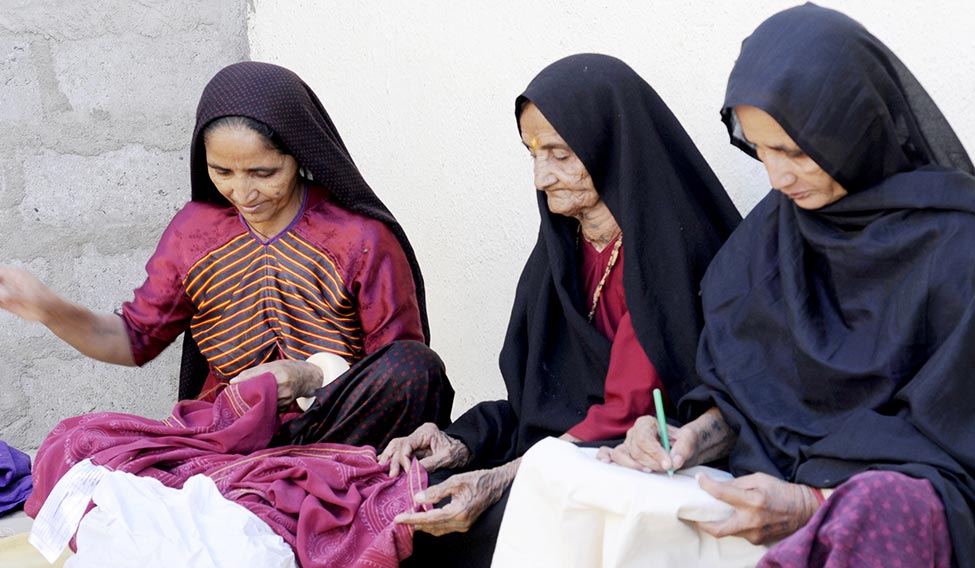 Meria has been with Shrujan for the last 12 years. She had attended school till the seventh standard, and had learned weaving at home. "Earlier we were doing embroidery for the purpose of dowry," she said. "In our community, each girl has to make 15 to 20 pieces for her trousseau. By the time that gets done, the girl goes to her husband's house."
Though embroidering for dowry is still prevalent, families now encourage their daughters to learn the craft because of the promise of regular income. Juhi, a 10th standard student, for instance, carries on her studies and keeps alive a passion for weaving. She is attending the Living and Learning Design Centre, founded by Shrujan. The centre provides intensive, need-based training to kaarigars (craftspersons) to strengthen their craft and make their products relevant and marketable.
"My mother, Radha Rathore, is a national award winner in suit embroidery," said Juhi, 14. "She started embroidering at a very early age and is now working with Shrujan. For the last nine months, I have been sketching and also learning CorelDRAW [design software] so that I can produce computerised designs instead of manually tracing them."
Starting with 30 women nearly five decades ago, Shrujan is today a 4,000-member community spread over 120 villages.