For Reby Kumar, designing happened out of her interest in fashion, art and craft. After doing her master's in economics, Kumar worked with The Economist, before pursuing a course in fashion clothing technology from the National Institute of Fashion Technology, Delhi. In 2013, she launched her resort wear label called Guapa. And, last year, she debuted at the Spring Summer edition of the Amazon India Fashion Week. The collection stood out for being comfortable and colourful.
Kumar creates minimalistic designs for women using light crepes, cotton, jersey and satins. The silhouettes are flowy and easy, and that makes them perfect for all occasions. "My brand uses light, feathery, flowy, thin and durable fabrics for the silhouettes with minimal embellishments. They are perfect for hot weather as well as for special occasions such as a brunch, lunch, party or sundowner," says Kumar, who draws her inspiration from the relaxed feel of a holiday.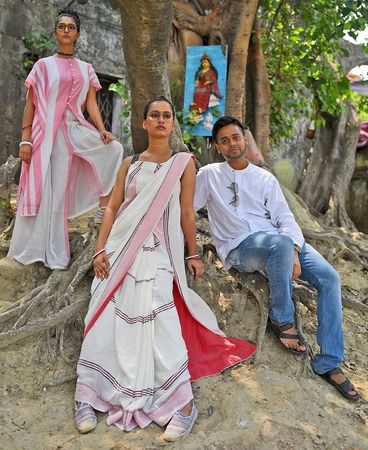 While most designers produce resort wear or cruise collection only once a year, Kumar focuses exclusively on it. "My clothes are something that people can wear round the year," she says. "When you go on a holiday, it is always fun, bright and colourful. We have taken the patterns, colours and prints that one associates with a holiday and created our pieces."
In her maiden show, Kumar went retro with the 1970s look. She featured suspenders, flared trousers, low-waist dresses, and flapper dresses in muted tones. In the recently concluded Amazon India Fashion Week Autumn Winter collection, Kumar presented her solo show titled 'Randomness'. Inspired by the rainbow, the collection had ruffles, beaded t-shirts and dresses, and quilted jackets reflecting comfy loungewear and resort wear. "Comfort is the key and since my creations are comfortable and flowy, they can be worn in any season, irrespective of how high the temperature is," says Kumar.
Earlier, a young designer like Kumar would have found it difficult to find a launchpad, but now the fashion councils have streamlined the process by picking young and creative designers and giving them a platform to showcase their work. The new-age designers are experimenting with both modern elements and traditional designs. However, the focus remains on creating garments that are stylish yet comfortable. Today's customers are acutely aware of what suits them and looks good on them.
For designer Soumodeep Dutta, presenting the essence of Bengal was a challenge. In his maiden show at the Lakme Fashion Week Summer/Resort 2017, Dutta gave Bengal a fashionable makeover. "Bengal and its culture inspire me. My brand works on different ways of draping. The idea is to make Indian clothes comfortable and reduce the time spent on draping them," says Dutta, an NIFT alumnus. "So, I made a skirt into a sari skirt."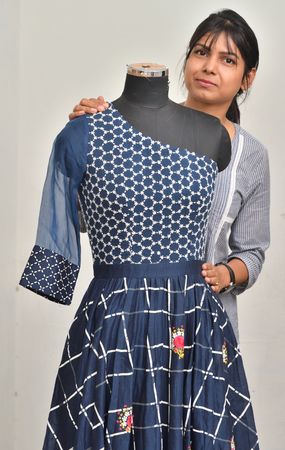 Dutta says his designs are for the modern people who appreciate Indian art, culture and traditions and are on a constant lookout for comfort wear. "The fabrics showcased in my collection had a sari feel to it. The kurtas, too, came with a dupatta on one side," he says.
Dutta's silhouettes are inspired by sari, dupatta and dhoti. The collection saw the revival of the delicate Bengal muslin, which Dutta sourced from the handloom weavers of Murshidabad in West Bengal. He also worked with kantha stitching. Dutta wants to give the less explored Indian fabrics like tant (fine version of Bengal cotton sari), dhuni kali and Malda silk a chance to make their mark. "As an age-old fabric, Bengal muslin was commonly used in the Mughal era as it is sheer and comfortable. The idea was to promote the Indian textiles that are exquisite and a rare find. Many people do not know about them as they are made by weavers living in the remote parts of the country. My motto is to promote ethnic things," says Dutta, who is working with handloom and hand-embroidered fabrics for his next collection.
While Dutta has gone desi, designer Pallavi Singh believes in creating a global fusion. Singh launched her label 'Arcvsh' in 2015, and in her debut show at Lakme, she presented designs inspired by the Japanese embroidery called Sashiko. She used breathable fabrics such as cotton mataka. "The pattern was inspired by Sashiko, but the fabric, technique and texturing was Indian, that is Kantha, and the way it is done by hand. I used a lot of hand-block and quilt printing in my collection," says Singh, who used simple cuts that work for the Indian body types. She also used geometrical prints on ivory cotton to give the textile an organic feeling.
"I like simple things and I like the way the Japanese do simple things in a very interesting way," says Singh. "People these days don't wear a label, but a certain kind of look and it helps new designers like me create the right impression. Since I was working for Summer/Resort, using breathable fabrics was essential."
Another upcoming designer who has been experimenting with fusion is Abha Chaudhary, who specialises in Indo-western wear. Chaudhary studied interior designing, but moved to fashion designing because she loves to dress up and look stylish. For her debut show called 'Aura' at the Bangalore Fashion Week in 2016, Chaudhary presented a collection of Indo-western range, including lehengas with matching potli bags, crop tops with high-waist skirts, and long jackets and off-shoulder tops in ivory and gold.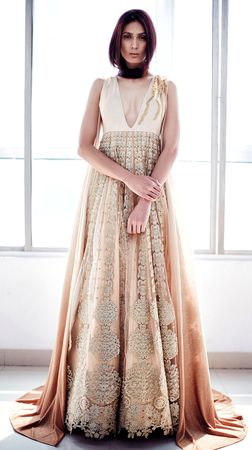 The same year, she presented her bridal collection at the Braun India Fashion Week London. The collection had fusion designs like ghagra with off-shoulders, one shoulder and wraparounds. "The collection represented the rich Indian heritage and was blended with modern silhouettes that today's brides want," says Chaudhary. "Traditional Indian fabrics such as georgette, crepe and silk were used."
This year, at the Lakme show, Chaudhary presented her holiday-inspired collection 'Coral 101', which was based on her trip to Bali. She used white and gold throughout to create flowy ghagras with tube tops, crop tops and off-shoulders.
The new-age designers are not just trendy, but also environmentally conscious. At Amazon India Fashion Week 2017 Autumn/Winter show, designer Neesha Amrish showed how fashion and conservation could go hand in hand. She presented an accessory stall with scarves in handwoven organic silk and jewellery made out of unused fabric pieces. Her brand, Aeshaane, has a holistic approach towards fashion. "I visited a sericulture farm in 2010 while I was doing printing on silk. There, I saw that the silkworms were being killed by putting them in boiling water. Being a vegetarian, I started looking for a natural alternative. During my research, I found out about a village called Bhagaiya in Jharkhand that produces organic silk without killing the silkworms. That is how it all started," says Amrish, who also makes kurtas, dupattas and saris in the same fabric.
Amrish has also showcased her designs at the Paris Fashion Week and the London Fashion Week. In 2015, she got the honour of showcasing her brand at the India Festival organised by the Victoria and Albert Museum in London.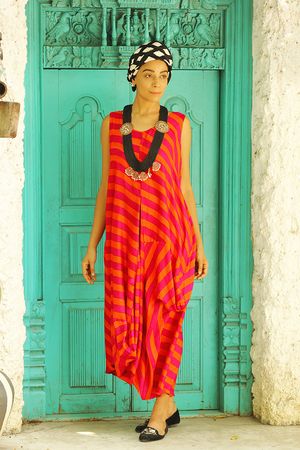 If Amrish stands out for her environmentally-conscious efforts, designer Aniket Satam's USP lies in creating luxury casual wear. "The aim of my brand is to make happy clothes for happier people," says Satam. "You are happy when you are completely comfortable in what you are wearing. My garments can be worn in a tropical country, and are easy to pack and maintain."
Despite being a women's brand, Satam takes inspiration from men's wardrobe. His collection at the Amazon India Fashion Week was inspired by Grey Gardens, a documentary in which the female characters dressed up in men's clothes. "We used shirting materials in pinstripes and checks. The core identity of the brand is to use classics with a twist, something that is very familiar because the Indian audience is still not very matured in its choices," says Satam. "No one can ever go wrong with classic white shirt, stripes and checks."