Wearing sari to work every day is not an easy task. Ask 28-year-old Vaishali Tuteja, a school teacher in Delhi, who has to wear sari to work every day. But Tuteja has found a practical solution to the problem. She wears "a fusion sari that is stitched. It is easy to wear and fits like a glove," she says.
Unlike the traditional sari, a fusion sari comes in the form of a wraparound and has stitched pleats. "It comes with two hooks falling at my navel and an attached pallu. An elastic belt falls at the back of the wraparound so that the sari sticks along my waist," says Tuteja. "Unlike the traditional sari, a fusion sari takes hardly 30 seconds to wear and the pallu generally takes a minute to adjust, depending on the fabric. Pleating a silk pallu takes more time than cotton or georgette. It is not at all uncomfortable. In fact, I can easily run through the stairs, board a bus and even kick a football."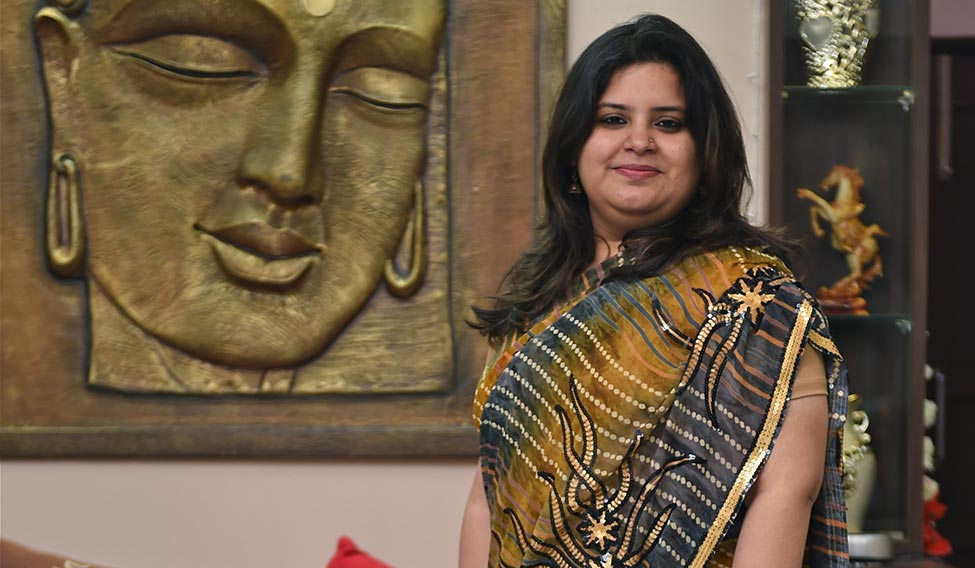 Tuteja is not the only one who adores this style. Reinvented saris have caught the fancy of women, irrespective of age, thanks to the versatility, style, comfort and sophisticated look they offer. Nikita Sethi, mother of two children, picked a fish-cut sari with stitched pleats and pallu for a wedding. "Handling a sari is a struggle especially since I have a toddler son," she says, "and I don't know how to make perfect pleats. The stitched pleats sari has saved the day for me. The blouse can also be stitched like a top, making it easy to wear. Fixing the pallu takes some effort as there are so many distinct styles to choose from. But now I spend less than a minute on it."
The sari is undergoing a makeover in the wardrobe of the modern Indian woman. So, there is variety in terms of textures, fabrics, silhouettes and styling. The saris also come in different fusion avatars like stitched sari, dhoti sari, lehenga sari and gown sari.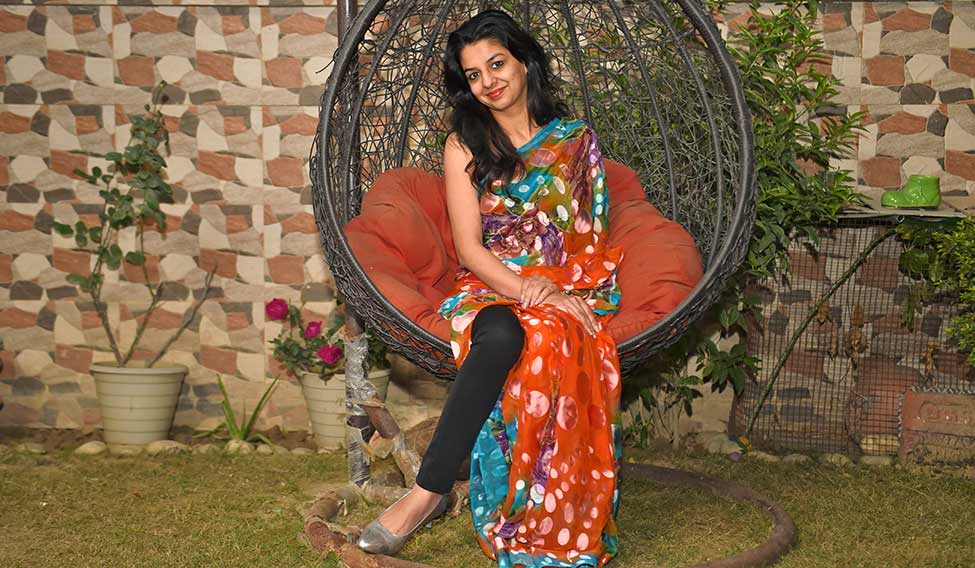 The traditional pairing of a sari with petticoat has given way to newer combinations like sari worn over jeans, trousers, cotton pants, leggings or skin-tight pants. Monika Satija becomes the cynosure of all eyes whenever she wears a pant sari. "I am in awe of pant saris," says Satija, who lives in Gurgaon. "They are extremely comfortable, allow free movement and take little effort to wear. I usually pair them with a crop top and a pair of leggings for a casual outing. The look works even for cocktail events. Now, I don't buy a separate blouse piece and petticoat every time I buy a sari."
The more daring among the fashionistas are pairing sari with dhoti pants and lehengas. For an east meets west look, wearing a cape blouse or jacket does the trick.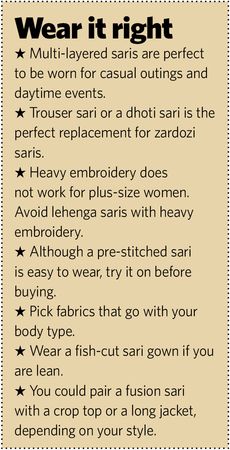 Avantika Sharma, 26, loves dhoti saris. "I specially bought a dhoti sari in indigo-blue colour with silver flower work for my trousseau. The sari is in georgette and is paired with harem pants. Unlike a traditional sari, the pleats are stitched to perfection with the pants. On one side of the pants, the pallu is attached, which can be wrapped around the waist and put over the shoulder," says Sharma, a banker who lives in Noida.
With so many interesting pairings to choose from, urban Indian women are no longer hesitant to wear a sari. "Women who wear a sari to a function often feel uncomfortable after some time because of the weight of the attire," says Sakshi Jain, 31, housewife and mother of two children. "However, that is not the case with a gown sari. I wore it at an event recently and it was extremely light in weight."
According to fashion experts, the traditional sari has certain limitations, in terms of designs, innovations and funk elements. However, the fusion saris offer a lot more variety. Wearing saris with palazzos or pants has become quite popular because it enables greater movement, says designer Saaksha Parekh of the label Saaksha & Kinni.
Fashion designer Manish Arora feels that fashion is no longer about being old-school. "Today, everyone wants to experiment with stylish and trendy saris, and yet look traditional. New ways to wear a sari have kept it fresh and contemporary. Pre-draped saris are just super easy to wear," he says.
The fusion sari has given a boost of confidence to Seema Mehta of Delhi. She has been wearing saris regularly for some years now. The fusion saris, she feels, make women feel more comfortable and less conscious about themselves. "I bought a stitched sari in a parrot green and magenta pink in net fabric with sequins at the border," says Mehta, 43. "It gives the feel of a western outfit with the long skirt and stitched pleats and pallu. I don't have to worry about the pallu or pleats coming loose. It has boosted my confidence and made me realise that saris, too, can be as comfortable as jeans."