MediAngels, an 'online hospital', says that of 20,000 patients who consulted them in 2014, 12,500 were prescribed surgeries, but only 56 per cent required them.

"The patients have to invest money, time and energy. This can be prevented by seeking medical advice online" - Sachin Chaudhary, Founder and CEO of Medical Second Opinion
Vikram Gulati, 36, does not go to a hospital to seek medical advice. No, he does not Google solutions, either. He goes to the doctor, online. A few months ago, Gulati's mother required knee replacement surgery and was told by local orthopaedists to go to Delhi. This meant Gulati would have had to travel more than 200km from Haridwar, stay in a hotel and spend the next few days visiting doctors. Then, he would have had to decide which doctor to consult and make another trip for the surgery. This is when Gulati saw an advertisement by Medical Second Opinion, a web portal that offers expert advice by India's top doctors. He spoke to their customer care executive and sent her the required reports. She fixed appointments with three experienced doctors and Gulati met all of them in a day. After consulting them, he decided on a Gurgaon hospital and his mother underwent surgery in April. "The whole process was really convenient and time saving," says Gulati, who has since used the portal to seek medical help for many relatives.
Says Sachin Chaudhary, founder and CEO of Medical Second Opinion: "India has a doctor to patient ratio of only 0.7 doctors per 1,000 people. Furthermore, these doctors are concentrated in the metros." For every consultation, you have to plan ahead, schedule appointments, travel and wait for many hours. "The patients, who are in pain, have to invest money, time and energy, as do their accompanying relatives. This can be prevented by seeking medical advice online," he says. When you can research so much while selecting a phone, he says, you should seek a second opinion when it comes to your health. Their website, launched eight months ago, already has more than 50,000 registered users.
Medical Second Opinion, however, is not alone in this new space. MediAngels, which calls itself the world's first online hospital, has provided more than 25,000 consultations. Almost 50 per cent of their clients come from non-metros. Says Dr Debraj Shome: "My dad had stage IV lung cancer. He saw the best oncologists in India and was given only six months to live. I sought medical opinion from the world's best cancer institute, M.D. Anderson Cancer Center in Houston, US. With the medications they prescribed, he could live for three and a half years, that, too, cancer free." But, while he had access to the advanced facility because he was a doctor who had studied in the US, he realised that many others do not. So, in 2011, he founded MediAngels. "Our motto is to provide the best medical advice for every disease from the best doctors in the world," he says.
It was a similar desire that drove Gitika Srivastava to launch Navya Network with fellow Harvard alumni Dr Ramesh Ramarajan. They have collaborated with the Tata Memorial Hospital in Mumbai to provide online advice to cancer patients. The network uses evidence-based technology to give advice as even the best oncologists might not be aware of the latest developments in the field. The network's system analyses the patient's data, searches for international guidelines and medical studies and gives a set of recommended options to the doctor. "Our system combines technology, information and expert opinion, putting the patient at the centre of the process," says Srivastava. They have successfully completed a year-long pilot project and have helped more than 1,000 cancer patients. It was found that their opinions were 98.6 to 100 per cent in line with the advice provided by the tumour board at the Tata Memorial Hospital. The service has already been used by patients throughout India and even in Afghanistan, Bangladesh, Russia, South Africa and the US. "Many doctors from Tier-2 cities also contact us on behalf of their patients," she says. The service is free and takes three to seven days.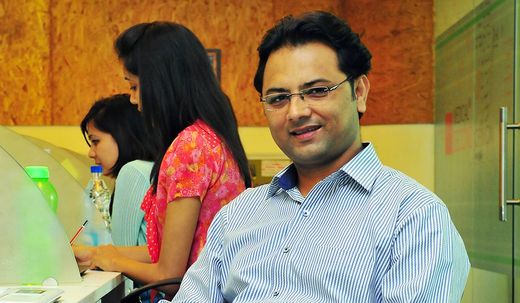 While Navya Network has collaborated with oncologists from the Tata Memorial Hospital, most other portals select doctors based on their reputation and experience. Chaudhary says it took him nearly three years to get the most renowned doctors on his panel. "We have some of the best doctors in the world. We have doctors from Johns Hopkins, the Mayo Clinic and Harvard Medical School and Indian doctors like Dr Ramakanta Panda, Dr Naresh Trehan and Dr Devi Shetty" he says. MediAngels has an expert panel that decides which doctors to include in its panel. "Only two to three doctors are selected out of 100 applications we get each month," says Shome. A user either chooses the doctor he wants from a list or is assisted by a customer care executive. "We have doctors working full time in our back office who filter the requests and streamline the query before submitting it to specialists for second opinion," says Chaudhary. The cost of consultation depends on the kind of query and the doctor chosen. "For a simple query, it would be Rs250 and it may go up to Rs1,000 for a specialist," says Shome.
For many patients, a second opinion is just a confirmation that they are on the right course in terms of treatment. Also, seeking medical advice from a neutral, credible doctor miles away would reduce chances of unnecessary prescriptions. MediAngels data says that of 20,000 patients who consulted them in 2014, 12,500 were prescribed surgeries, but only 56 per cent required them. Take, for instance, the case of Gaurav Sharma. The Mumbaikar sought expert advice when his uncle, who had pain in his left shoulder, was told he required urgent cardiac surgery. "My entire family panicked as the doctors said the surgery needed to be done within a week," he says. While researching online, he came across the MediAngels website and gave it a try. He consulted one of their doctors and was told that his uncle did not have a heart problem and that he needed to see an orthopaedist. Sharma then consulted an orthopaedist from their panel, who confirmed that his uncle's heart was not in trouble. "He showed us some shoulder exercises on video chat, which helped reduce the pain considerably," he says.
With the growing popularity of such portals, the large information gap between patients and doctors could be reduced. "In the next few years, you won't have to walk into a hospital unless you need a surgery," says Shome. With nearly 25 crore Indians having access to the internet, medical advice does not have to be restricted to cities or metros. Medicine seems all set to be democratised.