Dattaram Dhondu Gamre bought his death for just Rs10. The resident of Malvani, a colony of hutments in the north Mumbai suburb of Malad, worked in a canteen to provide for his family of six. The daily fix of hooch was the only luxury in his life. On June 17, before going home, Gamre, 50, went to his neighbourhood 'adda' to buy his poison. He died in a few hours.
Gamre is one of the 102 people who lost their lives drinking spurious liquor in the worst ever hooch tragedy in Maharashtra. Forty-six others are battling for their lives at various hospitals in the city. On June 18, the narrow lanes of the thickly populated Malvani were filled with the sirens of the ambulances and wails of women as the dead bodies arrived throughout the day and night.
Alka Jadhav, Gamre's stepdaughter, said he came back home unwell that night. "He started vomiting and his eyes became whitish," she said. They rushed him to Shatabdi Hospital and he was moved to the intensive care unit. But he died in a few hours. "There are many illegal liquor dens in our area, and we had asked him not to buy liquor from them. But he never listened," said Alka. Gamre was the only earning member in the family and Alka is clueless about how to support her mother and four sisters.
Most of the victims were daily wage earners and the sole breadwinners of their families. And, even as every third house in the slums of Laxminagar, Rathodi and Kharodi is mourning, their anger is palpable. "We have been complaining about the illicit liquor dens in the area for a long time. Two and a half years ago, women even marched to the police station, but no action was taken," said a local resident. "How will they take action when they get money from them?" The local excise office is just 500 metres away. There is a police outpost about a kilometre away and a police station 2km away.
Mumbai Police Commissioner Rakesh Maria has suspended eight officers of the Malvani police station and ordered an inquiry into the allegations of their connivance in illicit liquor trade. The excise department has suspended four officers for negligence. Ironically, the suspended senior police inspector Prakash Patil was the chief investigating officer of the Vikhroli hooch tragedy that killed 87 people in 2004.
The police have arrested Mansoor Latif Khan, the main accused, and seven others—Raju Rascar, Donald Patel, Gautam Harte, Salimuddin Shaikh, Francis D'Mello, Mamta Rathod and Agnes Grey. The police said D'Mello and Shaikh were the suppliers of the liquor, Harte was the carrier; Rathod and Grey owned the liquor dens. They have been charged under sections 304 (culpable homicide not amounting to murder), 328 (causing hurt by means of poison) and 114 (abettor present when offence is committed) of the Indian Penal code and relevant sections of the Maharashtra Prohibition Act.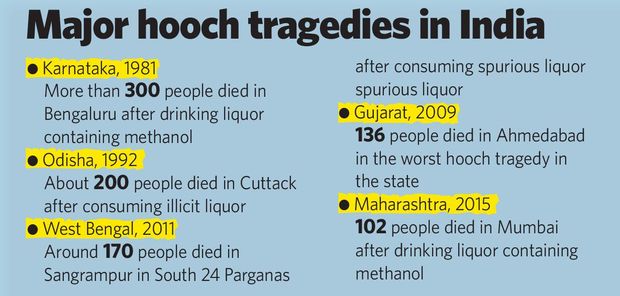 The police have started a crackdown on country liquor dens across the state, and raided some 300 locations and arrested 35 people. They seized about 1,000 litres of spurious liquor from a godown owned by D'Mello. Viscera samples of the victims tested at the forensic sciences laboratory in Kalina showed they were served diluted methanol. The Crime Branch has also uncovered how methanol, which is used as a solvent in industries, is smuggled from industrial units in Gujarat into Maharashtra. Methanol, which is toxic to humans, is added to illicit country liquor to increase its potency.
In Mumbai, illicit liquor is brewed in slums and forest areas around the city, especially in Sanjay Gandhi National Park, areas near the film city in Goregaon and Saso Navghar in Vasai. It is taken to other parts of the city in the wee hours.
Poor implementation of the Maharashtra Prevention of Dangerous Activities of Slumlords, Bootleggers, Drug Offenders and Dangerous Persons Act is another reason for the unchecked growth of illicit liquor business in the state. The stringent act even allows preventive detention up to a year. Last year, only six people were booked under the act, compared with 190 in 2005.
The suspended policemen have not been charged yet. In 2004, as many as 57 police officers were suspended after a hooch tragedy. All of them were later reinstated despite a sessions court observing that such officers were equally liable for the crime. "We demand that the police officials be charged under section 302 (murder) of IPC because it is because of their inaction that more than 100 people lost their lives," said Mumbai Congress chief Sanjay Nirupam.
There have been allegations that the victims of the Malvani tragedy did not get the right treatment. Methanol toxicity requires patients to be stabilised. "If methanol levels are high in the blood, it causes severe lactic metabolic acidosis and it requires urgent dialysis along with blood pressure management. Dialysis should be done till the methanol levels go to zero," said Dr Khusrav Bajan, intensivist at PD Hinduja Hospital, Mahim.
Most victims were taken to Brihanmumbai Corporation's Shatabdi Hospital in Kandivali which has a dialysis unit run by Neminath Jain Trust. "When we went to the hospital we were shocked to see that they weren't using the dialysis units for the patients," said Shalini Thackeray, vice president, Maharashtra Navnirman Sena. After more than 60 patients died in the hospital family members of other victims started shifting them to nearby private hospitals, she said.
But, Shatabdi Hospital's medical superintendent Dr Krishna Pimple said the patients were given first line of treatment and transferred to other hospitals. "We are not a tertiary care hospital," he said.
In Malvani, the atmosphere is still sombre. And the relatives of the victims are running around to get the documents required for the Rs1 lakh compensation announced by the government. It is a measly sum considering their loss. But they know it would help them make ends meet for a few months.