"When I dance, I want to experience it at a different level. You have to be prepared to go into another zone" - Malavika Sarukkai
Sometime in the beginning of her career, bharatnatyam dancer Malavika Sarukkai was struggling with a particular choreography, which didn't feel complete in spite of her best efforts. Then she got a chance to meet poet and scholar A.K. Ramanujan at a dinner and the interaction proved to be a turning point in her life.
While describing his writing process, Ramanujan told Sarukkai that sometimes it took him up to 57 drafts to get a poem right. That is when Sarukkai realised that she was on the right track. For a person seeking artistic excellence, there are no shortcuts.
For the past four decades, Sarukkai has been in pursuit of this artistic excellence. And, along the way, she has not only mastered the techniques of the dance form, but also given it a contemporary flavour. She dared to question tradition and infused an individualistic style and expression in her dance by working on ancient and modern themes.
Recently, National Centre for the Performing Arts in Mumbai organised a weeklong specially curated programme called 'A Tribute to Excellence—The Artistry of Malavika Sarukkai' to celebrate her work.
Mumbai holds a special place in her heart. It was here that Sarukkai, 56, began her journey. She started training under guru Kalyanasundaram of the Thanjavur school of bharatnatyam and guru Rajaratnam of the Vazhuvoor school at age 7, and gave her first performance at age 12. Later, she moved to Chennai where she trained in abhinaya under guru Kalanidhi Narayanan. She also learnt Odissi under guru Kelucharan Mohapatra and guru Ramani Jena. However, Sarukkai gives credit to her mother, Saroja Kamakshi, for shaping her career.
"She learnt music, but she was passionate about dance," says Sarukkai about her mother, who was also her creative collaborator. "She loved dance, I don't think she loved anything else more. She studied philosophy and she was deeply spiritual."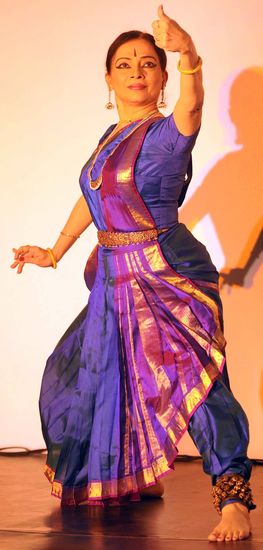 Prodded by her mother, Sarukkai made dance her career. That she had talent was amply clear to those who saw her perform. Ten years after making her debut, Sarukkai inaugurated the Festival of India at Queen Elizabeth Hall in London in 1982, becoming the youngest-ever solo dancer to do so. However, Sarukkai nurtured a desire to move beyond the traditional form.
"Sometimes when we say bharatnatyam, we think of the repertoire, which starts with alaripu [the first dance piece that a dancer learns and performs] and ends with tillana [a dance piece generally performed at the end of a concert]. For me it is too restrictive," she says. "I think of it as a language of dance. So, I write it differently, interpret it differently and even create new words which did not exist earlier. Calling it a language gives it freedom."
So, even traditional bharatnatyam pieces have been interpreted differently by Sarukkai. She has collaborated with painters, musicians, sculptors and writers to create a kind of dialogue. Her solo choreographies are based on ideas and concepts, like poems that have women as self-affirming in love, poems that address death and pain, and even commissioned poems that celebrate the environment.
Take, for instance, a piece called 'A tribute to Thimmakka', in which Sarukkai pays homage to a woman from rural Karnataka who couldn't bear children so she planted 280 banyan trees near her home. Sarukkai created an entire forest on the stage for this piece. The desire to go the extra mile comes from years of tapasya or hard work, she says. "How does the tree feel? How does the sap feel when it is rising up the trunk? Have you ever thought of it?" she asks. "Dance makes you do that. It makes you empathise and puts you in a state of wonderment, which is utsaha [enthusiasm] that keeps you alive from inside."
Sarukkai believes in getting into the skin of a character. In the documentary 'The Unseen Sequence' on Sarukkai's life and work, director Sumantra Ghosal shows her with a student, who is trying to play a sheshnag or many-headed serpent. She tells the student not to imitate the snake, but be one. Through a simple movement of her shoulders and hips, Sarukkai shows the student how to achieve the effect.
In another scene, Sarukkai talks about playing Hanuman. "I kept thinking I hadn't got Hanuman right till I thought of curling his imaginary tail around my wrist and walking," she says.
Sarukkai calls dancing a form of dynamic meditation and a spiritual experience. "It teaches you humility, it gives freedom," she says. "You don't feel small. You have the courage to stand up and say, 'there is something much greater than me and I don't mind saying that'. Contrary to what we are supposed to think about—I, me and myself—classical dance takes it away and you can dance without the burden of self."
The classical art forms have depth, which Sarukkai says, is missing in the other forms of entertainment that are too plain, literal and superficial, and lack creativity, imagination, poetry and wonder.
A dancer should dance not to please the critics, the audience or for applause, but for the love of dancing, she says. "Dance is experiential and not performative. When I dance, I want to experience it at a different level. You have to be prepared to go into another zone."
It is like being in a state which Hungarian psychologist Mihaly Csikszentmihalyi calls the 'flow'—the state of total focus and absorption when the temporal concerns of time, food, ego and self are typically forgotten. When that happens, the audience experiences things that it has never experienced before.
Sarukkai got the Sangeet Natak Akademi Award in 2002 and the Padma Shri the next year. In her newest work, 'Vamatara—To The light', she explores the significance of lotus in Indian art, be it paintings or classical and bhakti poetry. It is also her first group choreography.
Back in Chennai, Sarukkai divides her time between rehearsals and mentoring trained dancers. "Someone once asked me what I would want to do if not dance. I said, 'I don't know. I don't think I want to do anything else. I just want to dance'."