Heart blocks can be detected even in the foetal stage. During delivery, a team is on standby, ready to implant a pacemaker as soon as the baby is in distress.

Even in the shutdown mode, most pacemakers help the heart beat at 80 beats per minute, which prevents the child from immediately collapsing.
For the longest time, Wajid and Reshma Shaikh worried about their youngest child. Rayaan, four, was weaker than children his age, constantly fell sick and could only manage to walk slowly while other children frolicked about. He was a healthy baby, but a fever when he was two months old made him a sickly one. He missed his milestones and could walk only after two and a half years. "Doctors said he had a heart block and his heart was only beating 50 beats per minute when it should have been at least 90," says Wajid, who works as a fabricator in Latur, Maharashtra. Last October, Rayaan was fitted with a cardiac pacemaker at Jupiter Hospital, Thane. The device implanted in his chest cavity controls his irregular heart rhythm and prods his heart to beat at a normal rate. Rayaan is a different boy now. "He has gained weight, is able to play with other kids and will join school soon," says a relieved father.
The heart's electrical system is responsible for the rate and rhythm of its beats. When the electrical impulse does not pass from the upper to the lower chamber, it leads to blocks that cause irregular heart rhythm. "Heart blocks in children are not as common as in adults," says Dr Srinivas L., paediatric cardiologist, Jupiter Hospital, Thane. "About 1 in 10,000 children under 10 would need a pacemaker to treat a heart block." He says the difficulty in treating heart blocks is that children do not show clear symptoms. "Syncope or fainting episodes and breathing difficulties are some of the symptoms," he says. Heart blocks, however, can easily be detected even in the foetal stage as antenatal scans can detect the heart rate of the unborn child. In such cases, the parents are counselled and the foetus is monitored closely. During delivery, a cardiac surgical team is on standby, ready to implant a pacemaker as soon as the baby is in distress.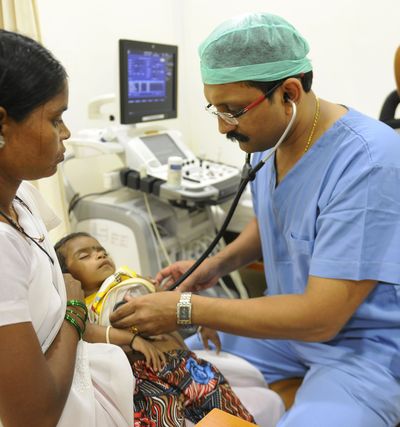 However, not all babies with heart blocks need surgery. Doctors carefully monitor the child and his heart rate and other symptoms before implanting a pacemaker.
An artificial pacemaker has two components—the battery-operated metal device that monitors and controls the heart beat, and the metal-tipped wires or leads that send the electrical impulse from the device to the heart. Because of constant research, the size and weight of a pacemaker has come down and the battery life has increased. And, while parents are often anxious at the thought of their kids' lives depending on an external device, experts say pacemakers are lifesavers. "Pacemakers not only regulate and maintain normal heart rate, they also sense when you are physically active and change the heart rhythm accordingly," says Dr Swati Garekar, paediatric cardiologist, Fortis Hospital, Mumbai. In adults, the pacemaker is inserted below the collar bone on the left side and the lead is fed into the heart through a large vein. In babies, the pacemakers are placed in the abdominal cavity and it is more challenging to insert the lead through the small veins. The batteries in a pacemaker need to be replaced every few years. "For adults, the pacemaker lasts for 10 to 13 years, but for children, on average, it needs to be replaced every six to 10 years as their heart rate is faster and they are more active," says Dr Ajit Thachil, consultant cardiac electrophysiologist, Lisie Hospital, Kochi. Every six months, children are asked to visit a hospital where their pacemakers are checked in a process called device interrogation. "Pacemaker manufacturing companies give lifetime warranty, which means they take care of the cost of the new pacemaker and patients only have to pay for the procedural costs," says Dr Vikas Kohli, director, BLK Children's Heart institute, BLK Hospital, Delhi. Some companies also offer easy instalment options.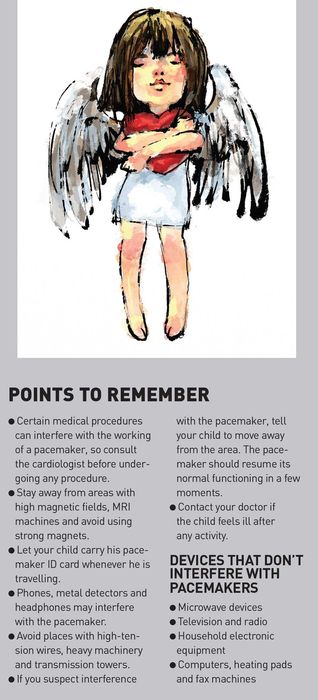 While medically safe, parents are still wary of pacemakers. "The kind of negativity that parents and society have regarding pacemakers in children is bigger than the actual problem," says Kohli. He says that in some cases, where parents realise their newborn has a heart block and would require a pacemaker to live, they choose not to treat the condition. This is unfortunate as a heart block can be easily treated and does not affect the child's quality of life. Says Thachil: "Parents should know that the pacemaker is implanted so that the child has a normal life. There is no question of his life being restricted after the implantation." Other than avoiding contact sports like boxing, wrestling and football, doctors says children with pacemakers can indulge in all kinds of physical activities. Says Srinivas: "A pacemaker can tolerate moderate amount of impact, like a ball hitting it. But, an impact which can break a bone can also damage the pacemaker."
Veer, six, is active, sometimes more active than his peers. He runs and jumps the whole day but his father, Himanshu Khatak, is always careful when he plays with other children as he has a pacemaker in his abdominal cavity. "We worry that if he falls on his stomach, his pacemaker may get damaged," says Khatak. He is aware that Veer has to be careful around electromagnetic radiation and has told his teachers about his condition. "Even though it's very rare, we found that during his six-monthly pacemaker screening visit that his heart was not pacing normally and that the lead had broken. He had to undergo another surgery," he said.
While doctors agree that parents have to be careful, they want them to treat their kids like normal children. "Parents should tell the teachers that their child has a pacemaker, but should also add that they do not want them to treat him or her differently as it may affect the child psychologically," says Thachil.
As a precaution, Thachil advises children to keep phones six inches away from the body, avoid keeping it in the front pocket and speak and hold the phone on the ear farther from the pacemaker. Kohli says there are many misconceptions in parents' minds. He says most parents fear that the pacemaker would suddenly shut down. But, even in the shutdown mode, most pacemakers help the heart beat at the rate of 80 beats per minute, which prevents the child from immediately collapsing.
Children implanted with pacemakers live a normal life, travelling and working as anyone else, say experts. They only need to come for their regular screening and take care of their general health. With more research and development, a pacemaker could soon be the size of a vitamin capsule and would not need the lead wire. It could also be implanted directly on the site of the heart, making it less invasive and less complicated.