"Most children who suffer from cancer, once cured, grow up to be healthy and productive adults" - Dr Amita Mahajan, consultant, paediatric oncology, Indraprastha Apollo Hospitals, New Delhi
Cartoon characters adorn the walls here. Volunteers cheer and hand out gifts to the children. There is a small playroom, too. But all this does little to hide the fact that this is the paediatric ward of the Tata Memorial Hospital in Mumbai. The benches, the waiting areas and even the corridors brim with patients, some just a few months old, and their parents. The children, most of them without hair, sit quietly in the wheelchairs or chairs, too stoic for their age. All of them, from different backgrounds and states, have a common goal: to be cancer-free.
Ankur (name changed), 3, is one of the last patients in the outpatient department; he is restless and wants to go home. He has leukaemia and will need an 18-month-long treatment to get better. His mother, while trying to feed him milk through the nose tube, says this is just the second week of the treatment. Since his chemotherapy, Ankur has lost his appetite and refuses food. Coming all the way from Bhandara district of northern Maharashtra, they are staying in a dharamshala nearby. "We are glad we came here because the treatment in the local hospitals didn't show any result and they didn't treat us well, saying what if it spreads to others," says his mother.
Leukaemia and other forms of blood cancer are the most common in children, accounting for one-third of all cases. Brain tumours make for 20 per cent, and the remaining are cases of bone cancer, lymphoma, Wilms' tumour and neuroblastoma. The prognosis, however, is excellent in paediatric cancers, with 70 per cent of patients being cured.
Dr Shripad Banavali, professor and head of medical and paediatric oncology at Tata Memorial Hospital, explains the difference between adult and childhood cancer. "Cancer in children is less heterogeneous and hence more amenable to treatment. In children, it is important to diagnose and give them the right treatment at the earliest," says Banavali. He says the treatment is more aggressive in children, who sometimes need to undergo chemotherapy intensively on a daily basis. Also, it takes a whole team comprising a paediatric oncologist, paediatric surgeon, paediatric radiologist, paediatric pathologist and paediatric nurse to treat a child, he says. Finding such a team is difficult and hence hospitals treating paediatric cancer are fewer in the country. And since childhood cancers make for just 5 per cent of all cancer cases, it is not viable for private hospitals to set up units and, therefore, public hospitals remain the sole option for most patients.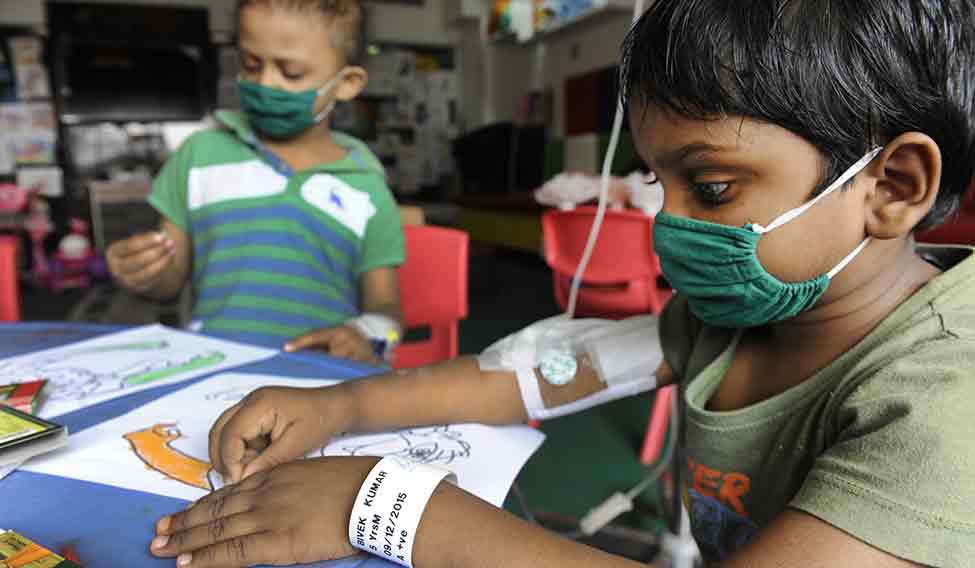 Paediatric cancer treatment can cost about Rs 5 lakh. Though the treatment is highly subsidised and sometimes free in public hospitals, most parents still face a financial crunch. Take, for instance, Tata Memorial Hospital, which sees 2,800 new paediatric cancer patients every year, the highest in the country. Many of these patients and their families come from outside the state, leaving their homes and livelihood behind. Then, they also have to look for blood donors, all of which has led to many of the patients turning away from the treatment, says Banavali. "We had a default rate of 15 per cent where patients returned without getting the full treatment," he says. "Now due to our efforts, the rate has reduced to 4.5 per cent in the last three years."
Tata Memorial, in collaboration with NGOs, has a holistic treatment programme for children—affordable housing and free meals, a volunteer blood donor programme and also a school. The cost of the treatment for needy patients is borne by various NGOs and through government schemes. "It is our endeavour that no child with cancer returns without treatment," says Banavali.
There is also tremendous improvement in treatment and rehabilitation of cancer patients, says Dr V.P. Gangadharan, head of medical and paediatric oncology at Lakeshore Hospital in Kochi. He says Kerala has free treatment for children with cancer in public hospitals, and the treatment is done with the help of NGOs. "With cancer in children, our focus is on reducing side-effects and complications of the treatment," he says.
There is another difference in how cancer is treated in children. While the adult cancer market is flooded with new drugs every few years, there is little interest in developing new drugs for children. Which is why paediatric oncologists need to use the existing ones in more effective ways. There are international groups of doctors who collaborate on collated case data and formulate protocol for using drugs most effectively, like the Berlin-Frankfurt-Munich group. "This has led to an increase in cure rate for diseases like acute lymphocytic leukaemia from zero per cent to 94 per cent now," says Banavali.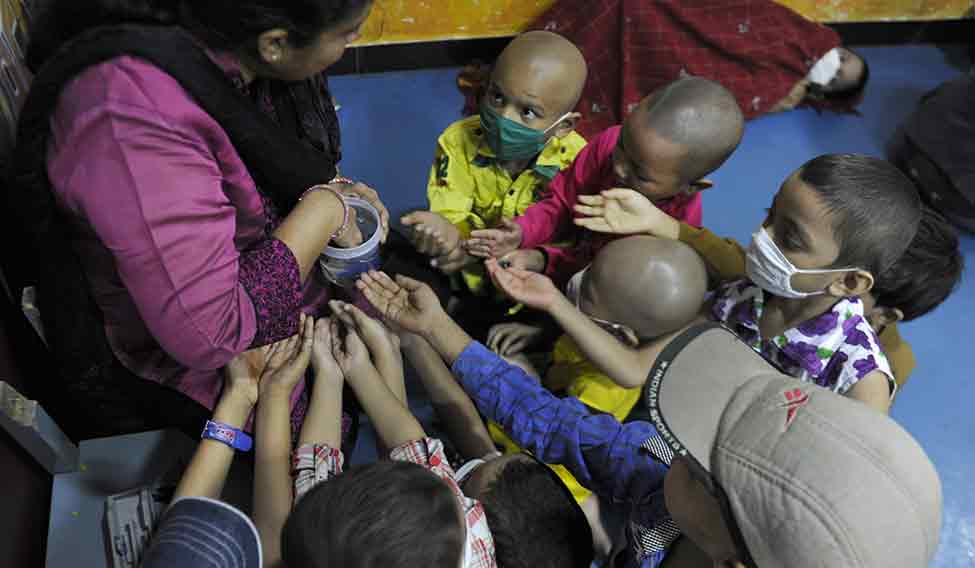 With treatment becoming effective, the focus is now on improving rehabilitation of cancer-affected children. "There are instances where school managements turn away children with cancer because of stigma and we have to step in and help them. However, society's view of these cases is slowly changing and [it is] becoming more accommodating. Recently, a class ten student gave his exam from his hospital room with a special invigilator for him," says Gangadharan.
Agrees Dr Amita Mahajan, consultant, paediatric oncology, Indraprastha Apollo Hospitals, New Delhi: "We are guiding government to become more sensitive to the needs of children with cancer and they are responding favourably. Many states offer free treatment to the children." The number of paediatric cancer patients may appear to be high, she says, also because more cases are coming thanks to better diagnosis and referrals. But one thing is certain, she says: "Most children who suffer from cancer, once cured, grow up to be healthy and productive adults." That is enough reason to focus on treating children with cancer efficiently and sensitively.