As you all know, I returned from Rio with unbearable pain in my right knee, and immediately contacted Dr Dinshaw Pardiwala of the Kokilaben Dhirubhai Ambani Hospital in Mumbai.
Apparently, I had a broken bone below my kneecap. The operation lasted 30 minutes and it took me three hours to overcome the dizziness. The knee was bandaged and luckily there was no cast. In fact, I started walking on the same evening, which they say is a record. I visited the hospital again on August 27, and the doctors were happy with the progress. They sent a physio and she is taking care of my knee. I will need five to six weeks to recover fully.
I walk short distances on my own. There is very little pain and I was given antibiotics for six days. I was also told to take paracetamol in case of prolonged pain. Two weeks of physiotherapy should have me back on my feet. I have started upper body exercises, and after two weeks a trainer will join me. The physio and trainer will work for another four to five weeks on exercises to strengthen muscles in and around the affected knee.
While I am still feeling the pain of the Olympic debacle, people are being very nice to me. I am meeting several celebrities even as I recuperate. Let us say, I am having my share of fun. I visited Amitabh [Bachchan] sir when he was on the sets of an advertisement and then went to his office—Janak, in Juhu—for breakfast. He is such a nice person and I can listen to him for hours. He is a true visionary and knows each and every aspect of life. He is a humble and truly noble personality.
He recalled his struggles in a light-hearted manner and I was truly motivated. What surprised me is that he is really concerned about sports and sportspersons. He had an excellent idea of privatising sports, which he said should be result oriented.
On the sets, I also met Nagarjuna sir, who came rushing to me when he heard that I was injured. Then, I met Deepak Dobriyal (Tanu weds Manu fame). But, what made my day was when I met "Mr Bharat" himself, Manoj Kumar sir. He was so nice and I felt very proud to meet him.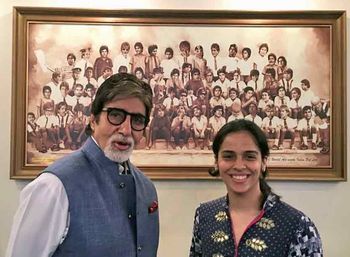 At Hyderabad, actor Charmy Kaur visited me and was so gentle and sweet. When I was in the hospital in Mumbai my meals would come from actor Rohit Roy sir's house. I also spent time with Deepika Padukone and had dinner with her. She was so comforting and easy to talk to. And then of course I have the company of my mother and father and all the kids in the neighbourhood.
I have to watch my diet during this period of recovery and I have stuck to small meals. I have fruits, milk and milk products. Since I am fully conscious about nutrition and my body, I avoid sweets. Luckily, I am not very fond of them.
My ranking, as you all know, have fallen by four places and yes, I am a little worried. I will miss a few more tournaments, including two Super Series because I will be fit only by the end of November.
To be honest with you all, I am really annoyed with my ailment and always ask God why it had to happen during Olympics and not after two or three years. I was truly prepared to face anyone on court during the Games. I cannot forget it!
In fact, my pet, Chopsy, is wondering why I am at home for so long. People also send their love and best wishes to me through bouquets and letters. BAI president, SAI DG and Olympic Gold Quest have assured me support.
All this feels nice and there is no time to feel depressed or lonely. And then there is social media. I browse once in a while and reply to all my well-wishers. I wish them all prosperity and peace during this period of festivities.
editor@theweek.in