She rises out of the ice-cold fjord waters like a middle-aged Wonder Woman. I am convinced of her superhuman powers. Two days earlier, I had dipped my toe into the same freezing water, yowled in pain and limped away in shock. And, here is this lady taking her customary morning swim in dead winter. She climbs out of the water, slim, fit and elegant in her modest but stylish black swimsuit. She towels herself on the snow-covered pier, wears her bathrobe, slips into her trainers and walks home. I am watching all this on NRK, the main Norwegian TV channel. The lady says to the camera: "I do this every day to remind myself of the unfortunate people who long for warmth." She is Kari Veiteberg, the new bishop of Oslo, the first woman to have this prestigious job. I never thought I would live to see a swimsuit-clad lady bishop, that too on prime time TV!
Norwegians are Lutheran Christians and their church is liberal, with women and gay priests, with equal number of male and female bishops, and all are allowed to marry. Intrigued, I attend their church service to witness this astonishing liberal phenomenon. Kari is accompanied by two other women priests and a male assistant. The altar boys and girls are of different shapes, sizes, gender and colour. One looks like a fresh-faced Mormon, but next to him, in sharp contrast, is a Rastafarian with waist length dreadlocks. It is a jaw-dropping picture of inclusion, European, Asian, African, clean cut and different. That's just how Kari wants it. She has thrown open the church to all—gays, heterosexuals, believers, non-believers, drug addicts and prostitutes.
Her sermon is even more surprising. She quotes Pope Francis on the need for the church to minister to the poor and the dregs of society: "The role of the church is to spread hope especially among those facing hopelessness." It is stunning to hear a Lutheran bishop quote Pope Francis. For centuries, the relations between Protestants and Catholics resulted in terrible wars in Europe, and, until 1956, the Jesuits were even banned from entering Norway. Pope Francis is a Jesuit.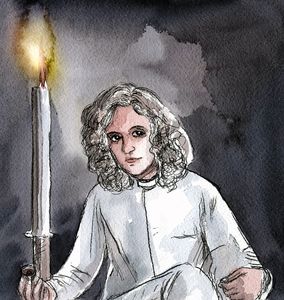 Kari is called the "Street Priest". Except for occasions like Christmas, weddings or funerals, Norwegians rarely go to church. It is for the church to go out to them, she says. She roams the streets and engages people in conversation. "I shut myself out from God if I do not open up to the people I meet. This is the only way to find God," she says. She makes it a point to interact with children and has an arsenal of jokes and riddles that she uses to break the ice. "When things are really bad, humour is a powerful tool. It provides just that little lift, that little stirring of hope, to distract from the oppression of fear or confusion," she explains. Kari is extremely mindful of the impact of words. "Words can cause so much pain," she says. "We don't realise, sometimes we use words carelessly. We shame people when we use particular words to describe them."
With her curly blonde hair, thoughtful smile and tortoise shell reading glasses, Kari looks like an intellectual, a writer. She even uses light lipstick. She looks stunning in her wedding pictures, closely resembling Jacqueline Kennedy. Rolf, her college sweetheart whom she married after her theological studies, looks a bit like Paul McCartney. They have two children. What is Kari's most notable quality? Rolf answers, "She connects instantly with people. She has a way of reaching out to people, sometimes with her strange jokes. She spreads warmth."
Pratap is an author and journalist.