Macron took on the system single-handedly to make the "centre" fashionable and popular.
They called him "Champagne bubble" from "Bla Bla Land".
But instead of popping into oblivion, newcomer Emmanuel Macron burst into history with the verve and style that is so à la France. The youngest French president ever! Sans electoral experience or traditional party backing! A handsome, modern reformist!
As the salons of ageing Parisian plutocrats plunged into gloom, the grounds of the iconic Louvre museum teemed with fluttering red, blue and white flags. Thousands—mostly youth—sang, swayed and smooched in joy to celebrate Macron's incredible victory that symbolised the triumph of hope, the audacity of daring and the allure of change.
Calmly surveying the spectacle of euphoria, Macron, 39, vowed "We will recover the spirit of conquest—what France is most famous for—and we will fight inequalities, ensure security and unity of the nation."
Macron knows just how bitterly divided France is—especially between the losers and winners of globalisation. Fractured France is mirrored by her youth. Macron's fans are Silicon Valley types—skilled, smart, successful, urban, globalised, optimistic. His opponent, far-right National Front leader Marine Le Pen's youthful supporters are mostly rural, semi-educated, unemployed and pessimistic.
France's current crisis stems from a disastrous statistic—joblessness is 10 per cent; youth unemployment 25 per cent. The "joie de vivre" way of life has disappeared in the de-industrialised eastern and rural countryside, where sullen voters blame globalisation, immigrants and the European Union for their misery. Both Marine and Macron—who abandoned the Socialists to launch "En Marche!", which literally translates to "on the move"—exploited this public anger with the elitist, traditional Socialist and Republican parties. Marine further benefitted from Brexit and Trump headwinds that signalled the new wave of anti-establishment populism.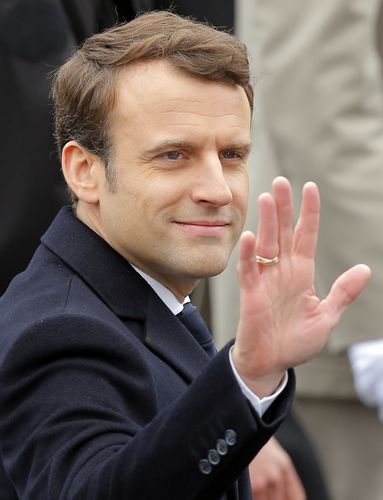 This election was a litmus test for two radically opposed visions. Macron promised stronger EU integration, deregulation and fighting terrorism while addressing the ghettoisation of immigrants. Marine campaigned for shutting down mosques, xenophobia, protectionism, abandoning the EU and the Euro. France is reputedly the most depressed nation in Europe. But, two-thirds of voters chose Macron's optimistic vision.
Macron's success can be credited equally to the French political system designed to keep out extremist parties and to his own indomitable will and charisma. He took on the system single-handedly to make the "centre" fashionable and popular.
Centrist leaders are usually "nice" or "weak", especially when debating with populists. But, Macron gave back as good as he got—often better. The riveting TV debate between Macron and Marine, on the eve of the final round of polling, cemented Macron's lead. The two-and-a-half hour debate was more abuse than argument, the insults vicious and personal.
Macron has a feistiness that is genuine. He engages with friends and foes with equal gusto. When he was the economy minister in President François Hollande's government, he walked out of a meeting with students to argue with protestors outside who were shouting against his economic reforms. One protestor sneered "I can't afford a suit like yours." A French newspaper reported that the nattily-clad Macron snapped, "You don't scare me with your T-shirt. The best way to afford a suit is to work."
In the TV debate, when Le Pen interrupted his summing up, Macron said witheringly in a final put down "You stay on TV. I want to be president of the country." That's a longstanding ambition. About 15 years ago, his mentor Alain Minc asked him what he will be in 20 years. Macron replied, "I'll be president."
It is not just overweening ambition, but a burning desire to do public good that motivated Macron for the top job. His stint as economy minister convinced him the status quo-ist system grinds to dust all innovative ideas. He observed, "I've seen inside the vacuum of our political system, which stops the majority of ideas because they might threaten the machine, the traditional parties, vested interests.... Our political system is blocked."
Macron believes he can remove the blocks—as he did in his personal life. Tenacity enabled him to surmount obstacles to marry the love of his life—Brigitte Trogneux. According to his biographer Anne Fulda, "Macron wants to give the idea that if he was able to seduce a woman 24 years his senior, a married woman and mother of three children, in a small provincial town despite opprobrium and mockery, he can conquer France in the same way."
There are two versions of Macron's biographical trajectory. Both are true. In one, he is the son of rich doctors, an alumnus of the elite Ecole Nationale d'Administration, and he made millions as an investment banker. In the other, he is working class, grandson of Manette, an ordinary teacher, whose own mother was illiterate. Macron's political image is crafted on the latter narrative—far more dramatic and romantic than the former.
Yet, that would be an unfair interpretation. According to Fulda, Manette influenced Macron profoundly, opening the door to "reading and culture". He owes his enormous self-belief and determination to his grandmother, saying, "She helped me believe in my political destiny."
And also, in his personal destiny. When he wed Brigitte in 2007, neighbours mocked his "Oedipus complex". They were wrong... he had a grandmother complex! Brigitte was not only a teacher, but tough like Manette.
One could hear Macron's personal conviction when he announced in his election victory speech, "Through work, education and culture, I will give hope to our country." It worked for him; he is now determined to make it work for France. He says, "I climbed the ranks with the help of school. I made my choices and I took all the risks. It is with pride I say I am a candidate of the working and middle classes."
Given his privileged background, critics regard his comment delusional. But human nature is contradictory, not binary. Macron is complex, and his smile masks Olympian ambition and steely resolve.
The reference to "conquest" in his victory speech is a clue to his "king complex". In a 2015 interview, shortly before he broke free from the Socialists, Macron identified the "void" at the heart of French politics, claiming, "That absence is the figure of the king, which I don't think the French people fundamentally wanted to die... all we want from the president is for him to occupy that function."
King or president, the chasm between promise and fulfilment is treacherous, as the young, fresh-faced reformist Italian Prime Minister Mateo Renzi discovered before tumbling from office. Macron's model combines market economy with social welfare. During the election campaign, he promised to uplift farmers, workers, employers, entrepreneurs and industrialists, saying, "My programme will bring France into the 21st century." Claims like that won him allies across the political spectrum—but also the "bla bla" label.
As president, instead of bridging the left-right divide, he can fall between two stools, alienating, instead of pleasing, all. To kickstart the sluggish economy, he promises ¤50 billion public investment for job training, infrastructure, renewable energy and modernisation. He also promises corporate tax cuts, flexibility to hire and fire employees and extend the 35-hour work week. But France's entrenched trade unions, socialist lobbies and leftist extremists will violently oppose such pro-business reforms, as the anti-police May Day clashes showcased.
Besides, Macron's two-third landslide is misleading. Of his voters, 43 per cent were leftists and rightists who wished to keep Marine out. Also, a quarter of the French electorate abstained, refusing to choose between "finance and fascism", equating Macron and Marine with "plague and cholera". Still, France's far right came of age in this election. One-third of France voted for Marine, proving the National Front is no longer taboo. In 2002, left-wingers famously wore cloth pegs on their nose as they voted Jacque Chirac in purely to keep Marine's father, Jean-Marie, out. National Front is now mainstream, a political force to reckon with.
As president, Macron's immediate challenge is to muster parliamentary majority. By winning over defectors from established parties, fielding women and new candidates who can take on the entrenched elite, Macron hopes to secure a majority in next month's parliamentary elections. But that could prove difficult. Traditional parties are down, but not extinct. A hostile parliament can wreck Macron.
Public discontent, terror attacks and joblessness amid a political gridlock will aggravate existing schisms and seed new revolts—nothing new to France. Fragile coalitions, short-lived governments and weak executive power characterised French parliamentary system for almost a century, until Charles de Gaulle ushered in the Fifth Republic, in 1958, by introducing a semi-presidential system. Experts wonder if the bi-polar political landscape of the Fifth Republic is ending. In the past, France's transition to a new Republic was accompanied by coup, war or riots.
Macron has conquered France, but can he govern? Can he reform without plunging a polarised France into violence? So far, timing and talent, intelligence and integrity, charm and commitment, drive and determination, love and luck have enabled Macron to celebrate with champagne all the way to the Élysée Palace. He has taken risks, but, like a cat, has always landed on all fours. Macron will need fortunate circumstances and all his remarkable human and feline qualities to ensure his bubble does not burst.