By snatching disaster from the jaws of victory, she became the "mother of all catastrophic errors".
We didn't shoot ourselves in the foot, we shot ourselves in the head!" said the astounded Tory MP Nigel Evans, summing up the fate of the ruling Conservative Party after the UK parliamentary elections.
British Prime Minister Theresa May called unnecessary snap elections expecting a landslide victory that would strengthen her hand ahead of the gruelling Brexit negotiations, scheduled to begin on June 19 and end by March 2019. Her gamble failed spectacularly.
Like an empress without clothes, the verdict left her without even the majority she earlier had. Her party lost 13 seats, diminished to a minority government with 318 seats in the 650-member parliament. Instead of her "strong and stable" slogan, she is now weak and shaky. On the eve of negotiating exit from the European Union, Britain has neither a secure government nor a coherent negotiating position. Guy Verhofstadt, the European Parliament's chief Brexit negotiator, predicts May's "own-goal will make already complex negotiations even more complicated".
Two successive Tory prime ministers have inflicted more damage to their party and country than their worst enemies. Last year, David Cameron became the "father of all catastrophic errors" when he held the Brexit referendum. He was cocksure of winning it, remaining in the EU and silencing EU sceptics in his party. A political move that boomeranged when the Brexiters won, forcing him to resign.
His successor, Theresa May, who also wanted the UK to remain in the EU, inherited the tough responsibility of negotiating Brexit. With the opposition Labour Party in disarray, May was confident of improving her party's parliamentary majority. But by snatching disaster from the jaws of victory, she became the "mother of all catastrophic errors". Says rebellious Tory backbencher Sarah Wollaston, "This is the result of hubris and a failure to listen."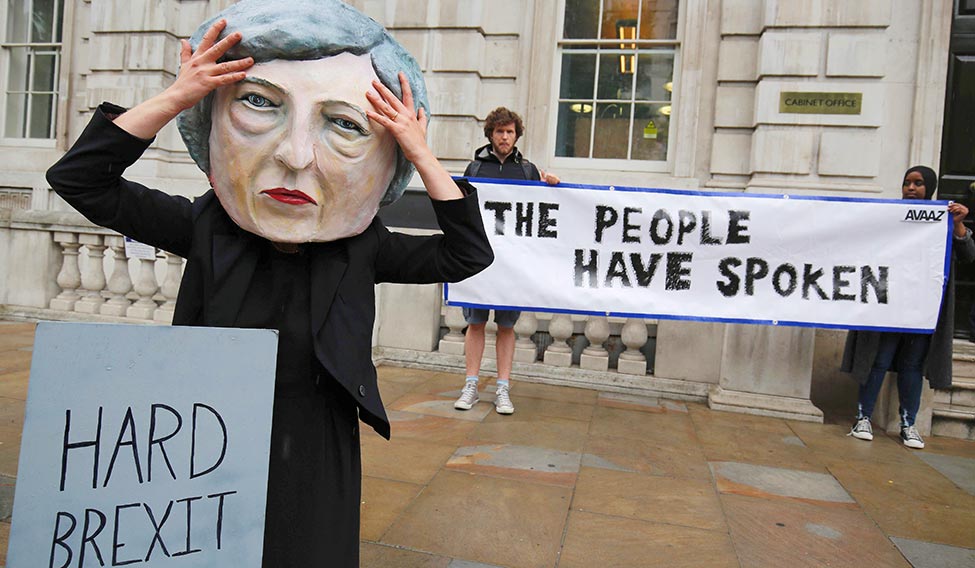 British politics now resemble classic literature: a modern-day Greek tragedy dramatising the fatal consequences of conceit. To the chagrin of her own Tory members, May and her secretive coterie ran a presidential-style election campaign projecting her as bigger than the party, a 21st century Margaret Thatcher. But she wound up like Princess Niobe, whom the jealous gods punished and turned into a weeping stone for wanting to be worshipped as a goddess. Like Icarus, May soared high on ambition, only to fall precipitously when the sun melted the wax in her wings. In seeking more, she secured less.
May's spin-doctored steely image was mocked, when she flip-flopped on issues ranging from holding snap elections to social welfare. She appeared stone-hearted and out of touch with a suffering public, scoring points on fox hunting, robbing children of lunches and making the elderly pay for their care from their graves. During visits to regions devastated by deindustrialisation, she seemed robotic, distant and insensitive. Sam Blackledge of the Plymouth Herald described his interview with May as "three minutes of nothing". According to him, May's meaningless platitudes sounded as bad as her "clacking leopard print heels" on the rain-swept pier as she sought the votes of fishermen.
And, as she drove home to 10 Downing Street after the election verdict, she looked like Tennyson's lonely Lady of Shalott, returning to her desolate castle. The night was dark, the streets empty, the crowds gone. The stage is now set for a Shakespearean tragedy to unfold. Daggers are drawn in the Tory party and its MP Heidi Allen predicts May will be replaced within six months. As Bloomberg notes, Conservatives are "an unforgiving bunch", unwilling to tolerate a loser at the helm. Potential topplers include Chancellor of the Exchequer Philip Hammond, Home Secretary Amber Rudd and Foreign Secretary and prominent Brexiter Boris Johnson. Observes columnist Nick Cohen, "May's authority is shot to pieces and the assassin's smile is upon Boris Johnson's lips".
The only winner in this election is Jeremy Corbyn, the much-maligned, professorial leader of the Labour Party whom the Conservatives and the high-pitched right-wing media branded a "radical Marxist and terrorist sympathiser". Blasting all predictions, he won an extra 32 seats, taking the Labour Party's tally to 262 seats. Last year, he faced civil war in his party with massive defections, surviving the Establishment's nuclear attack to depose him for his "outdated hard-left" policies.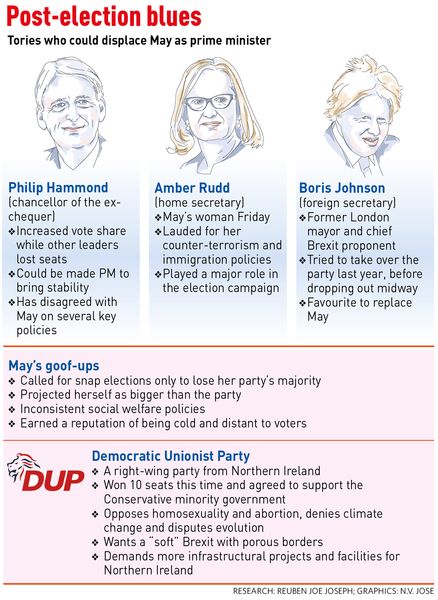 May ran a vitriolic campaign against Corbyn, warning that his victory would result in a "coalition of chaos". The Labour Party's 43-page manifesto was lampooned as a long "suicide note". But British voters chose to resurrect Corbyn and his flailing party. He is Britain's Bernie Sanders. The youth voted for him in droves because he promised to scrap tuition fees, lower their debt burdens, and improve wages and social care by taxing the rich. The media that predicted a landslide victory for May and warned voters against throwing Britain into "Cor-bin" is clearly part of the UK's problem. They should be doing as much soul-searching as the beleaguered "Theresa DisMay" as The Sun headlined.
The hung parliament is the worst possible outcome. May stressed the need for certainty while negotiating Brexit. Instead, Britain lurches into uncertainty. Losing majority entails May heading a minority government, pursuing partnership with Northern Ireland's Democratic Unionist Party. The Daily Mirror calls this a "Coalition of crackpots". Unlike liberal British parties, the protestant DUP opposes homosexuality, denies climate change and disputes evolution.
The DUP even wanted certain bands banned because they played "devil's music", resembling the 20th century Wahhabis of Saudi Arabia who opposed bicycles as "devil's machine" and the telegraph as "devil's tongue". Edward Green, a student, says, "We were afraid of shariah, now we get DUP".
Abhorrent as the DUP's social policies are to most Brits, it is Brexit negotiations that plunge Britain into turmoil. The Europeans are emphatic. German Chancellor Angela Merkel asserts, "We are preparing for Brexit and are going to defend the interests of our 27 countries."
Former Tory Chancellor George Osborne says a "hard Brexit" with the UK flaming out of the EU Common Market and Customs Union is now "impossible". The DUP wants a "soft" Brexit, with porous borders, especially with EU-member Ireland. Many contentious issues need resolution in a deeply polarised Britain—funding the ¤100 billion divorce bill, dealing with job losses, GDP shrinkage and London losing its status as a financial hub, replacing banished EU nurses in British hospitals and fruit pickers in orchards, coping with trade barriers, funding hitherto EU-supported programmes in universities and municipalities, determining the fate of 30 lakh EU nationals living in the UK and the 12 lakh Britishers living in the EU, and so on.
Schisms run deep and wide in the UK between the losers and winners of globalisation, between rightists and leftists, between EU haters and supporters, and between the rich, ruling elite and the disempowered millions who have lost jobs, homes and communities. The civil war that ravaged the Labour Party last year now savages the Tory party. Says Manfred Weber, chairman of the European People's Party, "EU is united, UK is deeply split. PM May wanted stability, but has brought chaos to her country instead."
May must reconcile the EU supporters and sceptics in her own party, neutralise party rebels, strike deals with the DUP, reassure fearful citizens and muster support from a deeply divided party, parliament and nation for an avalanche of legislations required for Brexit. She had vowed to be a "bloody tough woman" with EU negotiators. Now she herself is bloodied, battered and bruised. Having shot herself in the head and foot, an addled Prime Minister limps toward Brexit negotiations. A messy situation becomes messier. Words of conceit bite with cruel irony as Theresa May presides over a coalition of chaos.