Staging a concert at the age of six for Empress Maria Theresa, Wolfgang Amadeus Mozart was the last Austrian prodigy that the world knows of. Two and a half centuries later, a new prodigy, 31-year-old Sebastian Kurz, is poised to lead Austria as chancellor after a stunning election victory. "We have made the impossible possible. Our work begins now," says Kurz.
He pulled off a miracle. But this seems the new normal in Europe, emblazoning an anti-establishment trend: mainstream parties out, populist movements in. It also reveals the spread of far right populism triggered by the massive influx of Muslim refugees into Europe, and how to puncture it.
Nicknamed wunderwuzzi (wonder boy), Kurz will be the world's youngest leader, seizing the title from the North Korean dictator Kim Jong-un. But Kurz is neither wealthy nor a scion of a political dynasty. He has one great asset though. He understands the pulse of the people. Analysing Kurz's meteoric rise, psychotherapist Ulrich Kropiunigg says, "Fed up with coalition squabbling, people want a messiah on whom they can project their unfulfilled hopes, someone who will clean up the mess, improve their lives."
Kurz branded himself brilliantly. Unlike other political leaders who stare earnestly at voters from posters, he looked sideways into the distance, like a prophet gazing into the future; subliminally urging his people to follow him into the promised land. Unlike Emmanuel Macron who launched his own En Marche! movement to become the president of France, Kurz rebranded his mainstream, conservative Austrian People's Party (ÖVP) to launch his "movement for Austria" from within. "His discredited party, which has been ruling for decades in coalition with the equally discredited Social Democratic Party (SPÖ), receded into the background as the 'Kurz personality cult' grabbed the centre-stage of the new ÖVP," says political communication expert Jakob-Moritz Eberl.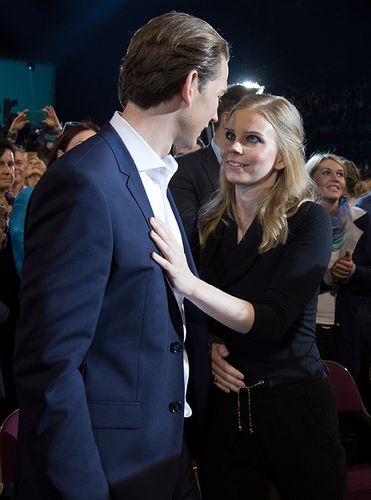 The overhaul included replacing the traditional, boring black ÖVP colour with the trendy turquoise. Kurz's handpicked independent candidates included a quadriplegic pole-vaulter, an environmentalist, a psychoanalyst, a Viennese ball organiser and several women. Kurz combined the ÖVP's financial and organisational assets with a movement's vigour. "We value our party's existing strengths, but we are also bringing in new people," he says.
Like Macron, Kurz makes centre-right politics exciting again. His youthful "Team Kurz" legion wear leather bracelets and turquoise jackets with matching trainers, swigging beer from plastic glasses imprinted with the legend "Refreshing. Different." Sartorially, Kurz is a tie-less conservative, which in the old days would have been an oxymoron. But now it symbolises an unconventional leader straddling the classic left-right divide. Kurz is solution-oriented, not ideology-driven. Christian Rainer, editor of the newsmagazine Profil, says, "When Kurz became integration minister at 24, everyone made fun of him. He is interesting because he combines political strategy, style and substance."
As Austria's—and the world's—youngest foreign minister, Kurz was tough and effective on Europe's most controversial issue, immigration. His interest in the issue predates 2015 when more than a million refugees swamped Europe following German Chancellor Angela Merkel's welcome policy. Kurz introduced Islamgesetz (Islamic law 2015) banning burqas, prohibiting foreign-funded mosques and restricting immigrant benefits. He worked with neighbouring countries to close the Balkan immigrant routes, reducing refugee influx ten times.
Though strict, Kurz also argued that immigration could attract international talent. His 50-point plan to better integrate legal immigrants into Austria included teaching German to preschoolers and inculcating civic responsibility, rule of law, values and appropriate behaviour, especially to local women. Simultaneously, he improved job opportunities and endorsed rights like access to halal food and Muslim priestly care in the military. His popularity spread beyond Austria's borders, and even sceptical European leaders like Merkel acknowledged the effectiveness of his policies.
Like Macron, Kurz is avowedly pro-European and business-friendly. He wants to lower taxes, trim bureaucracy, reform the welfare state and reduce public debt. Tall and tanned, the ardent hiker and wind-surfer is a social media expert and spends hours posing for selfies with his fans. Says Austrian journalist Gernot Bauer, "He is like a pop star, like Justin Bieber." His strategy and tactics worked. From languishing in third position at one time, his ÖVP raced to the top, winning 31 per cent of the votes.
Kurz's rise has been quick. After becoming ÖVP's youth leader in 2009, he abandoned legal studies to focus on politics. Initially, he blundered with his 'Schwarz macht geil (black is hot)' campaign. To attract youth voters, he went around with scantily clad women on a black Hummer, distributing black condoms. He was, however, ridiculed and was called a superficial party animal. But the ÖVP gave Kurz a second chance and he quickly changed course.

Kurz grew up in Vienna's working class Meidling district. His mother was a nurse and his father, a technician who battled unemployment. Hard-working, open-minded and candid, Kurz is a good listener with an engaging personality. Neither a rebel, nor arrogant or disrespectful, he has built a reputation as a dynamic doer.
His political rivals initially ridiculed him. Austria's far right Freedom Party (FPÖ) leader Heinz-Christian Strache had criticised him when he was made foreign minister. Strache said it was Austria's farewell to foreign policy. Kurz, however, turned out to be a successful foreign minister, interacting confidently with veteran counterparts like US secretary of state John Kerry and Russian Foreign Minister Sergey Lavrov. He hosted several high profile meetings, including the Vienna talks that led to the 2015 Iran nuclear deal. Kurz was so successful and popular that he was the only minister to complete a full term in the outgoing government.
Constant infighting and public angst at the refugee influx fuelled the rise of FPÖ, originally headed by a former Nazi. In the presidential elections last December, voters rejected both the mainstream parties, and the FPÖ candidate missed the job narrowly. That was a wakeup call. It was Kurz's moment to seize, and the ÖVP acknowledged that it would be doomed without reinvention. Kurz agreed to lead on his terms and secured a 98.7 per cent mandate to head the ÖVP. When paparazzi turned up to click Kurz's reaction to the spectacular endorsement, they caught him in a "big fat kiss'' with a young woman. It turned out to be his girlfriend of 13 years, Susanne Thier, who works in the finance ministry. They live together in a cramped 700sq.ft flat in Meidling. Like his girlfriend, his parents, too, have kept out of public eye.
The litmus test for Kurz begins now with his efforts to form a coalition government. He could join hands with the FPÖ or continue with the SPÖ. The FPÖ is a natural ally, though its leaders have accused Kurz of "political plagiarism" for stealing their immigration policies and votes. ÖVP general secretary Elisabeth Köstinger says Kurz is "very talented in telling people how the situation is and delivering solutions. So people trust him. He has the power and the courage to change things."
But Kurz's push for change could face challenges from Austria's fractious politics, entrenched bureaucracy, powerful trade unions and independent states. How much change can he effect when he is beholden to corporates and rich families for funding? Invariably, the elites continue to rule, cannily switching loyalties in troubled times to popular new leaders. In a video that has gone viral, economist Stephan Schulmeister says Kurz's tax cuts will feed the rich and starve the welfare state's coffers.
But voting patterns show that the millennials support Kurz. They have been hurt by the 2008 financial crisis, Eurozone debt and the refugee problem. Recession, deindustrialisation, globalisation, government-imposed austerity measures, identity issues and job losses have aggravated public insecurity. The Austrian economy is growing, but millennials fear they will not be as well off as their parents. Kurz offers a ray of hope. Wunderwuzzi connotes someone who can walk on water. So far, the waters have parted for him. That must continue if Kurz is to become a political messiah.