Mariam Atahi (in pic), who works with Save the Children in Kabul, says, "Kabul is a magical city, all it needs is some peace."
Mariam Atahi, 30, is what the locals will call a kalandari (maverick). She works with Save the Children, a charity that has now suspended operations after the attack on its Jalalabad centre. But her job is just one facet of her identity.
Atahi's is one of those rare female heads in Kabul that is not covered with a hijab. "The constitution doesn't say I should cover my head," she says, tossing a mane of thick black hair over her shoulder. "I won't do it to pander to some medieval male mindset. And I don't care for the comments they hurl my way. They will learn to accept me as I am."
Like most millennials in the city, Atahi spent a part of her childhood as a refugee in Pakistan. She is passionate about her country, and even as she is readying to leave for a master's in the UK under the Chevening programme, she is adamant that she will return. The country needs her, and she needs her country. "Kabul is a magical city, all it needs is some peace," says Atahi, who is also the cofounder of a group called Artlords (inspired by the word warlords). Comprising artists and art enthusiasts, the group paints graffiti on the grey barricades that surround sensitive areas (which is almost all of Kabul). The exercise is cathartic. The artwork rallies public opinion, spreads social messages (anti-corruption, family planning) and brightens up the stark cityscape. "Once, while we were painting, a burqa-clad woman came. She handed me her baby, took the brush from my hands and began painting," recalls Atahi.
While a large section of Kabul's young men and women would rather leave the country for safer havens, there is a sizeable population which wants to mend the nation. They are the ones who inject fun and life into this war-weary city. The women wear smart westerns, the men are mostly clean-shaven (almost as in challenge to the Taliban era regulation beard). They are striving hard to create the Kabul of their dreams.
It is easy to get pulled down by the corruption and nepotism around, let alone the constant security threat. But there are people like Jebreal Amin, 24, who want to get into the system and try to change it. A Herculean task, undoubtedly, but as he says, someone has to do it. He is off to the US to study economics on a scholarship, but has no intention of staying back. There is work to do in Afghanistan, it has to be made better. "I want Afghanistan to stand on its own feet".
Ahmed Amiri, 29, started Slice 18 months ago. For a visitor from another country, this outlet at the upmarket Shahr-e-Naw area is just another cake and coffee shop. For Kabul's youth, it is among the hippest places to visit. In a city where there is barely any entertainment (no cinemas, no pubs) Slice offers a place where they can let their hair down, where the two sexes can mingle without causing eyebrows to be raised, where even the women smoke cigarettes. Slice has a glass door entry, with just a sentry outside. It is free of the bulletproof facade that most such businesses would opt for. "That attracts unwanted attention, and is it any safer?" asks Amiri.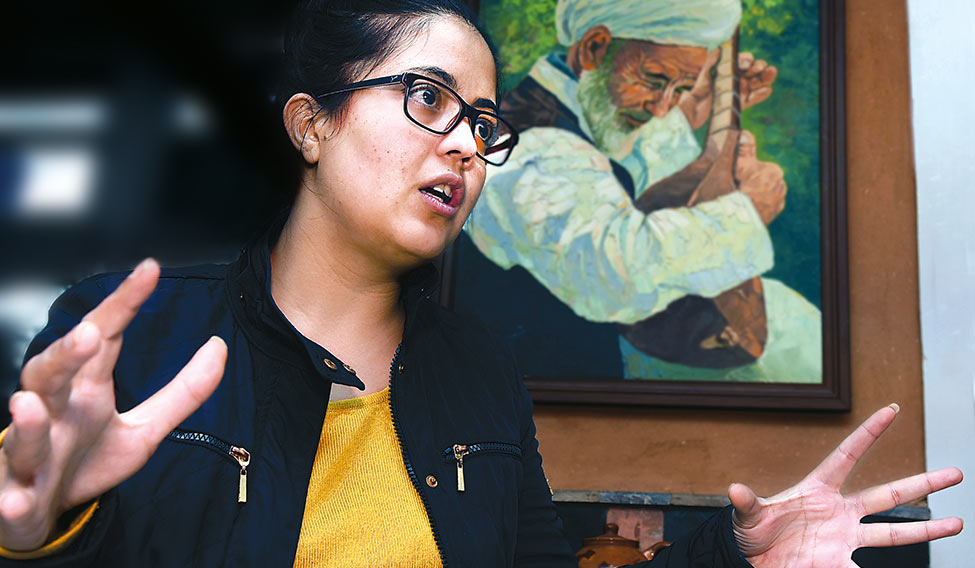 A few doors from him, entrepreneur Nargis Azizshahy, 28, opened I-cafe, a similar outlet, which even offers a hookah bar. There is free Wi-Fi, and often students and young professionals sit down with their laptops, sipping coffee, just as they see the stars doing in the movies. Both the entrepreneurs have government jobs. "Doing business in Afghanistan is not always sustainable, you need backup," says Azizshahy. She is hoping to open a lunch place, offering Indian and Chinese cuisine. "If only the security situation improved, it would be so much better," she says.
Sami Mehdi, 34, is a television sensation; he has girls swooning over his looks. He studied in the US on a Fulbright scholarship and then headed home, where he belonged. Mehdi is associate director at Tolo News, the country's popular news channel and he conducts a monthly talk show, Siyah-Safed (Black and White). The topics vary from elections to polygamy, and has avid viewership. When we visited the Tolo News office, it was observing the second anniversary of a terror attack on their staff bus, which killed seven of their colleagues. Death and danger are never too far in Kabul. Yet, the newsroom is filled with a noisy bunch of reporters and anchors, many of them women.
Freedom of expression is one of the gifts of democracy, which has resulted in more than 40 television channels and nearly 250 radio channels (which air programmes in many languages like Dari, Pashto and Uzbek). With an entire generation having missed out on education due to war, literacy is low and thus, newspapers are not as popular. Radio is the medium of maximum penetration, says Nasir Maimanagy, 33, president, Salam Watandar, the country's biggest radio network. Radio has stitched the country together in ways the government could never hope to achieve, he says. Afghanistan's provinces are remote and not well-connected, and though of one country, the people of the mountainous Badakshan area had barely any connection with the southerners of Kandahar. But as they call up channels for chat shows, they hear and learn more about each other.
Askar Mehrzada, 20, hasn't had the privilege of foreign education or a moneyed background. He comes from a humble family with an unemployed father and seven siblings. The only income is what an older brother working as a mechanic in the US sends home. Yet, the college student knows he has to give to society. Tired of the violence, drug addiction and misery around, he started a bicycle club two years ago. It has 30 members now, all students from modest homes. They plan meetings on Facebook messenger, the most popular social networking platform in Afghanistan. Usually on Friday mornings, they meet and pedal down the streets, boys and girls together, charting new routes, learning some stunts. Mehrzada, who learnt wheelies and other stunts on YouTube, is their instructor. Then, after breakfast at a fast food outlet, they head home. "Exercise keeps people away from drugs, and these trips help remove the discomfort boys and girls have in mixed company," said Mehrzada, sounding too grown up for his age. But then, in Kabul, one learns to grow up quickly. As Mehdi jokes, in a country where 60 years is the average lifespan, life is half over by 30.