Tina Brown became the editor-in-chief of Tatler at 25. An award-winning journalist, she went on to head many more publications—Vanity Fair, New Yorker, Newsweek and The Daily Beast, a news site. She also penned The Diana Chronicles, a best-selling biography of the Princess of Wales. Today at 61, she is the founder and CEO of Tina Brown Live Media. In 2010, she launched Women In The World, a platform for women leaders and activists to speak their mind. This month, the summit makes its way to Delhi. Excerpts from an interview:
One would have thought, with access to education, greater emancipation and awareness over the last century, the millennial woman would be much better off. However, the violence against them has got more vicious and targeted. Please comment.
Women are, without a doubt, much better off than we were a century ago, but there is still a long way to go. There aren't many places where women are on an equal footing in business or politics or at home. One of the unsafest places for a woman is her own home—three women are killed a day by their spouse or significant other in the United States. A century ago, we would have never known that statistic. Technology and our interconnected world means we are shining a light on many horrors that in the past were shrouded in darkness. Globally, women are now out in the open and discussing these issues, which is the first step towards fixing them.
The media is one are where women representation has increased phenomenally. However, this is largely in the lower rungs. In the rarefied top echelons, the female voice is still drowned by the men.
Absolutely right. It blows my mind. In the US there are no women at the very top level running media companies. They are all on the second or third level and yet in Malaysia we have superstar women like Rohana Rozhan who runs Astro Malaysia with a revenue of 2.6 billion, yet somehow in the US it hasn't happened. The same pale, stale males keep being recycled in top media jobs again and again. However the rest of business, while it has improved it still has a long way to go, too—only 24 women are at the top of the Fortune 500 companies.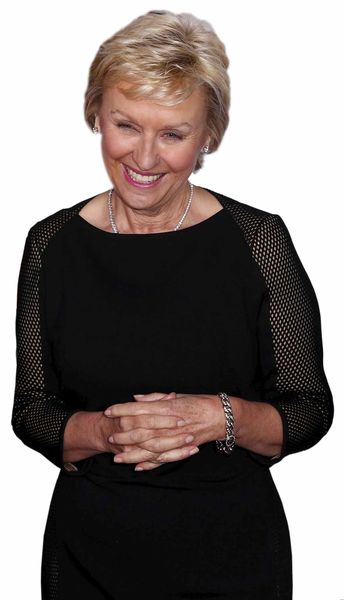 The forthcoming elections in the US will be historical, a woman in the last leg of the race for the top post in the country. What would be the impact of the outcome?
If Hillary wins she will undoubtedly weave her life-long campaign on behalf of women into policy at the highest levels. Paid family leave, equal pay, vigilance over laws on domestic violence and so forth have been her life's work and I have no doubt she'll bring them to the White House if she wins.
Do women leaders rule differently from men?
That's a very interesting question and one we're going to be debating in fact at Women in the World in Delhi in a panel called, "Does it take women leaders to make women leaders?" Women leaders are by no means always the collaborative caring bosses some people might like to hope they'd be. However, I do think, at their best, they are more collaborative and flexible in considering different ways to reach an outcome. Since they've been on the outside so long they have, at times, the agility to do things differently.
In the Indian context, gender issues are quite different from the west. We didn't have to fight for the vote, we also got a woman prime minister within the silver jubilee of independence. Yet, the female voice is India is a stifled one, her role in society a poor second.
I think we're at a very exciting moment for the gender conversation in India. The country has so many extraordinary, strong women leaders in every aspect of civil and political life. And yet, the push pull of tradition versus modernity causes a lot of stress and operating in a patriarchal society is still forces women into many inequities. Of course it isn't simply gender inequities that are the issue, but caste inequities as well. We will be discussing at the summit the outrage over the sexual violence that has too long been accepted toward lower caste girls without the means to fight for justice.
What, according to you is emerging as the biggest gender issue?
Regression! Savage repression of their rights and threats to their safety with the rise of ISIS in the Middle East and the increasing radicalisation curtailing their freedoms in countries which had been thought of as secular.
Feminism has a stereotypical image—pushy, militant, bra burning. Can one be feminine and still a feminist?
As Meryl Streep recently said, "I'm a humanist," rather than simply a feminist. I think feminism is actually getting an exciting reboot as the millennials look around and see that unless they fight for the rights that have been won for them by their mothers and grandmothers they could slide backwards in independence and inclusion. It remains a huge battleground for women who are trying both to work and raise a family and do both well. And feminism needs most of all to be a movement that both empowers women and allows them to be mothers.
Women may have got a huge control over their fertility and reproductive freedom over the last few decades, but the woman's natural role in reproduction and nurturing is still a challenge in the workspace. Despite laws, there is scant male empathy.
I think there's been good movement in bringing men more and more into the sharing of responsibilities, but the fact is that women, by far, bear the most burden of child care and looking after parents. They have to and they also want to and it causes tremendous stress when that competes, as it so often does, with the need to be a breadwinner or the desire to pursue a vocation. The truth is that there is no magic bullet for this solution. I think in the West we are envious of Indian women having such tremendous family support which is so often missing in scattered families in the United States.
It's often said that the tragedy of the modern woman is that she has evolved, but that the men haven't.
Ha! Girls have become women and men have become boys. That's my observation.
The violence in the world right now is viciously targeting women. Whether it's the kidnapping of teenage girls by the Boko Haram or the sex slaves of the ISIS, women have been used in a terribly debased manner.
This is a major theme of Women in the World and we have brought many, many women to our stage who are fighting terrorism in their own ways. We are bringing to Delhi, in fact, a woman, Dr Obiageli Ezekwesili, who has single-handedly kept the flame of outrage about the 270 missing school girls kidnapped in Nigeria by Boko Haram. She's a passsionate and brave women who has been relentless in her pressure on the government of Nigeria and I firmly believe she will not rest until they are found.
Currently, the Indian military is mulling combat roles for women, but there is a strong section, which feels women in these roles are a liability, specially if they fall into enemy hands. Do you believe women should aspire for every male job, or should there be some professions at least that remain gender exclusive?
I think every job should be open to a woman and it is her own choice to pursue it and her obligation to meet the standards necessary to be accepted without any kind of a free pass because she is a woman. That is true gender equality.