From December onwards, 64-year-old Vimla Mishra's day would revolve around the house, literally. Her chores done, she would take her chair to the sunniest spot in her apartment. As the day progressed, she would shuffle the chair from room to room chasing the sunlight till the weak warmth finally ebbed off, and then the heaters would be turned on. The heaters were usually brought out around Christmastime. This season, however, they are still in the loft, and Mishra's chair is stationary. Now in late January, with the nip grudgingly returning, she is wondering whether to go through the exertion of dusting out the heater or not. If experts are to be believed, she needn't bother, for even if winter makes a comeback, it would be without its bite.
Winter came cheerily to north India in early December, and temperatures did fall to the five degree minimum level. But the cold didn't sustain, let alone progress, and the national capital notched five-year records in the least foggy days and the warmest New Year. Average temperatures in January—the bleakest winter month in north India—remained at over 20 degrees across cities like Bathinda, Ambala and Amritsar. In Delhi, during the first fortnight, the average maximum was 22 degrees. According to the Indian Meteorological Department (IMD), Delhi had its warmest winter in two decades. Delhiites, who are usually swaddled in layers of woollens, were down to just a cardigan; many spent the day in just shirtsleeves.
Further north, in Kashmir and Himachal Pradesh, the heavy snowfall of the season hasn't yet happened. Till January 19, there was just two feet of old snow in the skiing resort of Gulmarg, though by now, fresh snow should have piled to at least eight feet. The surface of the Dal Lake ripples in the winter sun, not once has it frozen over yet this season. For the lake's surface to freeze, day temperatures have to be in single digits for a prolonged period and night temperatures have to dip well below zero. With day temperatures scaling to 12°C, the freeze isn't happening anytime soon. Migratory birds, too, have given the area a miss, seeking cooler climes, say birders.
Nikhil Chauhan, who sells trendy export surplus readymades at Delhi's famous Janpath Market, tried selling woollies for a week, but has now returned the consignment and decided to continue with the summer stock. "I am getting better business done this way," he says.
So who, or rather what, moved the winter this year? With 2015 going down as the warmest year ever recorded, the first thought to pop up in mind, especially after the recently concluded Conference of Parties meet in Paris is "climate change". Weather readers, however, say that the cause isn't so much climate change as it is a host of geographical phenomena, working such that the winter has literally lost its cool. G.P. Sharma, vice president of the private meteorological forecasting agency Skymet, says western disturbances, which develop as far away as the Mediterranean, Iran and even Eurasia, are the most influential factors of the subcontinental winter. They bring in the winter precipitation—snow in the Himalayas and rain in the plains—which is what sends temperatures plummeting. "There haven't been many active systems this year and so while the skies have clouded over, they haven't precipitated," says Sharma. "Even the present system building up over the Gangetic plain isn't expected to bring any drastic winter change, though it has caused the nip to return." Till the end of January, no rain for the plains is the forecast.
But what has disturbed the westerly disturbances this year? The reasons are rather complex, but El Nino, which is the warm phase of the El Nino Southern Oscillation—a band of warm ocean water that develops in the central Pacific, and has phenomenal influence on global weather, is culprit in chief. The El Nino strengthens every second to seventh year and is associated with not just less monsoon, but also a warmer winter in India. The 2015 El Nino is supposed to be one of the top three in recorded history, and has warmed other continents, too—from Europe to America, there have been reports of daffodils in winter.
Weather phenomena are not caused by one factor alone, says Brahm Yadav, deputy director general of meteorology and head of the National Weather Forecasting Centre. "The Siberian High has been very weak this year, too,'' he says. Siberian High or Siberian Anticyclone is a massive collection of very dry and cold air over Eurasia from September to April. It develops over Lake Baikal in Eurasia and causes fierce winters; when strong, it can influence weather right down to Malaysia. Subtropical jet streams, too, have been rather weak.
IMD chief Laxman Rathore points out that the last year has seen some of the most extreme weathers. 2015 was not just the hottest year since 1880, but also had the fiercest El Nino in the last 50 years. The El Nino was expected to have effects on the wetter side, but still a situation like Chennai floods wasn't expected, says a senior scientist at the Indian Institute of Tropical Meteorology, Pune.
Urban living may have become a few shades more comfy this season, but Devyani Sinha, who owns a 12-acre apple orchard along the old Hindustan-Tibet road in Himachal Pradesh, has worry lines creasing her brow. "I check the weather forecast every day. Sometimes there is a ray of hope with a prediction of 20 per cent snow, but not a flake falls," she says. Apples trees in Kashmir and Himachal will begin blossoming in April, when the roots will scour the soil for water. The melting snow provides the required moisture to these hilly slopes. "No snow in winter means no water in summer. It is as basic as that,'' says Sinha. "There is no other source of irrigation here.''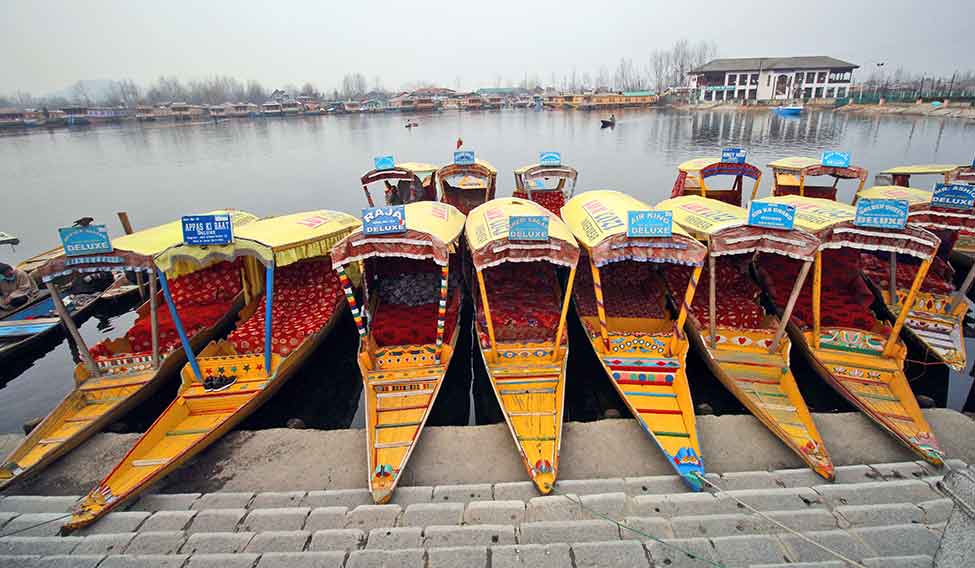 In Srinagar, houseboat and shikara owners are dealing with poor business prospects. Ever since the 2014 floods, summer tourism has become slow and a good winter would have injected some vigour into the trade. Shikara owner Bashir Ahmed sits around a fire with his friends, idling time, his boat bobbing as idly at the water's edge. "Our daily earnings are falling to less than Rs100 a day," he laments. In Kashmir, the fiercest 40 days of winter, called chelikalan, begin around December 20. There are still a few more days for the chelikalan to end, and locals pray for at least two days of continuous, heavy snowfall. Three or four feet of snow in Srinagar means double the precipitation in the hills. That should tide them over the summer, else the state is looking ahead at a drought. Luckily, the upper Himalayan reaches have had their quota of snow, so the glaciers are not in any imminent danger. Anyway, glacial movements are not dependent on vagaries of one season, point out experts.
The rabi crop is under duress, too. In some areas, the winter wheat is waiting for a douse of rain to grow. Even in well-irrigated states like Punjab and Haryana, farmers are worried. "We had sprayed the wheat with pesticide. A good rain would have washed off the excess," says Ajmer Singh Lakhowal, president of the Punjab chapter of the Bharatiya Kisan Union. "Instead, the warm weather will encourage more pest growth, leading to further spraying. It is expensive for us and not good for the environment.'' Only 70 per cent rabi planting is complete in Haryana, Punjab and Madhya Pradesh. In other states, pulses and spice cultivation have taken a hit.
The weak western disturbances have affected weather even in Deccan India, with average winter temperature in Maharashtra being two degrees above normal, says D.N. Chattopadhyay, deputy director general of meteorology at Pune's Agricultural Meteorological Division. "Warm temperature causes crops to mature faster, [which is] not good for yield," he says. "A drought year left little moisture in the soil. With a warmer winter, the oilseed crop will be affected." Extreme weather events over the past year have cut food production by 17 per cent. The agriculture ministry's fifth estimate of annual crops has reduced wheat output by 6 per cent, and said 60 per cent of wheat growing areas have been affected by hail and rain in March 2015. Says Babubhai Patel, a cotton farmer from Gujarat and member of the Bharatiya Kisan Sangh, "Even though we went for short-term crops, nothing worked this year.'' In Madhya Pradesh, Chief Minister Shivraj Singh Chouhan had to announce a Rs7,000 crore relief package for farmers. With nearly 3,000 farmer suicides last year, agrarian crisis is a burning subject.
Agriculture secretary Siraj Hussain says extreme weather makes farms smaller than ten hectares unviable. "In the long term, we need to take out people from agriculture and consolidate farm size, like in Punjab," says Hussain, who headed the Food Corporation of India earlier. There was a drop in kharif wheat output, too, in 2015, he adds. "Frequency of extreme weather events is set to increase in India owing to climate change. A better safeguard for farmers is needed from the government,'' says Chandra Bhushan, deputy director general of Centre for Science and Education. Yogendra Yadav, former Aam Aadmi Party leader who travelled across ten states with economist Jean Dreze, says, "The effect of extreme weather events was visible to me. Nobody in a village in Bundelkhand could afford dal or milk in the past 30 days."
So will a warm winter mean a chilly spring, or worse a simmering summer? April may be the cruellest month, but it is too far away to predict how it will unfold, say meteorological experts.
WITH SOUMIK DEY, TARIQ BHAT AND SWAGATA YADAVAR