Something strange happened in the Munich airport. A young East Asian woman walked towards me with a weird expression in her eyes. Focused yet distant, her gaze looked beyond, unmindful of the people around her. Her abnormal expression disturbed me. More bothersome was what she was doing with her hands. In her left hand she held a half-peeled whole apple. The part of the apple cupped in her palm had its skin, while the other half was peeled. With her right hand, she absent-mindedly tapped the peeled half of the apple with a spoon. I have seen many strange things, but never seen a person eating a whole apple with a spoon. I concluded she was mentally unsound and veered away from her, just in case her spoon became a spear.
She reminded me so much of Igarashi-san, the competent, imaginative assistant to our Japanese chef Okubo-san in our Tokyo residence when my husband was Norway's ambassador to Japan. Igarashi-san committed suicide. Like all Japanese chefs, Okubo-san is a culinary expert, but unlike them, he is disorganised. Igarashi-san was a precision-artist, skilfully slicing, chopping, arranging ingredients and efficiently restoring order as Okubo-san flailed with the flair of a failing impresario. Igarashi-san and I became fond of each other over the five years she worked for us. Sometimes she seemed a bit high-strung. But who wouldn't be, having to cope with Okubo-san's creative confusion as he prepared food for 150 guests? She always complimented my "big eyes and bigger smile," declaring repeatedly, "You give me energy". My housekeeper told me how crestfallen Igarashi-san became when I was away travelling. At our farewell from Japan, she gifted me a beautiful papier-mâché necklace handmade by her artist friend.
A few months after we left, Igarashi-san was found wandering the streets on a winter day in her night clothes muttering to herself. She was sent to a clinic, recovered a bit, but a few months later, slit her wrists. The news broke my heart. I have seen several deranged people roaming the streets in India, the US and Japan, and I wonder: What drives them crazy? Why can't we intervene in time to save their lives? And yet, when I saw this strange woman in Munich airport, my instinctive reaction was to step out of potential harm's way!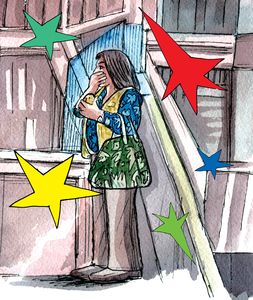 And then, while boarding, I saw the apple woman again. When I overheard her speak to the woman accompanying her, I knew she was Korean. She had a stroller and began gurgling nonsense to her baby. And then I saw her scraping the apple with the spoon and feeding her baby. Everything explained. I was thoroughly ashamed of myself for jumping to conclusions, certifying her insane in my head. She was wise, feeding her baby fresh apple instead of some sugary, synthetic apple puree.
Our subconscious mind is 30,000 times more powerful than the conscious mind, registering 11 million pieces of information while we may be consciously aware of only 40. Past experiences, emotions, biases, perceptions arise from the subconscious to make instant assumptions that can be misplaced. Unconscious judgments clouding our assessments are normal, but our lack of awareness of this phenomenon is problematic. I recalled Pope Francis's comment in 2013 that electrified Catholics. The Bible condemns gays, but Pope Francis said, "If someone is gay and he searches for the Lord and has goodwill, who am I to judge?" How does it matter if you are gay or straight, black or white, rich or poor, man or woman, so long as you do good? Families and societies would be happier if we all are less judgmental and more embracing. A good message to remember as we head towards Christmas.
Pratap is an author and journalist.