"The tenders quoted by the power companies are not valid as per the guidelines issued by the Union government" - S. Nagalsamy, former member of Tamil Nadu Electricity Regulatory Commission
Tamil Nadu has become a power surplus state. A total of 7,486.5MW of electricity has been added to the state's power grid," said Chief Minister J. Jayalalithaa at an election rally on April 9. A day later while launching his party's manifesto, DMK president M. Karunanidhi said: "If DMK is voted to power, the electricity billing period will be reduced from once in two months to once in a month."
Surplus power and uninterrupted power supply had become poll planks this year, unlike 2011 when power cuts dominated the electoral discourse. No doubt, the state has turned power surplus over the years, but at what cost? Even as Jayalalithaa's third term as chief minister was coming to an end, details of monumental corruption in the power sector were coming to the fore. Documents available with THE WEEK show that power purchase tenders, for buying 3,330MW from private players, since 2012 were not evaluated as per the standard guidelines. Also, the state's power utility is immersed in a debt of Rs 80,000 crore. A memorandum of understanding signed with the Adani group of companies for setting up a 648MW solar power plant, too, has come under the legal scanner.
The power crisis goes back to 2012 when residents, reeling from excessive load shedding, were cursing the AIADMK government for not keeping its promise of uninterrupted power supply. Textile mills and micro-small and medium enterprises in the western belt bore the brunt. The state's power utility, Tamil Nadu Generation and Distribution Corporation Limited (Tangedco)—with an installed capacity of 11,884.44MW—was under tremendous pressure to generate an additional 3,500MW. So, it decided to float tenders to increase power purchase from private players.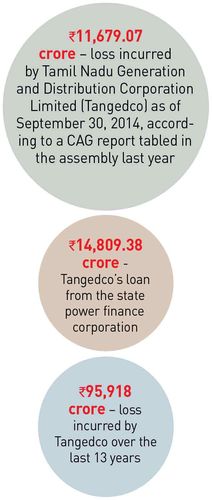 Tangedco received tenders from 12 private thermal power companies, both within and outside the state, for a long-term (15 years) power purchase agreement of 3,300MW. Though the levelised tariff (the cost per unit that cannot exceed the prescribed limit, applicable to all power projects) fixed by Tamil Nadu Electricity Regulatory Commission (TNERC) is Rs 4.91 per unit, Tangedco was buying power at Rs 5.05 or more. "Here is where I smell a scam," said S. Gandhi, president, Power Engineers Society of Tamil Nadu (PESOT). "When power from other states is available at Rs 3.80 to Rs 4.20 per unit, including the cost of transmission loss and line loss charges, why should Tangedco buy power at Rs 5.05 to Rs 6.40 per unit from private players?" Gandhi, a retired employee of Tamil Nadu Electricity Board (TNEB), had recently released a documentary, Oozhal Minsaram (Corrupt Electricity), detailing how the board's decision to buy power at an excess rate had caused a huge loss to the state's power distribution company.
The Comptroller and Auditor General, in its report tabled in the assembly in 2015, pulled up TNEB and Tangedco for purchasing power from private players at higher rates. "Tangedco incurred a loss of Rs 11,679.07 crore as of September 30, 2014. Deficiencies in financial management, planning, implementation of project, operations and monitoring led to the huge losses," said the report.
Gandhi also accused TNERC for failing to fix the tariff for the 3,300MW project. TNERC starts the procedure of fixing tariffs when the bidding process is done. The state cannot purchase power till TNERC fixes the tariff. But, in this case, Tangedco started purchasing power at higher rates even while its tariff petition, which was filed in 2013, was pending before the commission. "Under section 63 of the Electricity Act, 2003, we are entitled to purchase power. There is no question of the commission rejecting it. This was the reason why we went ahead and started purchasing power," said a Tangedco official.
TNERC failed to arrive at a decision as its member S. Nagalsamy, who heard the tariff petition, withheld his approval and termed the purchase as unauthorised. "The tenders quoted by these power companies are not valid as per the guidelines issued by the Union government," he told THE WEEK. "The tenders were not evaluated properly and are not primarily qualified. These tenders should have been rejected at the evaluation stage itself."
Nagalsamy's order, citing these reasons, however, was not uploaded on the commission's website even after his retirement last year. With no tariff being fixed by TNERC, the private firms, which were selling power at varying rates (see box), approached the Madras High Court in 2014. TNERC chairman S. Akshaykumar and another member, G. Rajagopal, however, orally approved the tariff petition in court on September 15, 2014. But the final orders are yet to be uploaded on TNERC's website. Owing to this, the present purchase rate is still between Rs 5.05 and Rs 7.30 per unit, and not Rs 4.91 per unit. "Any thermal power purchased above Rs 4 per unit is costly anywhere in the country," said Nagalsamy, questioning the "professionalism" and "financial acumen" of the team that evaluated the bids for the agreement. "If 3,300MW a day is purchased for the next 15 years at this variable cost, the loss to the exchequer comes to Rs 50,000 crore over the years." Gandhi estimates a loss of Rs 40,327 crore in the next 15 years. "This is a major scam with bureaucrats and politicians being hand-in-glove with private generators," he said.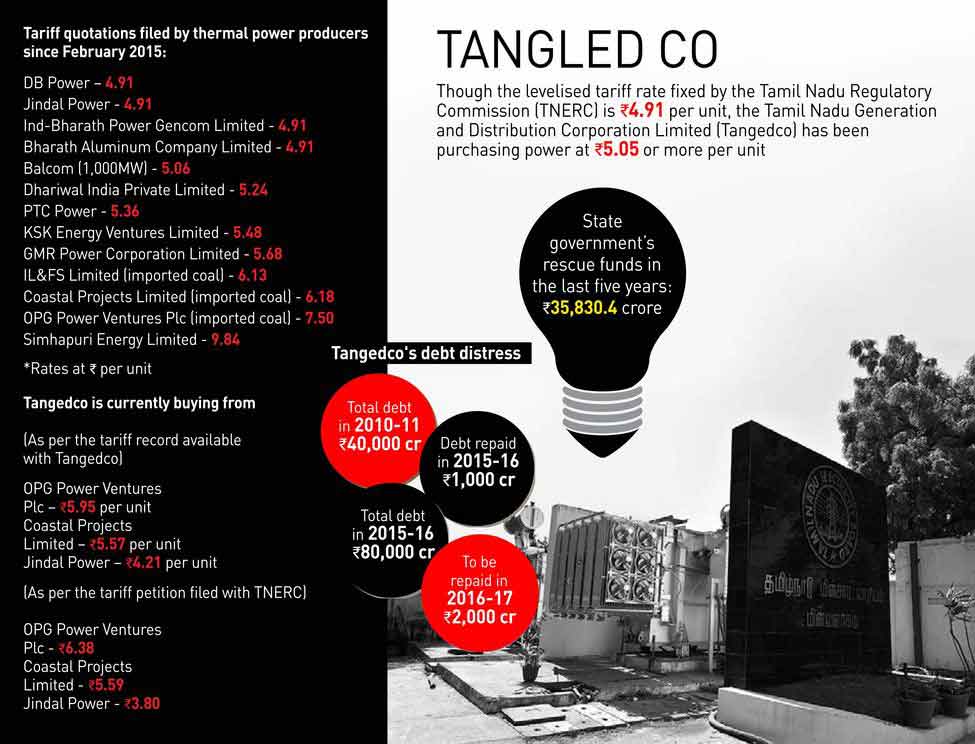 When contacted, Tangedco's chairman and managing director Dr M. Saikumar, who is also TNEB chairman, said via a text: "It is not proper to talk now. Talk to me after May 19 [after elections]."
Another key grouse against Tangedco is the inordinate delay in commissioning pending power projects. For instance, seven MoUs, signed during the DMK regime for around 2,500MW in Vallur, Ennore and Mettur, were not commissioned on time, owing to technical and other reasons. Two other mega power projects, with a total capacity of 2,640MW, were also put on hold as they are mired in court cases. And, the Udangudi Ultra Mega Power Project, with a capacity of 4,000MW, was scrapped by the state, citing non-feasibility.
Also, there are discrepancies in the MoU the state signed with the Adani group in 2015 for setting up a 648MW solar power plant at Kamudhi in south Tamil Nadu. The state utility later agreed to purchase power at Rs 7.01 per unit as against Rs 5 per unit, according to Central Electricity Regulatory Commission guidelines, from the Adanis and 40 other private producers for the next 25 years.
"The same Adani group quoted $6.04 per unit in its bid in Madhya Pradesh. Even that was rejected because another company was offering solar power for Rs 5.04 per unit," said Gandhi. "So, why should Tamil Nadu pay so high for 25 years when Tangedco is already bleeding?"
The Rs 7.01 per unit tariff was, however, fixed by TNERC. "We fixed the rate at Rs7.01. But this was only for the Renewal Energy Purchase Obligation of 0.05 per cent of the total consumption or 25MW," said Nagalsamy. He said the government was not entitled to sign the agreement. "The MoU with Adani group is illegal as the government can sign agreements only for 25MW."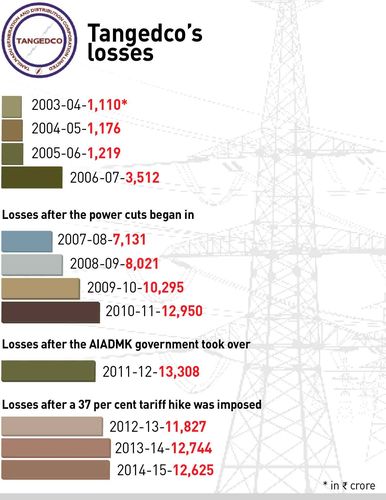 In his order, Nagalsamy stated that the cost of solar project had come down to Rs 5.86 crore per megawatt and, as a result, the reference tariff should also come down to Rs 5.87 per unit. "The state has received applications for setting up solar power projects of 5,366MW capacity and if extra tariff of Rs 1.14 per unit [difference between Rs 7.01 and Rs 5.87] is paid for 25 years, this would mean a loss of Rs 23,000 crore to Tangedco," he said.
Two petitions pointing at irregularities in the solar deal were filed in the Madras High Court in the last year. One of the petitions was filed by the solar power producers association. "The seniority list to award the tender was not followed by the power utility," said C. Narasimhan, president of the Indian Solar Association. Narasimhan's Raasi group of companies, which is into solar power production, had filed an application and had paid deposit for setting up a 100MW solar power plant in Tamil Nadu. In fact, contracts worth Rs 1,56,518 crore were awarded on nomination basis for setting up solar power plants. "Rules of the game changed after Adani jumped into the fray, gaining Rs 3,074 crore in terms of extra tariff," alleged Narasimhan.
Another PIL was filed by S.P. Sreenivas, a consumer, alleging that electricity minister Natham Viswanathan had taken a bribe of Rs 525 crore from contractors and power purchase agreement-holders, and that the loss to Tangedco was more than Rs 25,000 crore. "The minister had negotiated with several solar power producers and had permitted them to enter into agreements with Tangedco if they paid Rs 35 lakh to Rs 40 lakh as commission for every megawatt of the proposed plant size. The high cost of Rs 7.01 per unit of solar power would benefit the Adani group," said Sreenivas. The court has now directed the Directorate of Vigilance and Anti-Corruption to inquire into the matter and submit a report by the second week of June.
Viswanathan, however, said that it was during the AIADMK regime that the purchase of power at a higher cost was stopped. "The government reduced the price from Rs 6.94 per unit to Rs 5.50 for power purchased within the state and from Rs 7.41 per unit to Rs 6.18 per unit for power purchased outside the state."
He also said that the solar power tariff of Rs 7.01 was fixed by consensus by the three-member team of Akshay Kumar, Rajagopal and Nagalsamy in September 2014, and he dismissed the RPO of 25MW, saying, "There is no such stipulation."
Meanwhile, the Adani group has managed to set up 220MW of the agreed 648MW plant, and 72MW of solar power is already being evacuated by the grid, said sources in Tangedco.
These irregularities notwithstanding, Tangedco has a debt of around Rs 80,000 crore, including the Rs 14,809.38 crore it owes to the Tamil Nadu Power Finance Corporation as on March 31, 2015. The state power utility's losses have seen a steep increase since 2003. The losses, which stood at Rs 1,110 crore in 2003-04, went up to Rs 12,950 crore in 2011, when the power cuts began. In 2014-2015, it was Rs 12,625 crore, despite the state government's efforts to bail out the public sector unit with its rescue fund of Rs 35,830.4 crore in the past five years and a revenue increase of Rs 8,000 crore through tariff revision in 2012. "This was when TNERC revised the tariff and there was a 37 per cent hike in the tariff," said Gandhi. "The losses are finally transferred to the consumers."