As Khushboo landed at the Chennai airport a few months after the release of her runaway hit Chinna Thambi (1991), she found hundreds of fans outside, holding her huge posters and screaming her name. She got so nervous that she ran back inside and hid herself. It took her some time to realise that she had become so big. Twenty-five years later, Khushboo is no longer shocked about the unexpected, and is prepared to take life as it comes. Although she doesn't share the Victorian prudery of Rajaji or Kamaraj, she is today the face of the Congress in Tamil Nadu and one of its national spokespersons. "My self-respect is my strength. And, my silence is my bigger strength," says Khushboo.
Khushboo was born on September 29, 1970, in a Pattani Muslim middle class family in Mumbai, and her childhood was not exactly happy. She prefers not to talk about her father, although she says it was he who taught her about the world. She recalls those days when she would pay 10 paise to the neighbours to let her watch Chitrahaar on Doordarshan.
Khushboo was introduced to films by her brother's friend, who was actor Hema Malini's nephew. She remembers how she landed her first film role, way back in 1978. She was offered a chance to act in the Hindi blockbuster The Burning Train, while she was at Hema's Juhu bungalow. Hema's mother, Jaya Chakravarthy, asked the eight-year-old whether she was interested in acting, and she readily agreed. She only wanted an ice cream in return. "Those were the days when I would sit on Hema's lap and discover the world," says Khushboo. After starting out as a child artist, she played lead roles in films like Jaanu, Tan Badan and Meri Jung. In 1986, she moved to the south. "Those days we did not have a proper house to live. Often, my three brothers, my mother and I had to go without food," she says.
Khushboo became a star following the success of Chinna Thambi, in which she was cast opposite veteran superstar Sivaji Ganesan's son, Prabhu. Soon there were rumours about her affair with Prabhu, and his marriage broke up not too long after. "Let us not talk anymore about that. I am now a mother leading a happy life. I have regards for Prabhu," she says. The issue, however, cost Khushboo her place in the Tamil industry, until actor-director Sundar C., whom she married later, gave her a chance to come back. She, subsequently, made it big in the south, reversing the trend of heroines from the south becoming superstars in the Hindi film industry. She became so popular that a temple was built in her name. There is also an idli named after Khushboo.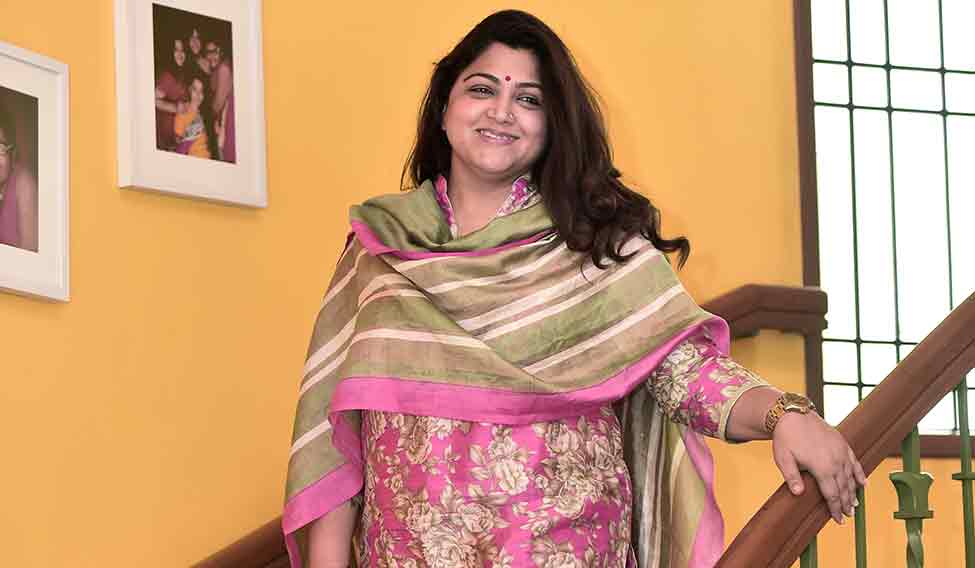 A typical day for her starts at 5am with a cold tea. She then steps into the kitchen to prepare breakfast, lunch and snacks for her daughters. "Both my daughters have different demands every day. If one asks for spaghetti, the other wants a south Indian dish," she says. After the two girls, Avantika and Anandita, leave for school at 8, Khushboo gets to spend some time with Sundar, if he is at home. A complete family woman, she has got the names of her daughters tattooed on her right arm. Recently, she added a small 's' to that. "S stands for Sundar," she says, showing the tattoos. Is she a typical south Indian wife? "We are a typical south Indian family and I like the role of a wife and a mother," says Khushboo. "What is wrong in this? But, at home, I am the boss."
It shows. At home, everything—from flower vases to her favourite Ganesha statues—is at its assigned place. Is she a perfectionist? "No," the reply comes quickly. "If you are a perfectionist, you have no space to grow. I am not rigid," she says. The entire house is filled with Ganesha idols although she is an atheist. "I was brought up in Mumbai with its Ganpati bapa moriya culture. I like Ganesha," she says.
Though not a Tamil by birth, Khushboo reads Tamil newspapers every morning. She is a voracious reader, but does not seem too fond of writing. When asked about the possibility of an autobiography, she says she has nothing more to say. "My life is an open book. I don't have any bombshells to throw," she says.
By 10, she steps out for meetings and shoots, returning in the afternoon for lunch. Her favourite dish is mutton biriyani, "the typical Pattani Muslim favourite." But she is equally comfortable with the south Indian ghee dosa and a cup of curd rice. Evenings are usually reserved for the family, for shopping or to relax at home. But this being the election season, Khushboo's days are busy with public meetings and events.
Women's rights is a favourite cause for Khushboo. She says she is a feminist, but "not a bra-burning one." Her firm stand on women's rights has caused her much trouble. In 2005, while she was visiting Singapore, her views on virginity and premarital sex, which appeared in an article she wrote for a magazine, led to a major row. When she arrived in Chennai, cutting short her holiday after her daughter fell ill with dengue fever, there were a number of protesters at the airport. Her effigy was paraded on a donkey, hit with chappals and stoned. As many as 46 cases were slapped on her. But she refused to be cowed down and approached the Supreme Court, which granted her relief. "I don't owe an explanation to any stranger. I believe in freedom of speech and I stand by what I say," she says. In 2010, a few days after she won the battle in the court, she joined the DMK.
Four years later, Khushboo found herself in the eye of another storm following her remarks about DMK supremo M. Karunanidhi's son M.K. Stalin's succession as party chief. After she said the decision should be made by the party's general council, Stalin supporters targeted her and even attacked her house. Although she stayed silent, a few months later she wrote to the DMK leadership that she was quitting the party. "I will not tell the reason behind me quitting the DMK. It is anybody's guess," she says.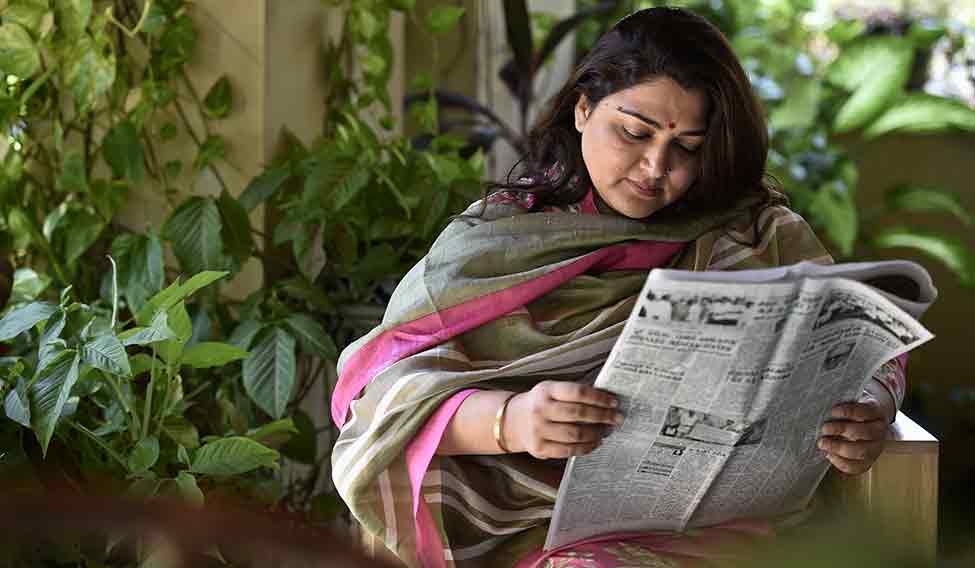 Khushboo later joined the Congress and was appointed the national spokesperson of the party. "I am here because it is the party that matches my ideology." What about the BJP? Khushboo says her blood boils when anyone talks about caste, community and race. "I am patriotic, secular and not for saffronism and hindutva."
It is six in the evening. And, it is time for her dogs. "Snoopy," she calls, and he comes hopping in a second. Three more dogs join them. Khushboo takes them out for a walk in the small lane near the Marina beach. As fans approach her, she waves her hands, asking them to stop. "My dogs are very possessive. They don't allow anyone near me." But she is quick to acknowledge the love of her fans, which made them build a temple for her. "I always respect my fans. It is all out of love," she says.
For the past few days, however, Khushboo is not being able to find time for her evening walk because of the election campaign. Despite the controversy about her taking on Tamil Nadu Chief Minister J. Jayalalithaa in the R.K. Nagar constituency, which eventually did not materialise, Khushboo remains the star campaigner for the Congress. She is in great demand as she campaigns for all 41 Congress candidates, listing out the failures of the Jayalalithaa government, making full use of her charisma and the added charm of her broken Tamil. And, she remains unperturbed about not being able to contest this time. "I never sought a ticket," she says. "I have always said that I would contest only if the high command wanted me to do so."