In politics, age is just a figure; vigour is more important. And, it seems, the 62-year-old heir apparent of the DMK—M.K. Stalin—is out to prove this with his 'Namakku Naame' (We for ourselves) yatra, touring the length and breadth of Tamil Nadu in his Mercedes-Benz Sprinter in preparation for the assembly elections scheduled next year. But it is not just waving out to people from within the van fitted with speakers and neon lights on the top four corners and the DMK's red and black flag in the front—he makes it a point to get down and walk through the dusty roads and mingle with the local people. "I want to be one among the common man to understand their problems, so that I can help them live a better life when we come back to power," Stalin tells THE WEEK, as he sips a cup of tea at a roadside teashop in Nilakottai vegetable market in Dindigul district.
As he walks down the shabby market lane, men and women jostle to catch a glimpse of the man who could be the DMK's chief ministerial candidate. His yatra apart, what has kindled people's curiosity is Stalin's new avatar. His wardrobe has been revamped to woo young and first-time voters. So, the white veshti and shirt have been shrugged off, and he now finds comfort in a full-sleeved blue shirt with white stripes, dark blue trousers, grey sneakers with neon green laces and shades to boot. Ask him if he is trying to create a brand for himself outside the party à la Prime Minister Narendra Modi and Delhi Chief Minister Arvind Kejriwal, his immediate reply is: "I am not copying anyone. I am comfortable in a shirt, trousers and casual shoes more than a dhoti and a white shirt. This is to tell youngsters and the apolitical people that I am one among them." Though he lacks the charisma of his father, M. Karunanidhi, or his arch-rival J. Jayalalithaa, his yatra shows he is a political force to reckon with.
But Stalin has not let the yatra affect his routine much. He still wakes up at 5.30am, does yoga for 30 minutes, followed by a 45-minute brisk walk. During his stop in Madurai, he took his walk at the Sundaram Park in KK Nagar. His brisk pace was slowed down by regulars trying to click selfies with him. After the morning walk, Stalin goes through newspapers for 45 minutes. He has his breakfast at 8am, usually three hot idlis with sambar or chutney. Unlike his usual political trips where he stays in luxury hotels, Stalin chose to stay at a party functionary's house during his yatra.
At 8.30am, Stalin is back on the road. Inside his van, an audio clip of his Mudiyattum, Vidiyattaum (Let it end. Let it dawn) video is playing. Specially produced to showcase the key election issues, the video opens with him saying, "Kobapadungal [get angry]." At Nilakottai, as he alights from the van, travelling just 5km, he talks to the vegetable vendors at the market. "We are affected by price rise. Business is completely down because of it," says Angamma, a vendor. Stalin moves on to a tea stall. When the tea-seller, Nallalu, pours tea in a paper cup for Stalin, the DMK treasurer tells him, "Give me tea in the regular glass tumbler." But Nallalu resists, and Stalin takes the paper cup. "We are living in penury. There is no business like earlier," complains Nallalu. Even as he speaks, two old women rush towards Stalin with a bundle of white sheets scribbled in Tamil. Reading the paper, Stalin assures them that he will look into the matter. As the crowd grows in strength, Stalin gets into his van, followed by a battery of cars.
At 10.30am, he reaches Silukkuvarpatti village and meets a group of pastors. After a short prayer, he meets villagers. A few women complain about power cuts, the difficulties in carrying water from the roadside pipe every day, their drunk husbands and the need for prohibition. As Stalin gets up to talk, a 70-year-old Selva Rani grabs the microphone and says: "Every month, we don't get our share of PDS [public distribution system] rice and pulses. The officers sell it in the black market and we return empty handed after a long wait."
Stalin knows women hold the key to an election win and promises made to them can swing votes. "We are here for you," he says. "We will implement prohibition when we come back to power. We will ensure you get your share of rice and pulses at the PDS shops." From there, he heads to Sinnalapatti, the land of cotton saris that lost its business to Surat in Gujarat. It is noon. And, as he walks down the muddy lane, he hears similar complaints. He reaches Palani, one of the six abodes of Lord Murugan, at 1pm, and visits people at the main bazaar.
Though dismissed by critics as a stunt to reopen the DMK's account, Stalin's yatra seems to have gone down well with the people. "His yatra is only to meet commoners and hear from them what they want in the DMK manifesto," says a source from Stalin's camp. But every DMK leader is aware that this is more of a last-ditch effort to garner support for a party that didn't win even a single seat in the 2014 Lok Sabha polls. Also, Stalin's youth connect seems to have stemmed from the understanding of the change in demographics over the last five years. At his meeting with college students at Ottanchathiram, he says: "I regret the mistakes that happened when we were in power. I am even ready to apologise for them. I assure we will give a corruption free, clean government if we are back in power. We are ready to implement the Lok Ayukta if voted back to power." And, his message seems to have hit home, as the students rush to him with requests for selfies.
Stalin finally has his lunch at 3pm at the house of his Dindigul west district secretary R. Chakkrapani. Though he loves chicken biryani for lunch, Stalin has avoided non-vegetarian food during the yatra. But unable to resist his love for fish, he tasted ayira meen kuzhambhu (spiny loach curry) at the popular roadside eatery Kumar Mess in Madurai.
Post lunch, Stalin changes into a peach shirt and grey trousers. Ask him about the shirt brand and colour, and he says: "You have to ask my wife about the brand. She chose these colours. I have always worn a white dhoti and shirt. Now this is more comfortable to reach out to youngsters and people apart from politics." But the white dhoti and shirt will make a comeback when he hits the campaign trail, he says.
At 5pm, the sky, too, turns a different hue. But Stalin's day is not over yet. His next stop is Vedasandur near Dindigul, but there are several halts midway. He meets workers at a spinning mill in Vedasandur, and then addresses a public rally. At 8.30pm, he reaches Dindigul and meets local businessmen. He notes down the issues raised by them in a bound notebook. At 9.30pm, he heads to Natham, a few kilometres down Dindigul, to address another public rally. At 11.30pm, he stops for dinner—the last stop for the day.
Stalin has an unenviable and uphill task of leading his party to victory. And, he is aware that a win won't come easy, what with the infighting in his own party and Chief Minister Jayalalithaa's charisma and freebie schemes. But senior journalist R. Ramasubramanian says that Stalin's biggest hurdle could be his own father. "In the run-up to the elections, the main battle may not be with Jayalalithaa but within the family," he says. "How long the 91-year-old patriarch will allow his own son to outgrow him is a million dollar question. And given the track record of the DMK chief, Stalin is facing an uphill task not from Jayalalithaa, but from his own father."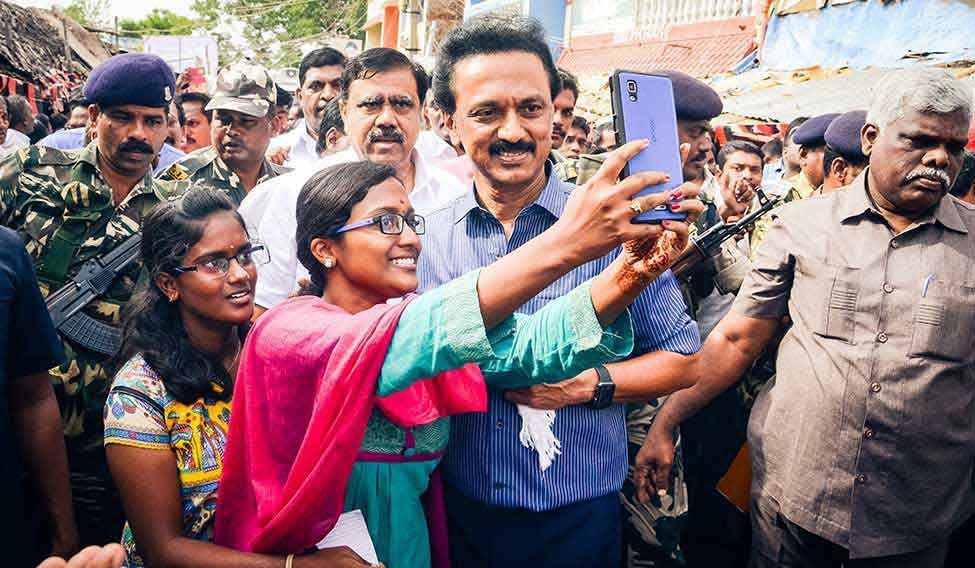 Interview/ M.K. Stalin, DMK treasurer
We will not hesitate to go it alone in the elections
During your yatra, what have you been hearing about the four and a half years of the AIADMK rule in Tamil Nadu?
This government has not been functioning at all from day one. Corruption and commission is this government's achievement and success. We have gone back 20 years. To be more specific, we have gone back to the Stone Age as there has been no development.
Why the sudden image makeover? Are you trying to imitate Modi or Arvind Kejriwal?
This change in my outfit is not for my advertisement, but for my comfort. I want to meet youngsters and college students. I want to meet commoners, be one among them. Trousers and shirt are more comfortable to walk in and for travel than the white dhoti and shirt. There is nothing new in my approach, too. I have always been travelling across the state to meet my party men. Right from my days as the youth wing leader and Chennai mayor to MLA and deputy chief minister, I always preferred walking with the people and talking to them.
The opposition is in total disarray. Be it the PMK or the DMDK, they have their own CM candidates. And, the Congress and the BJP are ready to contest all 234 constituencies. Do you think the DMK can cobble together an alliance at this juncture or will it continue to be friendless?
I have been meeting people all along. There is anger against the ruling party. It is time for the DMK to return to power. Every party can have its own CM candidate; they are doing it as per the will of their party cadres. But the DMK always has its vote bank and it is exceptional from the other parties. If at all a situation arises, the DMK will not hesitate to go it alone in the elections. This will be decided during the run-up to the elections.
Do you think it will be a watershed election if the Supreme Court pronounces a verdict against J. Jayalalithaa in the disproportionate assets case?
I don't think so. If the court case and the verdict were to change the mood in the state, it would have happened during the Srirangam or RK Nagar bypolls. But, those were just bypolls. There are many other issues that would turn the tide during the assembly elections.
Both the DMK and the AIADMK have rolled out freebies election after election. Will the DMK forgo the freebie culture during the 2016 elections?
The people of the state are for prohibition more than the freebies. But all this is decided based on the research carried out by our election manifesto committee, which is already touring the state. I will also tell them what I have heard from the people.