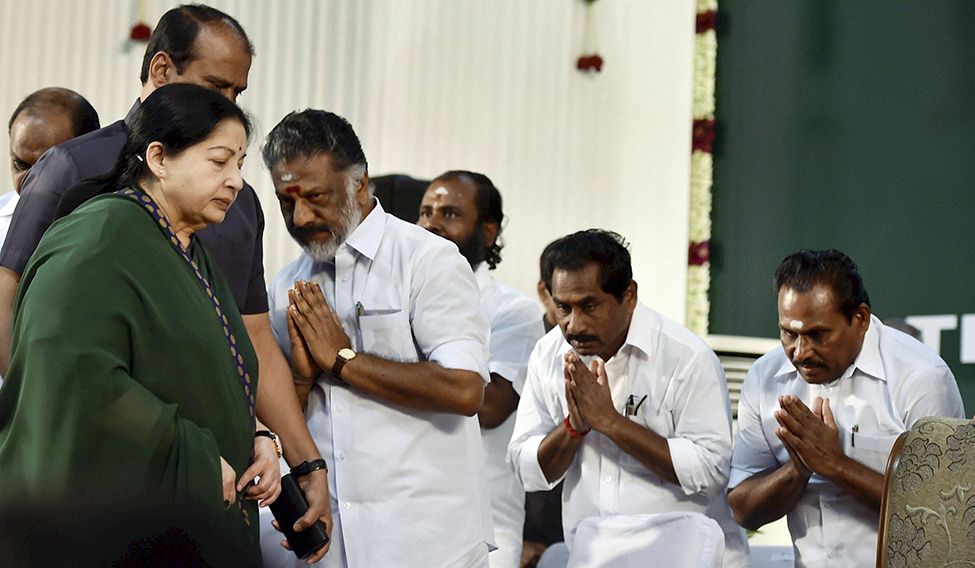 March 3, 2002; Sunday—a day after J. Jayalalithaa was sworn in as chief minister of Tamil Nadu for the third time. May 24, 2015, the day she attended office for her fifth stint was also a Sunday. How vastly different Sundays they were!
Two weeks after the Karnataka High Court gave her a clean chit in the disproportionate assets case, Jayalalithaa stepped out of her Poes Garden residence, where she had confined herself for 217 days, for her swearing-in ceremony on May 23. Though she is back, the bang lacks zing this time. Clad in a dark green sari with a blue border speckled with golden polka dots, Jayalalithaa was not her usual self; her flamboyance and flair were missing. The entire ceremony was over in 25 minutes. After she took oath, microphones were lined up on stage, and her cabinet colleagues were sworn in en masse in two batches of 14 each—a first in the state's history. Even when M.G. Ramachandran, her mentor, was ill and bedridden, he chose to take oath in an elaborate function held at Rajaji hall in Chennai. The national anthem, usually 52 seconds long, was also cut short to just 20 seconds. A senior protocol officer, however, said the ceremony was kept short as the governor had been unwell.
Jayalalithaa, too, looked tired and pale throughout the ceremony, which added to the rumours about her health. Except a polite namaste, she chose not to speak to anyone in the auditorium, unlike in 2011 when she chatted with some of the special invitees like Narendra Modi, who was Gujarat's chief minister then, and DMDK leader Vijayakanth, a former ally. The celebratory lunch at a star hotel was also missing this time.
After the brief ceremony, the AIADMK chief chose to drive back to her residence instead of a customary visit to her office at the secretariat. She chose to be in office the next day as, sources say, it was auspicious. Fortune favours the green, it seems, as she wore a green sari on her first day in office, too. The green pen and the big green-stoned ring on her right hand only reflected her belief in astrology and numerology. But AIADMK spokesperson C.R. Saraswathi said, "She does not prefer any colour or lucky stone like other politicians. She believes in people's welfare. The people of Tamil Nadu look at her as the only saviour of the state."
Jayalalithaa, however, did not dazzle on day one in office. Her meetings with cabinet colleagues and bureaucrats were short. She avoided the media, and only the AIADMK-backed Jaya TV and government-owned Films Division were allowed to get visuals of her in office. Later in the day, a press release from the state information department said she had signed five crucial files, including those on development and welfare schemes worth 01,800 crore. Through video conferencing, she launched 201 new Amma canteens, a new housing scheme for the poor and installation of reverse osmosis plants for drinking water. She also launched a scheme to sell 500gm packets of pigeon pea and black gram at subsidised rates.
The next day she chose to stay at home, but a press release was still issued about the launch of 15 more Amma Medicals in Chennai. "These Amma canteens and Amma Medicals are old schemes that she had launched a few years ago to promote the Amma brand," said senior journalist R. Ramasubramanian. "Now that she has come out clean, will it wipe out all the corruption in the government? She has lots of challenges before her this time compared to her earlier stints."
Moreover, she had four full years to deliver in 2002. But now, there is only a year before the assembly polls, which may not be enough to check the anti-incumbency factor. In her absence, the O. Panneerselvam government seen as corrupt and non-functional. Incidentally, DMK treasurer M.K. Stalin's election rally in Madurai, held the day Jayalalithaa resumed office, drew a massive crowd.
Also, the deep financial crisis haunts the government like never before. "The state is in deep debt. We all believed that she would solve the crisis once she is back. But she has taken us by surprise by announcing welfare schemes. Where is the money to implement these schemes? That is a million dollar question," said a senior bureaucrat in the finance department.
Party leaders, however, said things would change for the better in the days to come. "No one can write off Amma anymore," said Saraswathi. Jayalalithaa might contest from R.K. Nagar constituency, which fell vacant following the resignation of AIADMK legislator P. Vetrivel a few days after Jayalalithaa's acquittal. She is likely to win the bypoll, to be held on June 27, as there is no strong opposition in the state what with the DMK opting to boycott the election and the DMDK on the back foot after losing several of its MLAs to the AIADMK. But if the DMK and BJP leader Subramanian Swamy file an appeal in the Supreme Court against her acquittal, her comeback could be cut short.
Dough & dole on day one
* Rs1,000 crore for improvement of roads in urban local bodies
* Rs800 crore to build 3,500km stretch under the Tamil Nadu Rural Roads Development Scheme
* Rs77.13 crore to set up 1,274 reverse osmosis plants in residential areas, hospitals and public places
* Launched 201 new Amma canteens across the state to provide staple food at a cheaper price
* Rs100 crore will be spent in the current fiscal year for the welfare scheme for poor families headed by women