"No technical proof of the incident has been found. It could be that the six crewmen got kidnapped by Somalian pirates, or there was foul play on the part of the remaining four" - Prashant Singh, son of Captain Shreepal Singh

"We were given bank account details of Reagan [a co-agent] and asked to pay. Otherwise, we don't know who he is. We are not able to trace him now" - Nirmal Silvi, Nikhil Silvi's brother

"The college Vignesh passed out from is not ready to reveal the name of the agency through which he was recruited. They even blackmail us" - Ramakrishnan, Vignesh's father
On June 9, 2011, Captain Shreepal Singh took a flight to Karachi to take up an assignment. After serving in the Indian Navy for 15 years, he had retired as petty officer in 1998 and had joined merchant navy to become captain. He had experience working in oil tankers and cargo ships, and had sailed to the Gulf, Iraq and China.
After landing in Karachi, Singh called his family in Delhi and told them that he was going to Africa. He called again on June 25, saying the engine of his ship, Ocean Star, was not working and that he was waiting for a towing boat to take the vessel to port. That was the last time his family heard from him.
In August, more than ten days after Singh had last called, his family contacted Iqbal, the agent in Pakistan who had helped him get the job. Iqbal informed the family that Ocean Star had sunk in a storm and that six crewmen, including Singh, had gone missing. Four had survived. One of them said Singh was at the wheel when the ship went down off the coast of Oman. The other three had their own versions of what happened to Singh and the ship. And, Iqbal and the Dubai-based owner of the ship soon vanished.
For the past four years, Singh's wife, Omwati, 50, and sons Prashant, 26, and Abhishek, 23, have been living in anguish, hoping against hope for news of Singh. "The Oman government said that no ship had sunk in their waters," said Prashant. "No technical proof of the incident has been found till date. When a ship sinks, it gives out signals. It could be that the six crewmen got kidnapped by Somalian pirates, or there was foul play on the part of the remaining four."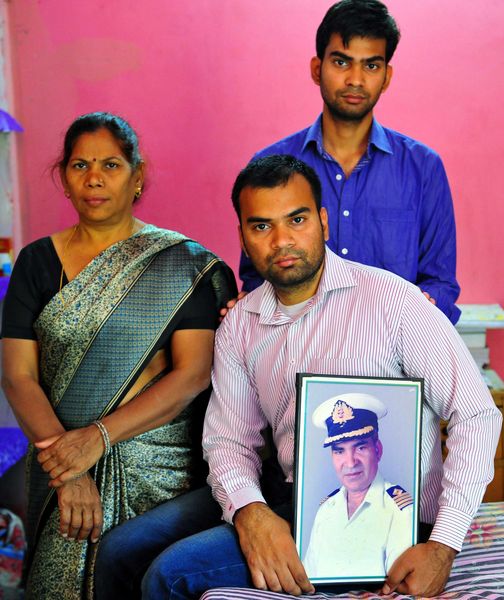 Shortly after Singh's disappearance, the family began knocking on various doors—the prime minister's office, the ministries of home, defence and external affairs, and embassies of Pakistan, the UAE, Oman and Somalia. "When we managed to meet Rahul Gandhi in 2011, and word went from his office, all officials concerned were open to speaking to us," said Prashant. "But the minute they realised we weren't directly connected to him, they stopped taking our calls."
The brothers said they had sent close to 80 letters in four years to different agencies. When the letters did not work, they started calling and trying to meet people. "The response was the same everywhere," said Prashant. "Wait."
And the wait has been immeasurably painful. With a carefully applied bindi on her forehead, Omwati holds a framed photograph of her husband, as if it were a person. Three more years, and Singh would be officially declared dead. But the family does not want to think about that. Every missed call is returned, every unknown number is answered.
Hope springs eternal for the families of Indians who have disappeared in the seas. Take the families of ten Indian sailors who disappeared with Jupiter 6 nearly a decade ago. Registered in St Vincent and the Grenadines and owned by Pelmar Shipping in Mumbai, Jupiter 6 was a modern, 447-tonne tug manned by three Ukrainian officers and ten sailors from Lakshadweep and Kerala. She had set off on a long and slow journey from Cuba in November 2004, towing an outdated 16,000-tonne bulk carrier called Satsang to the ship-breaking yard at Alang in Gujarat.
She left Walvis Bay in Namibia on August 9, 2005, and made her last contact on September 5 that year. Then, apparently, she fell off the edge of the earth. On September 25, Satsang was found drifting in the ocean, 220 nautical miles south of Port Elizabeth. Its tow line was snapped, and the tug was missing. A search plane found wreckage and traces of oil, but nothing else.
It was only a few days later that the families of the crewmen were informed of the incident. Ten years later, what happened to Jupiter 6 still remains unclear. In 2012, the Supreme Court ruled that the families of the victims be compensated. The families, for their part, still hope that their dear ones will return. But the fact is that Jupiter 6 is all but forgotten now, and its casualties buried in the list of the mounting number of Indian sailors who lose their lives every year in such incidents.
The plight of Indian seamen is becoming worse every year. Lured by high salaries, thousands of youth are joining the shipping industry, braving the risk of being killed in accidents, taken hostage by pirates and disappearing into oceanic blackholes. In fact, experts say Indian sailors, who are probably the most exploited and the most poorly compensated group in the industry, are little more than slaves at the hands of shady recruiters and shipping agents.
In a scathing report, the Inter-national Commission on Shipping (ICONS) said life at sea was close to "modern slavery". In its 2001 industry study, ICONS said "tens of thousands of seafarers, in 10 to 15 per cent of the world's commercial shipping fleet, work in slave conditions with minimum safety, for long hours, with little or no pay, and starvation diets".
According to the 2010 BIMCO/ICS manpower report on demand and supply of seamen, there were 6,24,000 officers and 7,47,000 cadets working in the industry worldwide. Indians constitute more than 13 per cent of the workforce, and southeast Asians, nearly 30 per cent (see graphics). The report also said the shortage of officers in 2010 would become severe by 2020, unless recruitment and training were increased.
The maritime education sector in India was opened up to the private sector in the mid-1990s to meet the labour shortage. Since then, it has undergone a sea change, with the number of institutes almost tripling. There are now 146 maritime institutes in India that offer pre- and post-sea courses. Every year, they churn out about 10,000 job candidates. "The average number of students for a maritime course in a year used to be 20 to 25 earlier. Now the institutes admit at least 50 students for each course, which means we have more graduates looking for jobs at sea,"  said a professor at Indian Maritime University in Chennai.
According to him, the government needs to fix a regulatory policy, as the placement cells in many of these institutes connive with recruiting agents who fleece candidates. "Indian seafarers are known for their skills; they are next only to Filipinos. But they are made to work in inhuman conditions. The astonishing abuses of human rights against Indians have gone up in recent times," said K. Sree Kumar of the International Transport Workers' Federation in Chennai.
Take the case of Vasantha Raghavan, 24, of Chennai. After graduating as cadet from a renowned private institute in Chennai, he landed a job at a shipping company in Malaysia. But, after he reached the country, he was forced to work as a cleaner in a hotel. When he and his friends refused to work and started questioning the recruiters, they were beaten up and tortured. Now, after a year, he is back in Chennai hunting for a job. He has sought the help of Sailors Helpline, a non-profit organisation that aids the maritime community, to initiate action against the Malaysian company.
Vasantha was luckier than Nikhil Silvi of Kochi and his batchmate Vignesh Kumar of Madurai. Nikhil and Vignesh were selected for a twelve-month on-the-job training onboard Cara USIA, a ship owned by a Malaysian company, in December 2014. They died on February 4, 2015, after breathing poisonous gas from the ship's tank.
With the death of Nikhil, who was 23, his family is struggling to make ends meet. His father, who works at the Kerala State Electricity Board, had taken several loans to help Nikhil complete his studies. "We paid Rs1.70 lakh—Rs90,000 to the main agent called Bharath Consultancy in Kochi, and Rs80,000 to a co-agent by the name Reagan in Chennai. We were given bank account details of Reagan and asked to pay. Otherwise, we don't know who he is. We are not able to trace him now," said Nirmal, Nikhil's brother.
Vignesh's family, too, is suffering. A security guard at a hotel in Madurai, Vignesh's father, Ramakrishnan, has to repay Rs5 lakh he had borrowed to fulfil his son's dream of becoming a sailor. "We got Rs34,000 from him the first month he set out to sail. How am I going to repay the loans?" asked Ramakrishnan, sobbing.
He and his wife, Vijaya Rani, had deposited Rs2.75 lakh in the college's bank account for Vignesh's training. "He passed out from the Jams Marine College in Thoothukudi. We have now approached them to get the money back. But they are not ready to reveal the name of the agency through which Vignesh was recruited. They even blackmail us, saying if we go further into this, they will not help us get back the money we paid," said Anand, Vignesh's brother. The Madurai bench of the Madras High Court has directed the police to register a first information report against the recruitment agency.
Sailors have long been exploited by fly-by-night agents. Typically, a job search in the shipping industry starts with paying several lakhs of rupees to a recruitment agent. There are about 450 agents who have the required RPML (recruitment and placement service licence), but more than half of them do not do their job properly, say experts.
There is no law in place to regulate their operations. Many agents have dingy, one-room offices in Mumbai and other parts of the country. Said V. Manoj Joy, coordinator, Sailors Helpline: "About 10 per cent of licensed agents authorised by the directorate-general of shipping are fake. They take huge money for recruitment, which is not permitted by the law."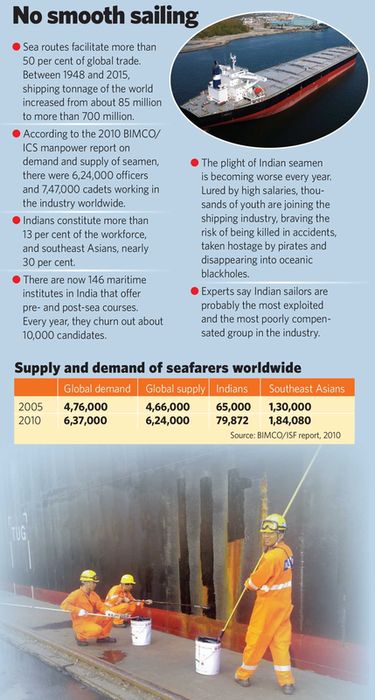 The Maritime Labour Convention, established in 2006 by the International Labour Organisation, stipulates that "no fees or other charges for seafarer recruitment and placement… be borne, directly or indirectly, in whole or in part, by the seafarer", other than the cost of passport, visa and statutory documents. Yet, the recruitment scene is dominated by money.
Take the case of Aravind, 23 (name changed). Hailing from Kadampuliyur in Tamil Nadu, he completed marine engineering from a university in Chennai last year. He forwarded his resume to more than 50 shipping companies, but has not got a job because he is not willing to bribe agents. "Influence doesn't work. It is only money that pays—Rs3 lakh is the minimum amount to get a job," said Aravind.
He is now pursuing a course which he feels would enhance his chances of landing a job. But what still haunts him is the fact that manpower agencies may play spoilsport. "I can even tell you the name of the agency which I approached recently—Oceanic Star in Mumbai. It is known to be a genuine agency. But the first thing the woman who attends your call will do is to talk about service charges," he said.
THE WEEK found out that Aravind was right. A recorded call was made to Oceanic Star Shipping Pvt Ltd in Mumbai, by a retired sailor who asked about the procedure for applying for a job. A woman who answered the call said, "Please come in person to our office with your resume and certificates. We will take service charges. I cannot tell you the amount over the phone."
The unscrupulousness of recruitment agencies is only matched by the skulduggery of touts, some of whom are industry insiders. Deepak Raj of Coimbatore paid Rs3 lakh to a relative who works for American Eagle Tanker, a Singapore-based shipping company. He was promised appointment as trainee deck officer in the company, and he even got his offer letter. The letter, however, was cancelled later and his relative vanished. "We couldn't get the money back from him," said Deepak. His father, Selvaraj, who works for India Post, has spent over Rs12 lakh for Deepak to complete his BS in nautical technology at a maritime institute in Madurai.
Deepak Shetty, director-general of shipping, admitted that there were fake agents and touts on the prowl. "We have put the complete list of authorised agents on our website. This is a digital age where everything is available online. So it is the duty of the job seeker, or the parents of the students, to be doubly cautious. They should check if the agent is approved by the DG shipping and has proper licence to recruit. We cannot monitor agents to check if they are genuine," he said.
But, what about agents who have been found fleecing job seekers? "We are not a law enforcement agency, and we do not possess any anti-criminal powers. We are a civil administration agency. What we can do is only blacklist the agency that is fake, or derecognise an institute that doesn't abide by the rules," Shetty told THE WEEK.
Despite the risks involved in their jobs, sailors do not get adequate insurance coverage. Second engineer Robert Xavier Raj went missing in 2011, after cargo ship MT ITB Jacksonville, carrying crude oil, caught fire off the coast of Nigeria. The bodies of three of the four crewmen were found, but not Robert's. Jacksonville continues to sail, but Robert's son Anderson is still fighting to get his father's death certificate, to claim insurance money and compensation from the shipping company. "The certificate says 'presumed dead', which insurance companies do not accept," said Anderson, 23.
Provisions of the Merchant Shipping Act, 1958, and the Workmen Compensation Act, 1923, which talk about compensation in general, are the only legal avenues available for the family of deceased sailors to demand compensation. But, the Merchant Shipping Act does not talk about Indian sailors working in a foreign fleet. "The act is silent when it comes to compensation to seamen on board a foreign fleet," said P. Muthusamy, who has taken up cases on behalf of the families of deceased sailors.
In 2012, passing its verdict on the Jupiter 6 case, the Supreme Court asked the Centre to immediately amend the Merchant Shipping Act to ensure that the lives of seafarers are made more secure and their families are paid adequate compensation in the event of loss of life.

The racket controlling recruitments in the shipping industry, however, has not spared insurance claims either. Ramakrishnan, Vignesh's father, got a letter from a Mumbai-based agent called Recovery Overseas (a copy of which is with THE WEEK) that promised "to recover the claim amount on contingency basis. Our fee is 20 per cent of the compensation amount, only if the claimant gets [the amount]," said the letter signed by one M.A. Sakarbagwala, on behalf of Recovery Overseas. "I did not approach anyone for the insurance claim," said Ramakrishnan.
The government, it seems, has turned a blind eye to the plight of Indian seafarers. "Several complaints and pleas reach the grievance cell of the director general of shipping, attached to the ministry of shipping," said Captain A.K. Bansal, master mariner and barrister at law in the UK. "But the list of unresolved cases has been piling up over the years."
WITH SHALINI SINGH