Rakhi Garhi, a village in Hisar district of Haryana, fell off the map 3,000 years ago. But, Wazir Chand is determined to get it the place it rightfully deserves in history as the world's largest Harappan civilisation site. Until now, Mohenjo-daro in Pakistan was considered to be the largest site with an area of 300 hectares. However, with the discovery of two fresh mounds last year, Rakhi Garhi's area has gone up from the initial 130 hectares to 400 hectares.
As Chand took us down the 10-foot wide road that divides Rakhi Garhi into two villages—Rakhi Khas and Rakhi Shahpur—he explained: "The Harappan village that existed here three or four millennia ago also had a road like this." However, there is a difference. The ancient town had a drainage and sewage system, which its modern residents don't have. The drains are clogged with the wastes of the 'polythene civilisation'.
An electrician by profession, Chand had no particular interest in history till a research scholar, Suraj Bhan, told him 45 years ago that his village was four or five thousand years old. It changed the way Chand looked at his surroundings. Suddenly, everything acquired a different meaning. Every shard of pottery, every clay pot with its chipped corner and every stone, Chand realised, had its own history. He collected more than 2,000 objects and kept them in his home. Every now and then, he would write to archaeologists about his discoveries.
Chand's letters aroused the interest of antiquaries. Since the 1990s, they have been coming regularly to Rakhi Garhi, and about a decade and half ago, it was confirmed that Rakhi Garhi, indeed, was a Harappan site, and probably the largest found till date. When I climbed a little mound to get a better view of the village, Chand reminded me, "You are currently standing atop a 5,000-year-old city. The people who once lived here enjoyed all the privileges of an urban life—paved roads and streets, underground sewerage system, rainwater harvesting system, toilets and bathing facilities."
Last year, Chand lost a major part of his collection in a robbery. Immediately afterwards, he donated whatever was left to the Haryana government's archaeology department. The government is now planning to build a museum on the five acres donated by the village panchayat. A rare tiger seal excavated from the site could be its logo.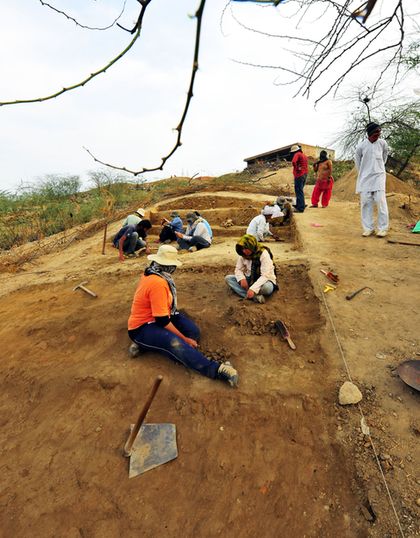 Recently, archaeologists from Deccan College in Pune discovered four skeletons—two male adults, a female and a child. "Those were a major addition to the valuable finds like a granary that we had found in the last excavation," said Nilesh Jadhav, co-director of the excavation project. Forensic experts from Seoul National University in South Korea will arrive in India in July to gather DNA from the skeletons.
This is the second time that skeletons have been discovered from the site. In 2006, a burial ground with 11 skeletons was found. What is interesting is that their heads were turned towards the north and the women wore bangles.
The region within 50km of Rakhi Garhi is believed to have had Harappan settlements. Around 70 skeletons have been discovered so far from the region, but most of them were damaged by the calcium in the soil. "The soil in Rakhi Garhi is sandy so the skeletons are better preserved here," said Ranvir Singh, deputy director, Department of Archaeology and Museums, Haryana.
The recent discoveries are changing the way the Harappan civilisation was understood till now. "While most western scholars think that the Harappan civilisation originated in Sindh [Pakistan], we are increasingly discovering that there could have been important sites that are not only much older but probably bigger," said Vasant Shinde, vice-chancellor and professor of South Asian Archaeology at Deccan College, and director of the excavation project. UNESCO plans to put Rakhi Garhi in its world heritage list by next year.
Rakhi Garhi was a well-planned city. "It had 1.92-metre wide roads, a bit wider than in Kalibangan [a major provincial capital of the Harappan civilisation]," said Jadhav. "Pits surrounded by walls have been found, which are thought to be sacrificial pits for some religious ceremonies. This shows that fire was used extensively in their religious ceremonies. There are brick-lined drains. Among other things that have been found are terracotta statues, weights, bronze artefacts, combs, needles and terracotta seals. A gold foundry with about 3,000 unpolished semi-precious stones has also been found, besides many tools used for polishing these stones and a furnace."