When 59-year-old anti-liquor activist Sasi Perumal climbed atop a 120-ft cellphone tower in Unnamalai in south Tamil Nadu on the morning of July 31, demanding the closure of a nearby liquor shop, no one expected his struggle to turn quickly into a mass movement. A few hours into his protest, the Gandhian activist breathed his last, igniting anti-liquor protests across the state. In Tirunelveli district, Marumalarchi Dravida Munnetra Kazhakam (MDMK) leader Vaiko's 94-year-old mother led the protests in their hometown Kalingappatti the next day. College students took to the streets in Chennai and courted arrest. All these happened barely a week after DMK president M. Karunanidhi announced that his party would implement prohibition, if voted to power. Pattali Makkal Katchi (PMK) leader S. Ramadoss recently announced prohibition as his party's key election agenda and named his son Anbumani as its chief ministerial candidate.
Over the past few days, the demand for prohibition has reached new heights in Tamil Nadu, one of the most lucrative liquor markets in the country. It has also started a war of words between the government and the opposition. "The agitation by the opposition parties is only to gain political mileage," said Excise Minister Natham R. Viswanathan. He questioned the intent behind the clamour for prohibition by Karunanidhi and Vaiko as it was common knowledge that Tamil Nadu financed many of its populist schemes, worth around $30,000 crore a year, with revenue earned by selling alcohol.
Tamil Nadu is among the top five liquor markets in the country. There are 11 private players which are licensed to manufacture liquor although its sale is completely controlled by the government. The Tamil Nadu State Marketing Corporation (TASMAC) is the only licensed authority in the state to sell liquor. It was launched in 1983, after chief minister M.G. Ramachandran decided to bring wholesale vending of Indian-made foreign liquor (IMFL) under state control.
Two decades later, in October 2003, the J. Jayalalithaa government brought retail vending under state control, ostensibly to put an end to the "cartelisation in the liquor trade". TASMAC today runs 6,800 retail shops and 4,500 bars selling IMFL. Each month, it sells around 40 lakh cases of hard liquor (a case contains 10 bottles of 750ml each) and 20 lakh cases of beer (a case contains 12 bottles of 650ml each).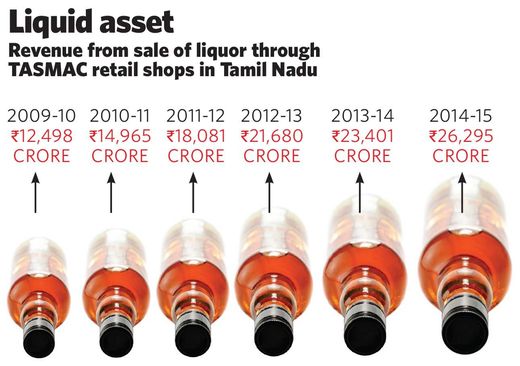 The revenue from liquor sales has witnessed a steady increase from 2006. It has gone up from Rs7,473 crore in 2006-07 to Rs26,295 crore in 2014-15. The government has now set a target of achieving Rs30,000 crore in sales. Some of the eleven companies that supply IMFL brands to TASMAC are politically connected. These include Midas Golden Distilleries, whose owners are said to be close to the ruling AIADMK; Elite Distilleries run by former Union minister S. Jegathratchagan of the DMK; SNJ Distilleries run by S.N. Jeyaraman, who is said to be close to the DMK's first family; KALS Distilleries of S. Vasudevan, said to be close to Kalaignar TV's Sharad Reddy; and Golden Vats, whose owners are reportedly close to DMK MP T.R. Baalu.
Although these companies continue to influence the state's liquor policy, the government has been forced to avoid total prohibition also because of political, budgetary and economic compulsions. Tamil Nadu had a history of prohibition starting from the pre-independence days. It was Karunanidhi who as chief minister lifted the ban in 1971, saying "Tamil Nadu cannot serve as camphor in the midst of a raging fire," referring to alcohol being freely available in the neighbouring states.
Today, banning alcohol would mean a loss of more than Rs25,000 crore a year, which would put a question mark on many welfare schemes. Around 30 per cent of Tamil Nadu's tax revenue is from liquor sales. The seventh pay commission's recommendations, which are set to be implemented next year, will add to the burden on the state's finances.
"Total prohibition is nothing but hypocrisy," said R. Srinivasan, associate professor at the department of econometrics, Madras University. "The question is not only about generating additional revenue, but also about controlling the expenditure. Who will bell the cat?" asked Srinivasan. Social activist and writer A. Marx said prohibition was unimaginable in Tamil Nadu. "It would only lead to illicit brewing and supply of country liquor."
Another issue to be considered is the fate of more than 35,000 employees of TASMAC. "They are not qualified to be accommodated in other departments," said a TASMAC official. And, the stock piled up in TASMAC outlets has to be disposed of immediately if prohibition is implemented all of a sudden. All TASMAC outlets maintain stocks for three months, amounting to approximately 120 lakh cases of IMFL and 60 lakh cases of beer.
"Leave alone the finances. Socially, it is not viable at all," said Marx. "Partial prohibition, like in Kerala, can be implemented. What we need is regulation, not prohibition. The government can close a few shops near temples and schools." He said it would lead to a human problem as liquor could be brought from neighbouring states like Andhra Pradesh and the Union Territory of Puducherry where liquor is much cheaper. Gradual introduction of prohibition, with one or two dry days a month and reducing the working hours of TASMAC shops, could be a more pragmatic approach, said Marx.
The demand for prohibition has overshadowed other issues like the deepening agrarian crisis, the worsening industrial condition and the increasing debt worries. The opposition parties seem to have an effective plank to target the government, which has forced them to take up prohibition as their agenda in the 2016 assembly elections. DMK leader Baalu said his relatives would close down their distilleries if prohibition was implemented.
Historically, prohibition has never fetched votes in Tamil Nadu. "The opposition parties don't have conviction in what they say; they are just putting pressure on the government," said A.R. Venkatachalapathy of the Madras Institute of Developmental Studies. "They are taking a hypocritical stand."