As one approaches the sprawling Chettinad Palace in Chennai, the air is filled with the chatter of children playing nearby. But silence greets visitors who enter the palace, which stands on the banks of the Adyar river, perhaps reflecting the mood of its owner, M.A.M. Ramaswamy. The man who once headed the Chettinad Group is today engaged in a bitter feud with his adopted son, M.A.M.R. Muthiah, for its ownership rights.
"I don't wish to call him my son. He can only be S. Ayyappan and not M.A.M.R. Muthiah. He has stolen my money, cheated me. I have been tormented by him and made to suffer untold hardship," says 83-year-old Ramaswamy. Muthiah, who was born Ayyappan in a Chettiar family with modest means, was adopted by Ramaswamy in 1996. Ramaswamy gave the 25-year-old Ayyappan the name M.A.M.R. Muthiah in memory of his father. "My brother Muthiah passed away at the age of 45 and he had no children. If he had a son, I would not have thought of adoption," he says. "Now I regret adopting him."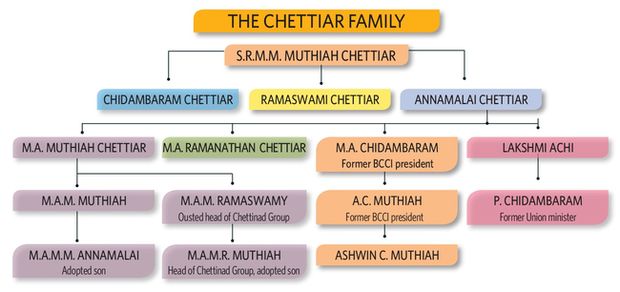 Sitting in his office in a high-rise building located a few kilometres away, Muthiah is ready with answers for his foster father. "I am only for the growth of the company and business. My father is not very active. Given his age, he cannot manage things. He should understand that the management of the company cannot be with him and should generously give way for the younger generation," he says. Muthiah says his father wants to throw him out of the palace and the Chettinad family.
The trouble started three years ago after Ramaswamy was removed from the board of the Chettinad Group. Things took a turn for the worse on August 26 last year, when the CBI arrested M. Manuneethi Cholan, the registrar of companies, Chennai, for allegedly receiving Rs10 lakh as bribe from Ramaswamy. It was reportedly paid for declaring the resolutions which were to be adopted at the company's shareholders' meeting scheduled for the next day. The meeting on August 27 ousted Ramaswamy and appointed Muthiah's lieutenant L. Muthukrishnan as the new chairman. Although the group offered Ramaswamy the post of chairman emeritus for life, he refused it.
Muthiah by then had been living separately in the eastern wing of the palace and had moved his wife, Geetha, and their three children to Singapore. "It is one and a half years since I have met my grandchildren. I am worried about their future," says Ramaswamy. "Muthiah does not even perform the annual rituals for my dead wife. He does not allow me to access her room to offer tributes."
Muthiah thinks Ramaswamy is frustrated, as he cannot accept the generational change. Under Muthiah, the group's flagship company, Chettinad Cement, grew from a Rs60-crore firm, which had a single plant and 400 employees, to a Rs4,000-crore company with 7,000 employees and seven plants. "I have built the organisation with my blood and sweat. Why should I walk away?" asks Muthiah.
The Chettinad Group was founded by S.R.M.M. Muthiah Chettiar, Ramaswamy's great-grandfather, who started a money-lending business in 1870. His son Annamalai Chettiar set up India's first private university in 1929, which was later named after him. Ramaswamy's father, Muthiah Chettiar, and his uncles Ramanathan Chettiar and Chidambaram Chettiar built huge business empires. The family once owned one lakh acres of paddy fields in Burma and huge properties in Malaysia, Singapore, Indonesia, Vietnam and Sri Lanka. It was a major shareholder in Indian Bank and co-owned the famous Madura Mills. Chidambaram later branched out and set up the Spic group.
While cement manufacturing remains the most important business of the group, it has also interests in other sectors like power, education, health care and transport. The group's turnover now stands at around Rs10,000 crore. It owns property worth Rs3,500 crore in Chennai and other parts of south India, which is another bone of contention between Ramaswamy and Muthiah.
Before Muthiah joined him, Ramaswamy was happy to let professionals run his company, while his main interest was on the racecourse. He has more than 800 horses and has won more than 500 classic races, earning himself a place in the Guinness World Records. His contests on the racecourse with liquor baron Vijay Mallya have been legendary. Highly superstitious, Ramaswamy used to wear the same rust coloured shirt and coat for all big races because he believed they brought him luck.
For a man who could judge a horse by its looks, Ramaswamy says he failed miserably in identifying a suitable heir. "I could not make out Muthiah's character like I did with my horses," says Ramaswamy.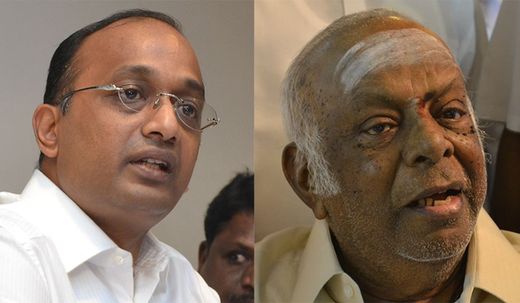 People close to Ramaswamy feel that Muthiah is totally different from his father. He is not interested in horses or enthusiastic about philanthropy. "He never likes to give. He calculates profit in every penny," claims a source in the Chettinad Group. Once during an income tax department raid at the Chettinad Palace, Muthiah fled the scene on a scooter, wearing an employee's shirt. Later, when he returned, his main grouse was about the brand of the shirt, not the raid. "He feels the employees should not be treated with dignity," says Ramaswamy.
Sources close to Ramaswamy say it was Muthiah's mismanagement that led to the takeover of Annamalai University by the state government. It also caused 70 senior doctors in Chettinad Health City to resign together. Many hold him responsible for the closure of Chettinad Smart City, Chettinad Power Corporation and Chettinad Container Terminal. Muthiah, however, controls 77 per cent shares of the group, a major part of which was transferred by Ramaswamy to Geetha, Muthiah's wife.
On June 9, Ramaswamy held a news conference announcing his decision to disown Muthiah. And the next day saw income tax raids in the group's offices in Tamil Nadu, Hyderabad and Mumbai. "I have written and registered a will that all the assets would only go to the trusts [two trusts recently started by him] and not to Muthiah or anyone claiming on his behalf," says Ramaswamy. "I have also stated that he shall not perform any ceremonies on my demise."