Many, many moons ago, I walked nervously into the imposing Times of India building in Mumbai for a modelling assignment. I was directed to a studio by the editor of Femina and asked to wait, while the chief photographer figured out his shots for the jewellery shoot. To be photographed by Jitendra Arya was considered a coup, not just for aspiring models, but movie stars, national political leaders, international celebrities visiting India, great musicians and, of course, our beauty queens. I was more curious than nervous. In those distant days, there were no stylists, or hair and make-up professionals. Models were expected to carry their own accessories, and follow the art director's brief during the shoot.
Once Arya strode into the studio and took control, there was zero doubt about who was boss. With an imposing personality and a no-nonsense air about him, Arya, on his return from London, had rewritten the rules at the Times of India, by demanding and getting the requisite autonomy over the photography department. He asked for and was given a prestigious designation, which matched the editor's. Till he came along, press photographers were treated like technicians—photo take-outers. Editors dictated content and chose the images. Over time, Arya's technically superb portraits of presidents and kings, divas and debutants, made him a celebrity in his own right.
It has taken Arya's family several years to put a retrospective together. Photo-historian Sabeena Gadihoke painstakingly sifted through over 7,000 images before selecting 300 for the show, which ran until October 8 at the National Gallery of Modern Art. I had zero idea I'd be running into my former self at the exhibition, till a friend clicked a grab shot of my photograph and sent it to me. I was so thrilled to be included in this astonishing gallery of exceptional people! I went to take a look at the show nearly a week later, and the ushers directed me to my portrait. There I am, a wide-eyed ingénue, staring straight into the lens through heavily kohl-ed eyes, while right next to me is a stunning picture of the legendary beauty, Maharani Gayatri Devi of Jaipur.
To my utter delight, there was one more blow up of mine—this one with Zeenat Aman. How well and how clearly I remember that shoot! And, it must have been shot 40 years ago! Drawn into the exhibition for more reasons than vanity alone, I took my time walking around and looking at the flawlessly captured moments by Arya—I particularly loved the frame featuring Satyajit Ray, leaning against a vintage car, a cigarette hanging between his long, artistic fingers, his lithe lines carrying off the Bengali dhoti with the sort of elegance that is relaxed, unself-conscious, fluid.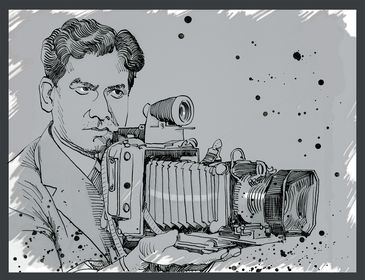 Apart from capturing our movie stars at work and play, Arya's series of pictures of Ava Gardner are worth studying for their perfect composition and wonderful use of natural light. Arya's studies of political stalwarts—from Pandit Jawaharlal Nehru to Clement Attlee, Lord and Lady Mountbatten and Rajendra Prasad—to writers like J. Krishnamurti, V.S. Naipaul, Nirad C. Chaudhuri, Nayantara Sehgal and so many others!
Jitendra Arya (who died aged 80, in 2011) raised the bar for photographers. The only other portrait photographer to have come anywhere close to Arya's sweeping mastery over the medium is the late Gautam Rajadhyaksha. Gautam's oeuvre, like Arya's, displayed uncommon sensitivity towards subjects.
I went back to the show for the fifth time. And, no, it was not to gaze into my own eyes! On each visit, I have seen something afresh in those beautifully mounted pictures. Something that has made me feel energised and hopeful about life, about today's India. It is Arya's invaluable legacy and tribute to our past. And, an inspiring gift to the young, for their future.
www.shobhaade.blogspot.com