I was back in one of this region's most fascinating cities after a year or so. The last time I was there, the city was like a war zone, with barricades, roadblocks and cops stopping every second car. This time it felt like the war had escalated. On the earlier visit, our group was being escorted from venue to venue by armed guards. A public hanging of 'traitors' was scheduled, and the authorities were fearing a violent backlash. Nothing too awful happened. This time, something truly terrible had indeed happened—the carnage at Holey Artisan Bakery. Nothing has been the same since.
I was there to participate in a Women's Leadership Summit. I met extraordinary women—lawyers, corporate heads, parliamentarians, dancers, activists. I heard extraordinary presentations. And soon discovered extraordinary changes had taken place, post-Holey. It's always good to have well-connected friends across the world. And I am fortunate to have a few in Dhaka. I mentioned I wanted to visit Holey Cafe... if that was possible. "Everything is possible in Dhaka!" said my friend jauntily. Okay. I won't go into grisly details here.... Let me just say, an eerie, still, sinister air hangs over the scene of the tragedy that took 29 lives on July 1, 2016. And Dhaka has not fully recovered.
The posh environs of the site say a lot about what happened that awful night when five young men strolled into Dhaka's chicest cafe and cold-bloodedly butchered innocent people, including an Indian girl named Tarishi Jain. "It took more than four months for the area to get semi-normalised... Everything shut down.... These streets were deserted," I was told. I thought about Mumbai after the 26/11 terror attacks in which we lost 164 people.... Mumbai had bounced back in under 24 hours. Mumbai is like that. This is not to play 'My city is better than yours!'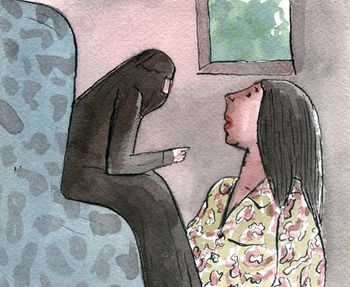 Then came the other startling changes I perceived when we walked into a posh Thai restaurant for lunch. There were long tables with the 'ladies-who-lunch'—but with one key difference—they were all wearing hijabs. My local gal pal sighed, "Should we ask if the restaurant is now reserved exclusively for hijabis?" Another glam gal pal commented, "Don't make a joke out of this—since Holey Cafe, I always keep a head scarf in my handbag... just in case. So, we are all hijabis now."
Talking to a beautiful young MBBS student who was covered from head-to-toe in a shapeless garment, and wearing an elaborate hijab, I asked her if she was afraid of being targeted. She said an emphatic 'No!' and clarified—it was a matter of personal choice and she chooses to wear the hijab to underline her specific religious identity. I asked her various intrusive and highly personal questions, which she gamely answered. What if her mother told her, "Show jewels! Forget head scarf," at her wedding. She said she would refuse.
Driving around Dhaka, I felt the entire city had drastically transformed after the ghastly incident. There are armed guards outside most shops and homes. Commercial establishments have added heavy shutters and barricaded open areas, in addition to installing sophisticated surveillance systems. There are checkpoints every few metres, further slowing down the horrendously slow traffic.
While India's rating on the popularity scale is still not brutally eroded, there are critics who worry about future relations between the two countries. But the biggest villain in Bangladesh remains Donald Trump. I was told about a Bangladeshi businessman, who lives in America and considers himself American, being insulted by a white guy who refused to shake hands with him. "It's time to come home," said my local friend, shaking his head. Why not! Bangladesh seems to be on a roll—and women are driving the change in corporate and political life. It is better to have neighbours who are secure, than deal with disgruntled elements who see India as a sadistic Big Brother.
www.shobhaade.blogspot.com