My first trip to the Maldives was a complete disaster. I was invited to a literary festival by well-meaning organisers who assumed there were readers in Malé—the capital city with a population of 1,40,000 people. While the setting was glorious, there were hardly any people at book readings. Taking the cue, I fled on the first flight home.
Thankfully, my recent trip was dramatically different. I was invited to experience two Soneva properties—Fushi, and the more recent Jani. Cut off in luxe isolation, most guests surrender to the stunning, seductive environs and disconnect with the world within hours of arriving at the well-planned water villas. I confess it took me 24 hours to get into the Soneva groove, and submerge myself in an extraordinary experience. Starting with enjoying the sprawling, eco-friendly villas, cycling around the island, sampling an array of fresh organic food, and snorkelling in the crystal clear waters, which one can wade into from the bedroom. But wait, it wasn't until we met other guests over cocktails at the bar, which is suspended over the lagoon, that the dream destination magically took on surrealistic tones. Take the impossibly vivid sunset which looked like it could have been painted by Sandro Kopp himself! Sandro... who? Yup. Ditto reaction. He was standing on the deck with a very unusual looking lady by his side. My daughter Avantikka and I thought she looked familiar, but we weren't sure. Bingo! It was indeed Tilda Swinton, the Oscar-winning actor and global fashion icon. In our excitement, we behaved like silly fan-girls and asked whether we could take a selfie with her. With utmost charm (she was dressed in elegant silk pajamas), she said, "Why not photograph the sunset instead... it's far more beautiful!" So... that's how it is done! The royal brush off!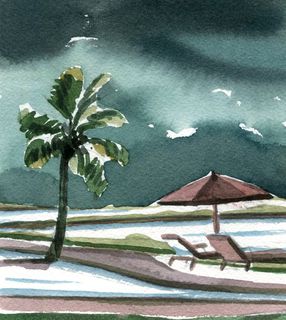 As soon as we got some internet connectivity, we googled the supremely distant, scarily frosty and unambiguously imperious Tilda. Described as "an eccentric British actress", who is 18 years older than her companion Sandro Kopp, and 20 years younger than John Byrne, the father of her twins, Honour and Xavier. The pale, blonde Tilda, often called "polymorphic", turned out to be the object of our fascination over the next four days. Of course, we didn't make the mistake of asking her for pictures after that cool refusal, but we stared and stared at her wonderful, original, eco-passionate wardrobe and the elegant reflector eyewear that she frequently changed. She, in turn, thawed enough to compliment my caftans and scarves, while I blushed like a foolish schoolgirl.
It was also a unique experience to watch Lion (2017), the much-acclaimed Oscar-nominated film, with Tilda, Sandro and other high profile guests from across the world, at a gigantic movie screen suspended over azure water. Cinema Paradiso, an open air screen, is a Soneva concept that works amazingly well. We sat propped up by fluffy cushions on comfortable nets, with millions of brightly coloured fish swimming underneath, sipping glasses of chilled rosé [wine], nibbling on the freshest seafood and enjoying the light breeze. I was dying to discuss the movie with Tilda, but she looked determinedly distant, severe and formidable.
On our last morning, before the group dispersed, some strong bonding had indeed taken place. Avantikka and I had made new friends like Malu and her hugely talented photographer-sculptor-artist husband Vik Muniz from Brazil. Or the aristocratic English physician (doctor to Brad Pitt and Amitabh Bachchan) with Nikki, his beautiful singer-wife... and then there was Waris Ahluwalia! What a guy! Avantikka and I fell madly in love with this immensely gifted Amritsar-born, New York-based actor-jewellery designer-activist (born 1974). He deserves a column all to himself—Waheguru Ji ka khalsa,Waheguru Ji ki fateh.
Like I said earlier, extraordinary things happen in extraordinary destinations which attract extraordinary people. Thank you, Soneva, for an experience of a lifetime.
www.shobhaade.blogspot.com