Last week, the goddess-like Member of Parliament from Mathura (her cherished constituency) nearly locked horns with a rampaging bull on the platform of Mathura railway station. We know why she was on that platform (inspection), but what was the bull doing there? The picture taken on this momentous occasion shows Hema Malini looking on impassively, not a crease furrowing her smooth forehead, as her minions scramble around (the station master has been duly punished). A few days before the incident, she and I were doing a fun shoot together for a popular magazine. We were meeting after a gap of a couple of years, but that has never mattered to either of us.
The kingdom of Hema is a fascinating one and she reigns supreme in her world. When she enters a room, a glow seems to light up the space. And yet, once Hema relaxes, she is like every other intelligent, efficient modern-day housewife, juggling her many roles expertly and enjoying every bit of her position as a politician.
I confidently predict a big role for Hema in the next cabinet reshuffle.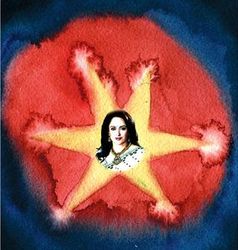 Going by the gushing foreword penned by Prime Minister Narendra Modi for her newest authorised biography, Beyond the Dream Girl, vividly written by veteran journalist Ram Kamal Mukherjee, Hema's star in the BJP firmament is definitely on the ascendant. The PM writes, "I have found her extremely sensitive towards the development aspirations of the people of Mathura, her constituency." When I asked her about her involvement, Hema promptly demonstrated what she called 'The Mathura Namastey'. She shared conspiratorially that the people of Mathura don't let her off too easily. An old man asked, "But madam, why was there insufficient rain this year?" When Hema tried to shrug off the question with a, "How am I responsible for the weather?" The man answered sternly, "You are responsible to us—we have given you our vote!" With the PM backing her all the way, and the voters demanding answers, that errant Mathura bull had better watch out!
As the shoot progressed, we settled into our favourite  roles—grandmothers—and swapped notes. We, the newly-minted grannies (in that she became one for the second time with the birth of Esha's daughter Radhya, and I for the fifth, with the birth of Avantikka's son, Adhiraj, around the same time), had much to discuss. Over the next couple of hours, we chatted easily and unselfconsciously, covering so many varied subjects. Hema graciously signed her book (I am mid-way through it), and we laughed over old jokes.
It is obvious from Hema's body language that despite her astonishingly successful movie career, dance remains her first love. She continues to perform dance ballets regularly, and talked about a new one, based on the nine chakras, that she is currently conceptualising. It is this rigorous discipline and faith in her abilities that has kept Hema on top of her game.
For the others present during the shoot, it must have been pretty amusing to watch two almost-seventy-year-olds giggle and lapse into nostalgia mode. As proud grandmas, we discussed babies more than Bollywood. I asked her if she actively runs her large household via remote control. She candidly admitted that like any other thrifty housewife she monitors the monthly electricity bill and questions household staff if she finds lights and fans on in unoccupied rooms.
Hema's love story with Dharmendra continues in the most charming manner. He spends most of his time in Lonavala at his farmhouse, composing shaiyaris (Urdu couplets). Hema says indulgently, "He claims he writes them only for me, which I know is not true!" She records them on her phone because she likes his voice and Urdu pronunciation. In exchange, he asks her to sing him a song, which he records on his phone. 
How fortunate that the nation's Dream Girl found her Dream Man. And the fairytale continues, in a world filled with cynicism and doubt. It gives the rest of us, lesser mortals, a beautiful reason to continue dreaming and believing in the power of love.