Let me state it upfront: I am prejudiced in favour of Vidya Balan. She is Bollywood's most underutilised resource. Even if that does not matter to Vidya herself, it matters one hell of a lot to her fans. Well, she is back with a new film. The kind that is described as 'wholesome' and 'family drama'. In other words, it is not a dirty picture. That is the marvellous thing about the beauteous Balan—she can effortlessly go from playing a middle-class, jaunty housewife to a smouldering Begum Jaan, without missing a beat. I have to still watch her new movie. But then this is not a film review. It is not even a Vidya review. It is just my affectionate take on a talented actor who deserves far many more films in her kitty. She may hasten to correct me and say she is more than happy with her projects. But, when we do meet and chat, I can sense a bit of pique in her dismissive attitude towards the entire nonsense that is made out of the 0200 crore-film. Where does genuine talent go, when all that commercial filmmakers yearn for is hitting that magic number? Utter garbage hits that number, for heaven's sake. I cannot see Vidya participating in garbage—whatever form it takes.
The last time we met was at the prestigious Penguin Fever in Delhi. She had graciously consented to be a part of my session, which was centred around the unveiling of my new book's jacket, followed by a conversation on issues that the book throws up. The Delhi crowd was very excited to see Balan this up close and personal. Unlike other fussy female stars, Vidya was least bothered by fans crowding around demanding selfies. As for me, having met and interacted with Vidya, a few times, I could happily mother her. Balan, her affable father, often texts me after reading a column he has identified with. The entire family is shorn of any artifice and what we call 'nakhrabaazi' in Mumbai. Vidya's down-to-earthness is a very attractive quality. She knows it! When we meet, she reminds me we share the same zodiac sign (Capricorn). That explains the mutual affinity. When I watch the same woman on screen, I see an enormously passionate person—passionate about her role and passionate about the world at large.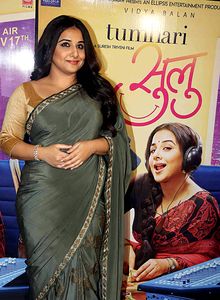 I read somewhere that Vidya intends to auction her stupendous collection of hand woven sarees some day. Well, she has an eager bidder in me! I like her positive attitude towards body shamers who question her weight. Vidya is comfortable in her skin. At the end of the day, that is all that matters. I see her counterparts in Bollywood—some of them resemble stick insects with far too much make-up, and too little substance. In comparison, Vidya shines. I am told Tumhari Sulu taps into the fantasies of countless women who find themselves in humdrum situations that may be 'solid' and 'loving', but far from enriching. Sulu, in the movie, finds her voice—literally—when she jumps at the chance to become a radio jockey. Vidya has music in her throat—it is a very specific voice—low and sensual. It can start as a soothing purr and become a cautionary growl. Vidya uses it well.
Vidya's high self-esteem ensures nobody messes with her. It has always been this way. Years ago, a besotted painter Viveek Sharma, planned his entire solo show around Vidya. Since I had put him in touch with his muse, I was invited to the opening. Vidya stared at the multiple images of herself in an interested, but slightly detached sort of way. As if, she was critically assessing a stranger's representation on canvas. There was no trace of narcissism! Or, if she did experience a sudden surge of self-love, she hid it well!
"Mein kar sakti hai" (I can handle it) is the line from Tumhari Sulu which is being most frequently quoted by reviewers. That is Vidya—the 'can do' girl. Wake up, Bollywood. Vidya Balan is now 'Hamari Sulu'! We want more.
www.shobhaade.blogspot.com