It is hard to believe Dehradun resident Anurag Chauhan, who calls himself a social activist, is just 22 years old. He has certainly achieved a lot for his age, starting with an informed and hyper-active social conscience. He is the founder of Humans for Humanity, an NGO that works for underprivileged children, not just in the valley, but in Delhi and elsewhere.
I wanted to know more about his commitment to causes which range from teaching slum children, cleaning up bustees, saving Dehradun's water from being exploited by Coca-Cola, starting a washing hands campaign, working in a film, becoming an ambassador for Swachch Bharat, providing block printing skills to young boys and girls to organising Dehradun's first-ever literature festival. The last activity is our connect. He invited me to join the advisory board and become a patron of the lit fest.
I liked the idea of Dehradun being a venue, given its reputation as a cradle of education (and that doesn't begin or end with the prestigious Doon School). Somehow, my dates just weren't falling into place. Voila! I found a slot and agreed to participate in a curtain raiser—a great opportunity to promote Karan Johar's bestselling book, An Unsuitable Boy, published under my imprint. And then the unthinkable happened! I missed my flight! This was terribly embarrassing, since a really fancy evening had been lined up, with more than a hundred invitees attending. Anurag was calm, but clearly disheartened.
There was no connecting flight from Delhi to Dehradun at that hour. It was decided I would drive to Dehradun instead. The election fever in Uttarakhand was at its height, and I was told the six-hour drive could take up to eight hours, given the traffic. Anurag called to say he was driving down from Dehradun with a friend, to meet me halfway, and drive right back. I was touched.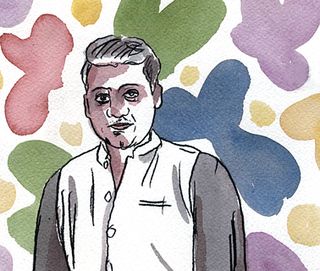 So, there we were, Anurag, Sonali and I, hurtling at top speed on a dimly-lit motorway, past Meerut, beyond Muzaffarnagar and entering Uttarakhand, with a short pakora break on the highway. I felt like we were a part of the 'Gangs of Wasseypur', and any minute our car would be stopped by menacing, armed men. Guess what? It was! These guys were in full combat gear and carrying serious weapons. "Open the doors... open the boot," they commanded. No arguments. We complied. I heard the crackle of radio phones. A cursory search later, I heard the commander yell,"Niklo!" as he waved us off with the barrel of his automatic. Those men were cops at the border, looking for currency notes. And booze.
During the long drive, I got to know about Anurag's work and passions. Some of the stands he has taken in the past have got him into trouble with the authorities. It has taught him to be cautious. Since he has interacted with Anna Hazare and others of that stature, I asked him if he was prepping for a career in politics later. As of now, he is sure he isn't cut out for that ruthless world. But he does make it his business to make life difficult for local netas who aren't safeguarding the interests of Dehradun and the state. "All sorts of Bollywood people are buying land here and developing the most hideous residential and commercial spaces," said Anurag. "I asked the chief minister about it, and he said, 'Why can't you appreciate the great progress Dehradun has made? Have you not seen the number of new malls we now have?" Anurag clutched his head in despair and said, "Can you imagine, they want to make Dolly Bindra the brand ambassador of our state because she has invested in properties here. What connection does she have to Uttarakhand? Why not give that honour to Ruskin Bond?"
Because one of India's most popular and gifted story-tellers, who has spent his life less than 50km from Dehradun, at the exceedingly charming Landour, cannot be bought to play a state-sponsored role. Besides, a generation is growing up believing a reality show bully is a far bigger celebrity than Ruskin Bond. Yup. It really is that pathetic.
www.shobhaade.blogspot.com