The first time I met Kiran Bedi was at a high-profile felicitation function in Mumbai. She had just won a prestigious award and was on cloud nine. She was then the much-admired Crane Bedi of Delhi, having shot to fame for allowing Indira Gandhi's car to be towed from a 'No Parking' zone in the capital. Known for her tough, uncompromising attitude, Kiran was constantly in the news, either in uniform or her trademark Pathan suits and matching jackets. Women across India were in love with her for being a powerful symbol of success, hope and determination in an entirely male-dominated profession. As the first female IPS officer, Bedi revelled in the publicity that followed. Her subsequent efforts to spearhead prison reforms, starting with Tihar, propelled her onto the world stage. She hasn't looked back since, if one can overlook her Anna Hazare phase (2011, India Against Corruption), when she disappointed admirers after she notoriously danced on stage with a ghungat and indulged in some badly-timed nautanki (theatrics). She also lost the election as a BJP candidate later.
Back to my story: I was with my late father the night I met Kiran. He was her unabashed admirer, but had a major problem with her appearance and outfits. I had grown tired of explaining to him that it was a personal option and she was entitled to dress exactly as she pleased. Unsatisfied with my reasoning, he pounced on the first chance he got when I introduced them. After a round of effusive compliments, my feisty, 85-year-old father asked her bluntly, "Why do you dress like a man? These clothes are most unflattering!" Kiran, visibly taken aback, regained her composure swiftly and said she found the Pathan suit very practical. It should have ended there. But, my father went on to recommend "more feminine" alternatives, like a salwar-kameez. He also advised her to grow her hair long and not sport a 'boy cut'. Kiran was gracious enough to indulge him briefly, before rushing away.
Bedi's political views may have undergone dramatic changes over the years, but her 'manly' appearance remains the same. These days, I am in frequent WhatsApp contact with the activist-lieutenant governor of Puducherry. Each morning I wake up to find at least five new messages with photographs of what she has been doing in the past 24 hours. A lot! She has rewritten the role of a governor, as she takes on lobbies and works for a better administered Puducherry. Her latest was a five-day rural tour of Karaikal. I sense the passion (and often frustration) in her long reports, as she goes about transforming a territory that has clearly been overlooked by the powers that be in Delhi. Of course, her efforts have been met by aggressive resistance, but then she is no stranger to controversy.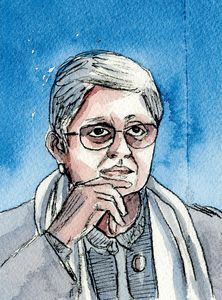 She has generously invited me to visit her in Puducherry. I am keen to take her up on it. She joked I should consider an early date, or else she, too, would be relegated to being a mehmaan (guest) there, given the hostility she is up against. #TeamRajNivas is her brainchild, and she is busy motivating her teammates to push the boundaries and engage themselves more actively in projects. "Everyone of us has to contribute to correct the situation," she urges. She has spent 17 months in this new role. Critics hadn't given her 17 weeks! From attacking the spread of dengue to saving old trees, the governor plans stealth attacks on the unwary and the 'surprise visits' sometimes turn into nightmares for the people caught napping on the job. "The capacity to learn is a gift. The ability to learn is a skill. The willingness to learn is a choice." Well, she has made her choices abundantly clear.
Had my father been around to see Kiran Bedi today, he would have been proud. More importantly, he would have noted with satisfaction that Kiran is wearing pastels these days. "More womanly," I can almost hear him mutter appreciatively. Crane Bedi, even out of police uniform, continues to inspire millions of young girls, who say in awestruck tones, "If she dared, so can we." Yes, you can!
www.shobhaade.blogspot.com