I hadn't realised Mumbai's diplomatic corps is verily bursting at the seams with amazing women—five consul generals, no less! Each exceptionally accomplished, attractive, articulate and outgoing. For the past decade and more, I had stopped attending the staid national day celebrations hosted by consulates. There was a time when one would meet interesting folks at these events. Then came a huge slump. The only people who showed up were the ones looking for free drinks and snacks. In such a dismal environment, something more magnetic was required to attract locals who weren't looking for freebies. Bingo! It has happened! We now have five ladies representing the best interests of their cultures and countries.
When I first spotted Saroja Sirisena at a function, I immediately asked who she was. I stared shamelessly at the tall, lissom, elegant woman in a deep red sari and concluded she must be a model—Saroja gets that a lot! Well, let's qualify that and call her a model-diplomat. Earlier postings having been in Europe, Saroja is quite the soignée Parisian, conversing easily in fluent French with European diplomats. Her next posting should see her as an ambassador, possibly in the Middle East. Till then, Saroja is making the most of her Mumbai posting, blending in beautifully with Mumbaikars who have welcomed the 40-year-old single woman into their fold. You know how it is—a gorgeous, intelligent, unattached lady walks into the room, and ends up owning it!
I got to know Saroja subsequently, and through her and Vinod Advani, a mutual friend, I met Rosimar Suzano, the vibrant, outspoken consul general of Brazil. We planned a date and it turned out to be one of the liveliest evenings in recent memory, as the four of us provided solutions to the myriad and highly complex issues of the world, while sipping Negronis and champagne. Just listening to their fascinating experiences made one realise what goes into this delicate business we lightly call 'diplomacy'. While Saroja travels to places in Mumbai I have never visited (distant suburbs populated by neo-Buddhists), Rosimar makes forays into western Maharashtra, Karnataka and Goa, identifying business opportunities with Brazil. Saroja is keen to forge stronger ties with other areas of India that have historical/religious links with Sri Lanka—like Bihar, for instance.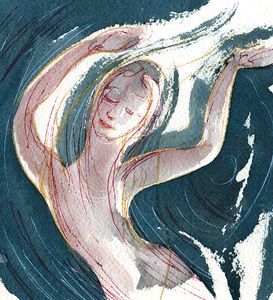 The other three ladies are Samina Naz of Bangladesh, who may be transferred soon, but is known for her no-nonsense approach... and lovely Dhakai saris. I have yet to meet Maropene Ramakgopa, consul general of South Africa who, like Samina, is a single mother and always attracts loads of attention with her colourful national dress. That leaves the fifth lady, Ulrika Sundberg, consul general of Sweden, who chose to take a step down in her professional ladder, and 'downgrade' herself from an ambassadorial assignment in Pakistan (her last posting), to come to India because she loves the country! She is the seniormost diplomat of the group. What strikes me about this rather rare 'coincidence' of a bustling metropolis like Mumbai attracting five seasoned female diplomats is what it says about our city. Positive stuff! Women professionals from diverse fields have found their feet here and gone on to bigger achievements. Saroja confirmed this when she commented that it was a lot like being in Colombo—it's the cosmopolitan nature of the work environment, combined with a dynamic, often aggressive thrust that pushes people to excel.
As we left the bayside bar that night, it was wonderful to discover just how much we all share in common, if we only care to look for those special elements and not focus on our differences. When the mood is conducive and there is a high level of genuine communication, it is worth investing time, energy and love in cementing relationships. That's what good diplomacy is about. And these five remarkable ladies have certainly figured out as much.
www.shobhaade.blogspot.com