When I jauntily suggested a Croatian cruise to my husband, I had very little idea about this fascinating and very young country, which attained its independence in 1991. I had heard it described as "the hottest piece of real estate in Europe". I also knew it was a part of the EU and NATO. That's it. We both needed a short break, and Croatia mysteriously beckoned.
What had we put our foot into, I wondered, as a taxi driver who wasn't too friendly took us to our hotel in the old city. A hotel that claimed a 1,000-year history and boasted it was located next to "the oldest cathedral in the world". It was during our last leg in Croatia that I got an insight into the life of young Croatians. Our taxi driver Zee, was not just talkative, but articulate and well-informed, too.
He was also endearingly upfront and blunt. No politically correct 'tourist talk' from this chap. "Yes, we are very racist," he stated, adding, "We don't want immigrants from Africa. We don't want Syrian refugees. We don't want Muslims. We don't want black people." So, I asked, "What about Indians?" In the past two years, Croatia has attracted a fair number of desis. Zee hesitated before replying, "We don't know much about India. Only Bollywood. Your stars are good-looking and well behaved. Dubrovnik attracts a lot of international television and film crews, especially after the success of The Game of Thrones."
My husband gave a crash-course in history to the young man and boasted about India's many achievements. I interjected at one point and asked, as we approached the coast of Montenegro, "Have you heard of Lalit Modi?" Why Lalit Modi? Well, Montenegro is supposed to be one of his favourite playgrounds. Zee looked blank. Forget Lalit Modi, he had not heard of Narendra Modi. But he sure as hell knew the history of his troubled region. And that, to me, was the most interesting part of the long trip.
Zee said he was just one year old when he lost his father to the war with Serbia (1991-1995). It was a bloody and brutal war and Croatia turned to Bill Clinton for help. Zee says the UN forces did nothing at all, just stood by and watched. Clinton jumped in with guns, ammunition and helicopters. He pointed to the homes we were driving past. "These are new. This entire village was razed to the ground when Dubrovnik was shelled. We had nothing to eat, nowhere to hide." His mother fled to Zagreb, with him and his two siblings. "She is our hero," he said, his voice breaking with emotion. The move cost him his education, and he didn't make it to college, like his older siblings. Which is why he is a driver, while they hold good jobs. His young wife, who works at a five-star hotel, has been granted a year's maternity leave, as per the law.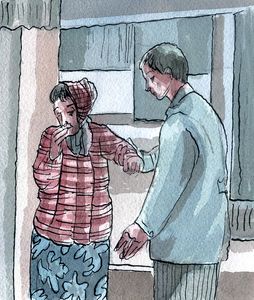 "I live with my in-laws. We grow our own vegetables. My father-in-law inherited a few olive trees. We make our own oil. When we need fish, we go out to sea and catch it. Our needs are few. My salary is ¤700. I send money to my mother, who lives alone. I also send her cartons of vegetables from our garden... and the olive oil, of course." He knows he is having a daughter, and wants to plan for her future by saving enough to start his own taxi business someday. "My brother earns well. He works in Vienna. He has offered to invest in my business. But it is not easy. My wife and I used the money we received during our wedding to shop for our baby. Now we have no savings!"
I really liked his gung-ho spirit and admired his commitment to family, particularly to his elderly mother who he says worked very hard to support the family. Today, she receives a small widow pension from the army. What this lady may not have in terms of material comforts, is richly compensated for by the love and support she gets from her children. Croatia reaffirmed my faith in the strength of family bonds. In fact, it made my trip!
www.shobhaade.blogspot.com