A statue of Bhimrao Ambedkar watches over Periyakulam junction, in Tamil Nadu's Theni district. Music blares from huge speakers as men in lungi sip tea at Rosie Canteen, the most popular tea shop here. Framed pictures of former chief minister M.G. Ramachandran and J. Jayalalithaa adorn a wall of the shop, but no one wants to discuss politics. A wary waiter said, "This is our OPS ayya's canteen. He is a nice man who came up through hard work." OPS is Deputy Chief Minister O. Panneerselvam, who was chief minister of Tamil Nadu three times.
Sipping strong tea, truck driver Pachaimuthu Pandi, 51, points at the locked building next to Rosie Canteen. Dust lies thick on the front steps. No one has gone inside in a long time. The owner's name is inscribed in Tamil: Ottakara Thevar. "This is the ancestral house of OPS. His father lived here, and sometimes lent money to lorry drivers like me," said Pandi. "The gate has been locked for, maybe, 10 years now." Local residents said Thevar died a lonely man, after contracting leprosy.
The extended family now lives in Thenkarai, a locality within Periyakulam town. Locals point out 10 houses there; all owned by the OPS family, they say. A small, porched house—70 South Agraharam—is where OPS stays on official visits. He lives mostly in Chennai now. His sons have a separate, palatial home here.
According to the declaration of assets submitted to the Election Commission of India in 2016, OPS has moveable assets worth Rs 8.6 lakh and immovable properties worth Rs 33.20 lakh. His total liabilities stand at Rs 25 lakh, and total assets at Rs 1.53 crore. The only dependent listed is his wife, P. Vijayalakshmi, who owns 200gm of gold worth Rs 5 lakh, moveable property worth Rs 26.32 lakh, 27 acres of agricultural land and a house (2,063sqft).
Incidentally, OPS's 2006 affidavit before the election commission mentions an acre of agricultural land by way of inheritance. Ottakara Thevar's property was partitioned on June 27, 1994, among his three sons and wife. OPS got 4.60 acres of punja land, of which he sold 3.60 acres to local resident Ravindran Pothiraj Naicker on July 15, 1996. But, this remaining acre does not appear in affidavits filed in 2011 and 2016.
While OPS's wealth has not grown, his relatives have prospered. His critics say much of his wealth is parked in the names of his children and brothers. Law does not require him to mention their wealth in his affidavit, as they are not dependant on him. Said Thanga Tamil Selvan, MLA from Andipatti: "He is a zamindar, but no property has been registered in his name."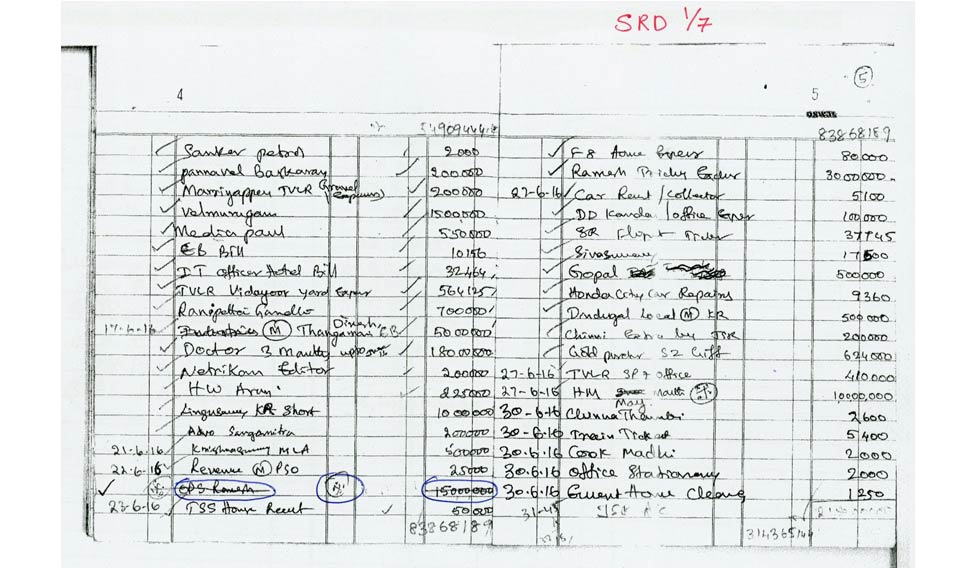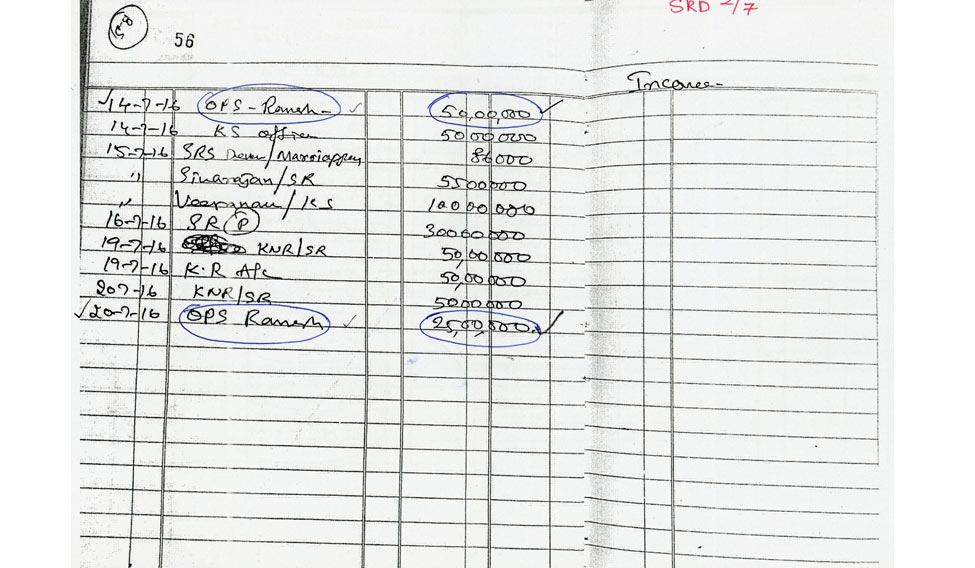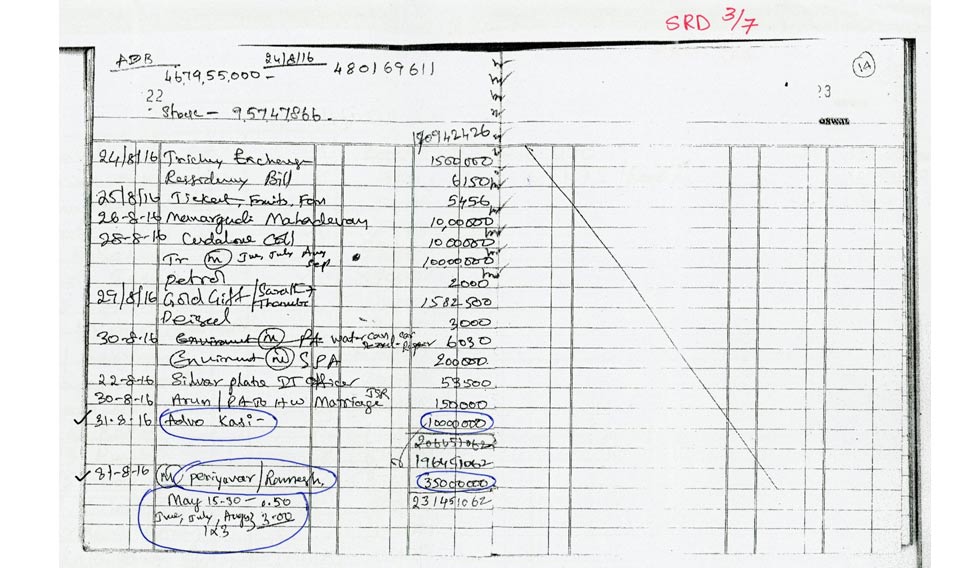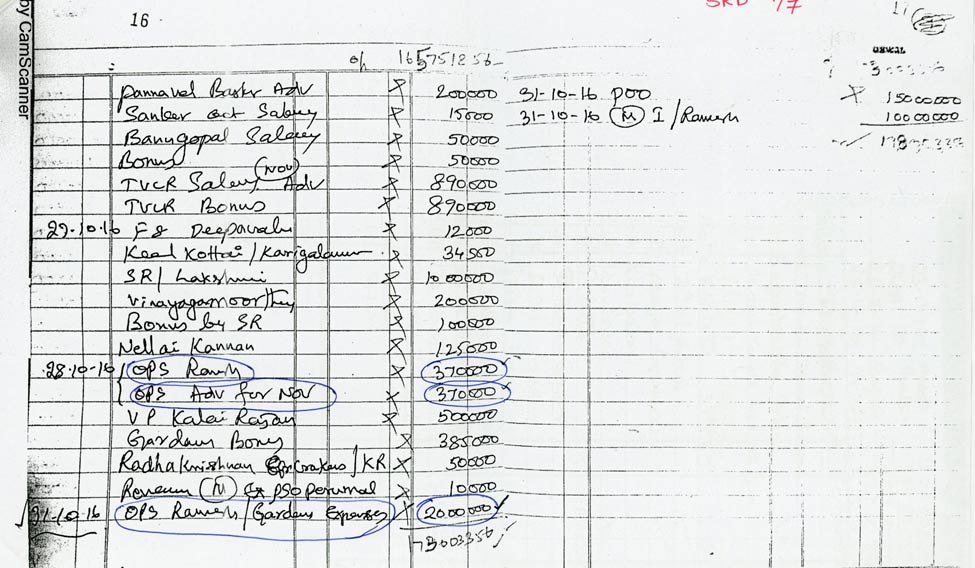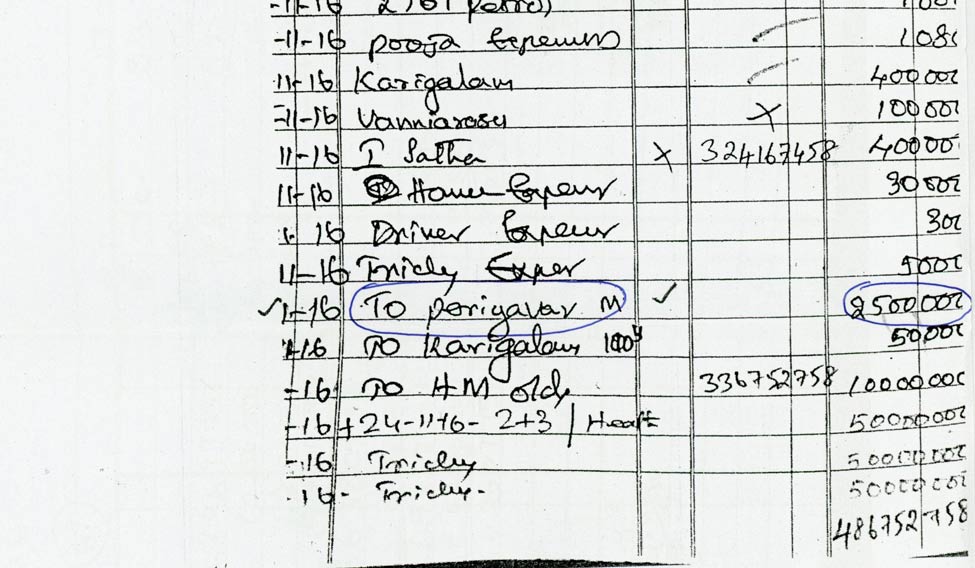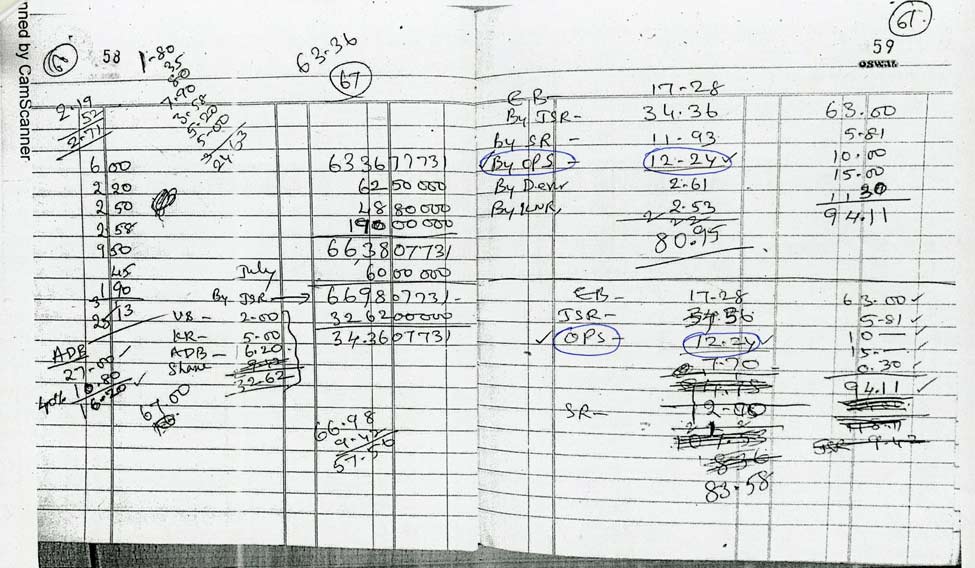 OPS's ancestors had migrated from Srivilliputhur village, near Madurai, to Periyakulam. There are no records of the family owning land in Theni district 25 years ago. In 1996, when he ran for the Periyakulam municipal council, OPS declared an acre agriculture land, a tea shop and 25 sovereigns. His house, valued at Rs 7.61 lakh, was owned by Vijayalakshmi.
Documents with THE WEEK show that the OPS family now owns 131 acres of agricultural land in Theni district. His sons, O.P. Raveendranath Kumar and V.P. Jayapradeep, have extensive corporate investments. Vijayalakshmi now owns 32 acres. OPS's son-in-law Kasirajan was the advocate for Tamil Nadu government housing board, which handled the state's housing and land projects. And, until recently, Kasirajan's father, Chellapandian, was additional advocate general at the Madurai bench of the Madras High Court.
OPS's brothers—O. Raja aka Ramasamy, O. Balamurgan and O. Shanmugha Sundaram aka Sundar—have significant land holdings in Theni district. Sundar reportedly ran away in his teens, and returned only after OPS became a minister.
While probing the story behind OPS's assets, THE WEEK received what are reportedly pages of the infamous 'Sekar Reddy diary'. J. Sekar Reddy, sand mining baron and industrialist, was a partner of SRS Mining Company. He was arrested on December 8, 2016, after the CBI seized Rs 33.6 crore in 2,000-rupee notes. But, recently, the case suffered a setback as the RBI failed to provide serial numbers of notes supplied to banks immediately after demonetisation.
Reddy is said to have made regular payments to bureaucrats and politicians and recorded them in the diary. The Income Tax department confirmed that there was a diary and that information from it was used to trace tax evaders.
A source said OPS is codenamed Periyavar (senior) in the diary. The pages available with THE WEEK list payments made between June and November 2016. The list shows nine alleged payments to the OPS family, under three heads: "Periyavar, OPS Ramesh and Advo Kasi". The source said "Ramesh" was OPS's personal secretary and nephew.
Maximum payments are to "OPS Ramesh": Rs 1.5 crore (June 22), Rs 50 lakh (July 14), Rs 25 lakh (July 20), Rs 3.7 lakh (October 28) and Rs 20 lakh (October 31). Almost Rs 2.49 crore, in total. "Advo Kasi" has one entry: Rs 1 crore (August 31). There are three entries for OPS: "Periyavar" (Rs 25 lakh on November 16), "Periyavar/Ramesh" (Rs 3.5 crore on August 31) and "OPS adv for November" (Rs 3.7 lakh on October 28). Almost Rs 3.79 crore, in total.
While the diary pages could not be verified, THE WEEK set off to find out what could be.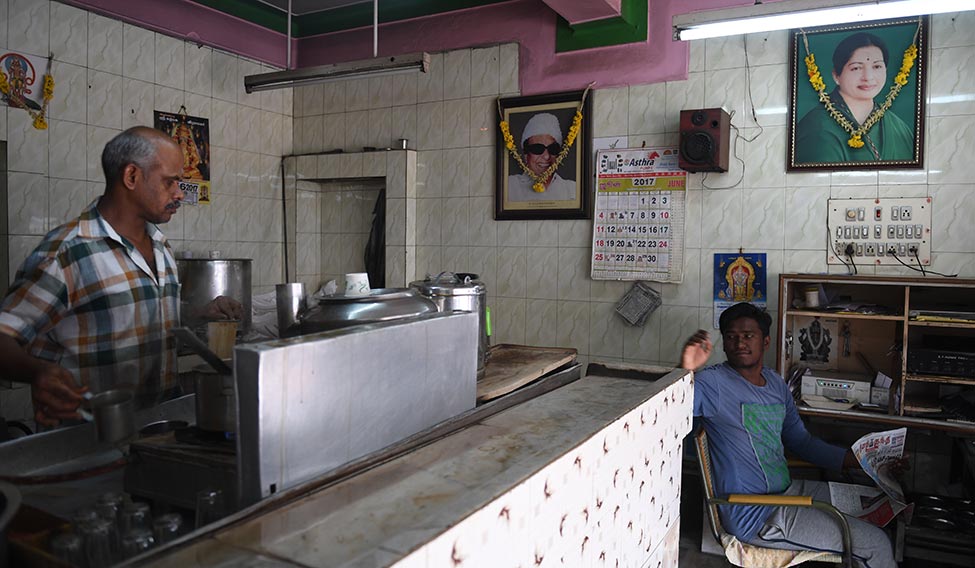 PECHIMUTHU TO PANNEERSELVAM
In the late 1980s, the three sons of Ottakara Thevar wanted to go beyond their father's money-lending business. OPS and bosom pal Vijayan set up a tea shop, P.V. Canteen. The seed money of Rs 20,000 was loaned by City Union Bank's Periyakulam branch. Balamurugan borrowed the money, and OPS was guarantor. After they defaulted, the bank filed a case for recovery. Around this time, OPS changed his given name from Pechimuthu to Panneerselvam. The loan was paid in 2003.
P.V. Canteen was later run by his younger brother Raja. The canteen's name was changed after his daughter Rosie died young. Later, Vijayan set up Relax Canteen across the road from Rosie Canteen. While running the tea shop, OPS doubled as a real estate broker.
A close relative of OPS recalled him shuttling on a Bajaj M80, brokering land deals. Rs 2,000 was considered a decent commission then, the relative said. "I remember him taking commission from lyricist Vairamuthu, for a 12-acre coconut grove in Pullakkapatti, near Periyakulam," the relative said.
In 1996, all this changed. Two things happened—OPS became chairman of Periyakulam Municipality, and he met T.T.V. Dhinakaran, a nephew of Jayalalithaa's companion Sasikala. Dhinakaran introduced him to Jayalalithaa. In 2001, just five years later, she picked him to warm the chief minister's seat when she was convicted in the Tamil Nadu Small Industries Corporation (TANSI) land deal. This is when his political graph started climbing.
"OPS is an opportunist," said A. Shankar, who blogs on AIADMK inner-party affairs. "He is not a popular leader. During his recent six-month-long faction fight with Chief Minister Edappadi K. Palaniswami, he could not win over any MLA to his side, which had 12 MLAs. After calling Palaniswami government corrupt, he joined the same government. Which means he is also not above corruption."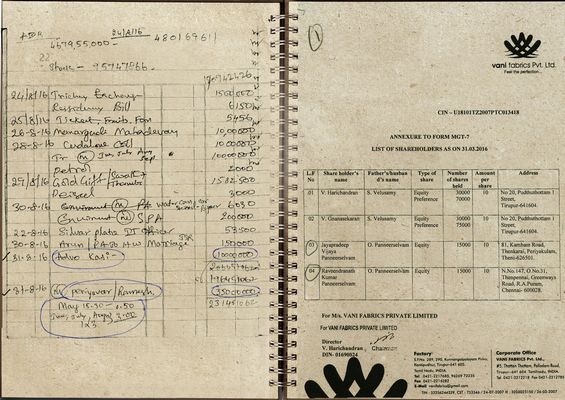 DISPROPORTIONATE ASSETS CASE QUASHED
In 2006, when the DMK came to power, a case of disproportionate assets was filed against OPS. He had the case quashed, something that even Jayalalithaa could not do. According to the charge-sheet filed by the Directorate of Vigilance and Anti-Corruption (DVAC) in 2006, his assets were 374 per cent more than his income. The charge-sheet named him as primary accused, followed by his wife Vijayalakshmi, brothers Raja and Balamurugan and their wives, Sasikalavathy and Latha Maheshwari. His sons Raveendranath and Jayapradeep, who was then a minor, were not named.
As per the charge-sheet, before 2001, OPS's assets stood at Rs 17 lakh. In 2006, it was Rs 1.67 crore. According to records, his expenses came to Rs 67.82 lakh, while his income was only Rs 46.05 lakh. The charge-sheet said that the excess expenditure and the value of assets acquired between 2001 and 2006 stood at Rs 1.72 crore.
Rajasenthur Pandian, senior advocate in the Madras High Court, said, "The story of how OPS got himself out of the case is very interesting. If Jayalalithaa had followed in his footsteps, she, too, would not have been convicted in the disproportionate assets (DA) case."
In 2009, when the DA case was pending in the Theni chief judicial magistrate's court, OPS filed a petition under Section 173(8) of the Code of Criminal Procedure (CrPC), requesting the court to ask the police to reinvestigate the case. As the prosecution could not convince the magistrate otherwise, he ordered a reinvestigation. Meanwhile, special courts were set up to hear cases under the Prevention of Corruption Act, and the DVAC wing in Madurai proceeded with the case there, with the same charge-sheet.
OPS and the other accused then approached the special court saying the Theni court had ordered a reinvestigation. A senior officer in the DVAC, who was part of the case, said, "As the special court did not accept this argument, they filed another petition in the High Court in Madurai saying that the case cannot have a territorial jurisdiction. They got it transferred to the Sivaganga court. Here, in 2012, OPS was acquitted citing insufficient evidence. He was then finance minister."
Pandian said: "An accused cannot file a petition under Section 173(8), even if he is innocent. He can only file a discharge petition. That, too, in the concerned court. Here, the petition was filed in one court and the transfer order was issued by the High Court, while the case was pending in the special court. He approached the court for reinvestigation after the court had held 13 hearings. This again is not possible under law."
OPS was represented in court by Chellapandian. DVAC officials said OPS would have been convicted if the case had proceeded to a logical end. While they also agree that Raveendranath and Jayapradeep have considerable assets, they did not comment on why they were not included in the charge-sheet.
Selvan, the MLA, said the acquittal was as a shot in the arm for OPS. "He moved to Bodinayakanur constituency, as Periyakulam was reserved in 2011," he said. "Around this time Sasikala's family fell out of favour with Jayalalithaa, and Dhinakaran, too, was forced to keep a low profile. It all helped OPS."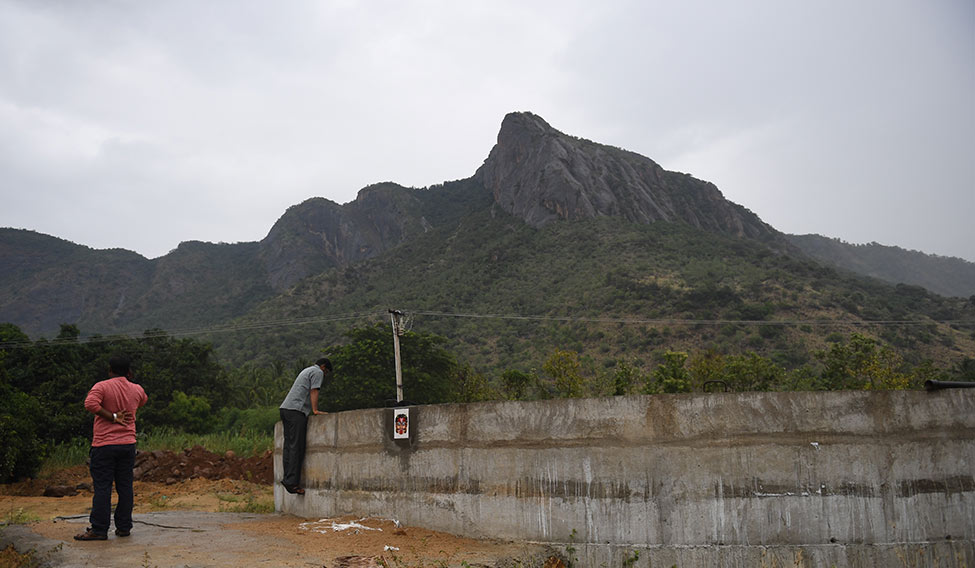 THE GIANT WELLS
A muddy lane connects four giant wells to the Periyakulam-Lakshmipuram road. The lane meanders for 4km along the banks of the Varattaru, a river originating from the Agamalai and Sorlamalai hills. The river was bone-dry when THE WEEK visited the site.
You hear the pumps before you see the wells, and, at first sight, the wells look more like ponds. Water from the wells is sold, and is also used to irrigate the farm owned by the OPS family. Villagers had been protesting the wells, as the water table in the area had been falling sharply.
The village committee proposed crowdfunding to buy the land from Vijayalakshmi, OPS's wife. The flashpoint was a 60-day protest which began on June 20. It ended on August 21, the day OPS became deputy chief minister. On that day, A. Subburaj, a close associate of OPS, donated the land to Lakshmipuram panchayat.
Only the wells were gifted; Subburaj continues to own surrounding land. A local source said that to distance herself from the controversy, Vijayalakshmi transferred the land to Subburaj on July 12, 2017. But, Subburaj insisted there was no foul play. "I sold the land to Vijayalakshmi in 2002, and bought it back in 2017," he said. "There is no dispute at all. Even before 2004, OPS used to own 52 acres in the same Thamaraikulam area. We were not close those days, but now he is a close friend."
The villagers told THE WEEK that they wanted the land, too, and not just the wells. "We were all working hard to raise Rs 6 crore to buy the entire 40 acres, which contains the wells," said A. Rangasami, 68, who had begun the fight by filing RTI applications with the revenue department. Legally, he said, a bore well should be dug at least 200m away from a river. "The four wells dug by the OPS family are just 50m away from the river bank," he said.
At one point, Subburaj and wife Uma Maheshwari held at least 100 of the 131 acres owned by the OPS family. Local residents say Subburaj has benefited from his loyalty to OPS. His Madurai-based Paapa builders was incorporated on December 16, 2010, with a share capital of Rs 1 crore. The company has grown by leaps and bounds.
"I am into construction," Subburaj said. "This is my own company, with my wife and I as directors. We deal in public works, highways and railways. OPS is a friend, but his children are not part of my company." The last line is not entirely true. (Incidentally, OPS was PWD and highways minister from 2011 to 2016.)
Subburaj, Raveendranath and Jayapradeep are partners in Global Home Realties, Theni. OPS's sons have invested close to Rs 10 crore, and hold 45 per cent each of the company, while Subburaj holds the remaining 10 per cent. Reportedly, Global Home Realties has bought 150 acres near Renuka School in Lakshmipuram, Theni, for a construction project. The loan for the project came from an old friend—City Union Bank, Theni.
Another land dispute in which OPS is said to have had a hand is the transfer of 99 acres of government land to Bojaraj Textile Mills, Theni. Sources said that an OPS loyalist picked up the land at half the market price.
SONS, AND THEIR COMPANIES
Critics of OPS often point at the business empire of his sons, to highlight the fact that the family's wealth has not grown organically. A decade ago, the sons made their first major investment—Jayawant Enterprises, a partnership firm dealing in scrap paper. The second investment was a spinning mill near Tirupur. Their adviser in the business was Rajaguru Naidu, an AIADMK leader from Theni. Sources said Naidu introduced them to Harichandran and Gnanasekaran, who were in the spinning and textile yarn business.
The sons became directors of the following companies owned by V. Harichandran and V. Gnanasekaran, and, over time, made substantial investments (in brackets): Vani Fabrics Pvt Ltd (Rs 12 crore), Vani Spinners Pvt Ltd (Rs 15 crore) and Vani Textiles Pvt Ltd (Rs 8 crore). As per registrar of companies (RoC) documents, the sons hold 16.67 per cent each of Vani Fabrics.
Another of their investments is in Xllent Marineline Pvt Ltd, a marine transport company with registered offices in Raheja Towers on Chennai's arterial Anna Salai. Its other offices are in Mumbai, Bengaluru and Singapore. The company, which used to hire shipping containers, now owns more than 500 of these. It also has sister concerns like Xllent Cargo Transport, a port logistics firm.
Xllent Marineline has eight shareholders/directors. OPS's sons became directors on August 17, 2016—one month before Jayalalithaa was hospitalised. The sons hold 16.5 per cent each of the company. One of the remaining six directors, Rajendhran Dharani, is a known associate of Raveendranath.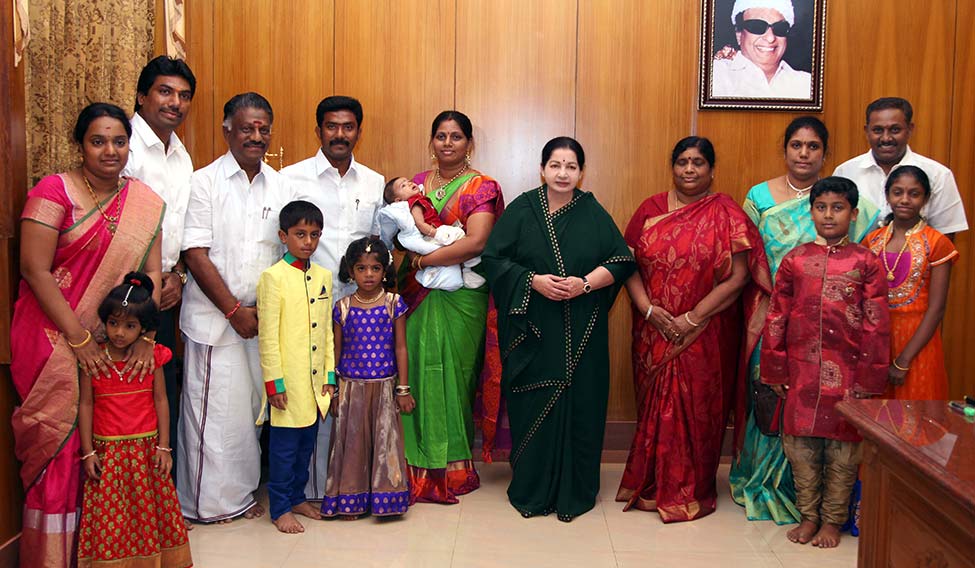 Other alleged investments in partnership firms are as follows: Both are partners in HSV Corporation Solar, Tirupur, and have invested Rs 5 crore. Harichandran of Vani Fabrics is also a partner here, so is Senthilkumar, another friend of OPS's sons. Raveendranath is a director of Willownet Exim Pvt Ltd at Rainbow Arcade, Pondy Bazaar, Chennai, and has invested Rs 50 lakh. Both sons are partners in Jayawant Enterprises, R.A. Puram, Chennai, and they have invested Rs 50 lakh. The same R.A. Puram address is home to another investment—Matrix Media Designs Pvt Ltd. The sons are directors in the firm, and have invested Rs 75 lakh. Reportedly, the total investment by the sons in these nine companies amounts to Rs 57.75 crore. Sources say they are now looking for investment opportunities in Malaysia and Indonesia.
THE WEEK sent detailed questionnaires to OPS and his sons, at least 60 days before running this story. But, they have not responded.
CARDAMOM CONNECTION
Bodinayakanur is a hub of cardamom trade, and the OPS family reportedly controls the market. Said S. Rajasekaran, 42, who runs a law foundation in Theni, "OPS is not directly involved in cardamom trade. But the market is controlled by his benamis. Even the opposition party leaders are with him." Rajasekaran's RTI applications revealed discrepancies in the cardamom trade, and he filed a writ petition in the High Court in Madurai, seeking a detailed investigation.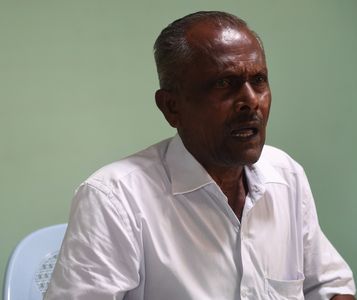 "It is like a mafia here in Bodi," Rajasekaran said. "There are at least 67 dealers who trade in different grades of cardamom. They secure licences in the names of daily labourers who work for them. The government lost Rs 26 crore between July and December 2013, after a commercial tax officer cleared a licence for a trader's dead driver. I have sued Vimal Traders, its owner Maalai Saravanan and commercial tax officer Chellaiah for benami transactions." Rajasekaran said his fight against the corrupt traders had come to naught as they had OPS's tacit support.
When OPS was chief minister in 2014-15, commercial tax on cardamom was slashed to 2 per cent, from 5 per cent. The reduction in tax rates has cost the government at least Rs 3,000 crore in the past two years, said an official in the commercial tax department. But, in response to an RTI application, the commercial taxes department said, "The question of revenue loss does not arise, as it is a government's policy decision. Export of cardamom is zero-rated. Hence, no revenue is derived from it."
A senior IAS officer said that the change in tax rates for yarn and cardamom was not cleared by Jayalalithaa. "This was when Madam was very upset because of the Bengaluru court conviction," the officer said. "We used to give policy decisions for her approval and she would approve it with a pencil mark. For mobile phones there was a pencil mark. But, surprisingly, the tax reduction for cardamom, yarn and mobile phones came in the same government order."
THE TRUST, AND DEATHS
The Ottakara Thevar Educational Trust has as its trustees Raja, wife Sasikalavathy, son Amarnath, one of the sisters of OPS and one other member of the extended family. The trust owns 12 acres, with school buildings, worth around Rs 15 crore. Sources said the trust owns much more land. Many OPS loyalists blame Raja and death of a priest for OPS falling out of Jayalalithaa's favour in 2016.
S. Nagamuthu, a dalit priest at the Kailasanathar temple in Thenkarai, Theni district, committed suicide in 2012. THE WEEK has a copy of his suicide note, which says Raja and a few others humiliated him by denying him entry into the temple. The temple is on a hill, near a farmhouse owned by Venkatesh, brother of Subburaj, the builder.
"Raja killed my son," said Subbuthai Subburaj, 60, Nagamuthu's mother. "It is a very old temple, and the surroundings were like a forest earlier. My son found it in around 2002, and started prayers there. This was when OPS became chief minister. The family believed that the temple had brought them good luck. Till 2007, they helped him develop it. But, when my son found a cave with hidden treasure [near the temple], Raja and his henchmen started harassing him. They wanted to take over the temple."
Nagamuthu's family is fighting a case against Raja in the High Court in Madurai. In February 2015, the court ordered the police to investigate Raja and four others in the case. OPS was then chief minister. Citing this, Nagamuthu's father, Subburaj, sought a CBI inquiry into the case. The case is pending in court.
Another case at Raja's doorstep is that of a missing man, Kalaivanan. Last February, his wife K. Mahapriya filed a habeas corpus petition in the High Court in Madurai saying she feared someone had murdered Kalaivanan when she was away in Tuticorin. Kalaivanan had gone missing on February 2, 2016. "We suspect OPS and Raja," she said.
Kalaivanan was working for Vishnu Motors, an Allinagaram-based company owned by Sannasi and his son Vicky. "My husband was assaulted by Sannasi and his son Vicky, who are close to OPS," she said.
Mahapriya said the local police did not investigate the case, despite several complaints. "Now the case is with the crime branch of the crime investigation department [CB-CID]," she said. "But, I wonder how it will proceed, as OPS is deputy chief minister."
The faction led by Panneerselvam and Chief Minister Edappadi K. Palaniswami (EPS) recently won the right to use AIADMK's 'two leaves' symbol in the R.K. Nagar bypoll. And, the Sasikala camp was hit by multiple Income Tax raids. Dhinakaran said that the raids were "selective". "If someone has to be raided," he said, "it is EPS and OPS."