"It is a matter of end-of-life care, and the dilemma around it. What was done was against medical ethics" - Fouzia Shersad, Ahamed's daughter
The death of a member of the Lok Sabha is normally marked by a few solemn obituary references after which the house is adjourned for the day, as a mark of respect for the departed soul. But that was not the case when E. Ahamed, MP from Malappuram in Kerala, died in the wee hours of February 1. He had suffered a heart attack on January 31, during President Pranab Mukherjee's address to both houses of Parliament, and died a few hours later at Ram Manohar Lohia Hospital, in Delhi.
A few hours after an official announcement was made on Ahamed's death, Parliament met and Finance Minister Arun Jaitley presented the budget, unmindful of a demand from the opposition parties and the MPs from Kerala that it be deferred by a day. By evening, many non-BJP MPs were of the opinion that Ahamed was dead long before the declaration was made.
"The hospital authorities did not disclose his death for quite some time. What happened there amounts to disrespect shown to Ahamed. His family members were not allowed to see him. It is unethical," said N.K. Premachandran, MP and Revolutionary Socialist Party leader.
The opposition disrupted the proceedings in the Lok Sabha so many times that it was adjourned till February 6. Congress vice president Rahul Gandhi joined the MPs from Kerala in a protest outside Parliament on February 6. Leader of opposition in the Lok Sabha, Mallikarjun Kharge, demanded a probe by a parliamentary committee into Ahamed's death.
Ghulam Nabi Azad, leader of opposition in the Rajya Sabha, said he had information that "the death happened much earlier than it was declared". "The government wanted to keep the body until the budget was presented and nobody was allowed to see him," Azad told the media outside Parliament.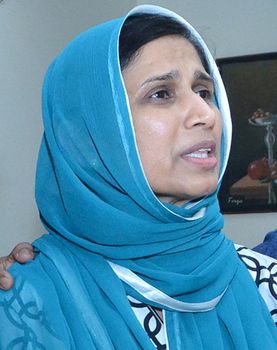 Ahamed's children, too, have expressed their anguish over being stopped from seeing their father. "Everyone from across party lines, all papa's colleagues, they were like brothers to him, they had seen him earlier in the day," said Fouzia Shersad, Ahamed's daughter. "We were told that they were let in, two at a time, to see him. But when we got to the hospital at 8.30pm, they did not let us see him."
The hospital repeatedly denied Fouzia and her husband, Shersad, both doctors, access to Ahamed. That is when a few Congress leaders, who were present there at that time, realised that something was amiss. Soon, Congress president Sonia Gandhi, Rahul and Azad visited the hospital to meet the Ahamed family.
"When we entered the hospital, it was clear he was critical," says Fouzia. "But we thought the heart beat was spontaneous and the ventilator was there, along with the pacemaker, only for support. My brother Nazir had changed into the hospital footwear and robe to go in. But then they turned him back, saying we could see him when they wheel him out for a procedure. Till then, we did not know that he was on a cardiac compression device for almost 12 hours." The device is used as a short-term emergency measure, for up to half an hour. It is normally not used on elderly patients. "He was on it continuously. The compression device lifts a patient up and brings him down with a thud. It is a traumatic device for a 78-year-old, who has undergone a bypass surgery and angioplasty," says Fouzia.
The RML's medical superintendent, A.K. Gadpayle, told reporters that there was no pressure on them to withhold or delay the announcement of Ahamed's death. Union minister Venkaiah Naidu defended the doctors saying they did their best. "The government will answer if the issue is raised in Parliament," he said. "The opposition parties are trying to politicise it outside instead."
The Ahamed family has asked for the clinical reports and intends to seek a complete inquiry into the treatment. "It is a matter of end-of-life care, and the dilemma around it," said Fouzia. "What was done was against medical ethics."