When the world was celebrating the first International Day of Yoga on June 21, an international group led by Tibetan monks from various monasteries was winding up a weeklong ritual. Against the backdrop of the Dauladhars a long procession of monks in mustard and saffron carried offerings and performed an ancient rite, faithful to the instructions in Secret Visions, written by the fifth Dalai Lama.
The ritual—performed for the long life of Tenzin Gyatso, the 14th Dalai Lama—was held at the main Tibetan temple in Mcleodganj, Himachal Pradesh. The mountain town houses the headquarters of the Dalai Lama and of the central Tibetan administration.
"I did not pay much attention to such prayers for me [when I was in] Tibet. However, I have since realised they were propitious," said the Dalai Lama, who has turned 80, going by Tibetan "reckoning". According to the Gregorian calendar, the birthday is on July 6. "Doctors suggest I could live another 20 years or so. Let us plan to celebrate again when I am 90," the savant quipped.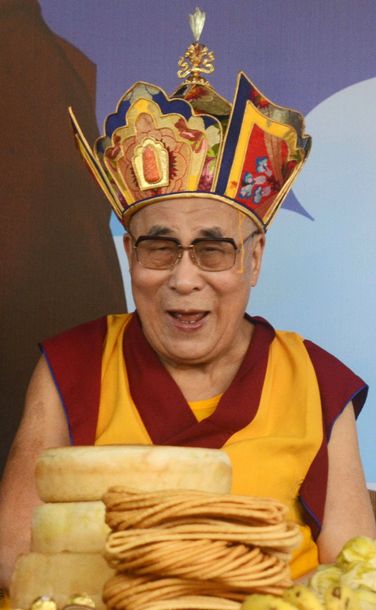 The birthday celebrations, mostly talks and discussions pertaining to Buddhism and peace, will happen primarily in California, US, and also in different parts of the world.
The Dalai Lama's light-hearted comment about his good health came as a relief to the Tibetan diaspora, estimated to be around 1.5 lakh. Around 75,000 people followed the young Dalai Lama into India when he fled the Potala Palace in Lhasa, Tibet, immediately after the failed uprising against the Chinese invasion in 1959. The people trickled in at various times into India and Nepal, and a minuscule number has since migrated from these countries to the US, Canada, the European Union and Australia.
After he reached India, the Dalai Lama has largely focused on educating Tibetan youth about their language, culture and values. He has also pushed for modern, western education for them, using his clout to secure reservations in schools and colleges in India. Many universities abroad also offer reservations and freeships.
The central Tibetan administration was set up on April 28, 1959, and the commission of Tibetan people's deputies was sworn in on September 2, 1960. A body of elected representatives, the CTPD later became the Tibetan parliament in exile.
The Dalai Lama was unrelenting in his efforts to negotiate with anyone and everyone, to realise his dream of a free Tibet, and to lead his people back home. He travelled the world to gather support and networked with world leaders. In the late 1960s and early 1970s, he had thought of approaching China, "not seeking independence, but dialogue". But, China was never an easy adversary. He believed that hardliners in China "were still intent on attacking the Tibetan identity, language and spiritual traditions".
But, as the older generation of refugees made way for a younger one, things became difficult for the man who says Buddhism taught him peace and Mahatma Gandhi non-violence. The biggest challenge for the Dalai Lama was to keep the youth away from an armed struggle against China, even as some people within the fold were inciting them to do. After all, Himachal Pradesh is bordered by Jammu and Kashmir in the north and Punjab in the west, and some youth in both states have borne arms against the state. There were examples outside India, too. But, the Dalai Lama's stand was solid—no weapons and no autonomy for Tibet, instead of independence.
China's growing economic clout and global influence made it tougher for the Dalai Lama to abandon peace efforts. Because, while the international support did not go away, it became less pronounced. India, too, now wants to settle some of its issues with China.
Many young Tibetans have been moving out from the camps that were made for them to remain as one ethnic community, ready to return home. Many who come from Tibet these days, sources say, do so mainly for education in Tibetan culture, values and Buddhism. All this has left some in the community wondering if they will get scattered and merge with local communities eventually.
In February 2014, the Election Commission of India directed states to include Tibetans who were born between 1950 and 1987 in the electoral rolls. This was in response to a 2013 court order. Suddenly, 48,000 out of the 1.2 lakh Tibetans in Himachal Pradesh became eligible to vote. But, only 1,200 enrolled. This gave the older Tibetans hope that all was not lost. That those who did not register would rather go home to Tibet. Some day.
But, has the Dalai Lama given up hopes of returning home to Tibet along with his followers?
A few days ago, at Uluru, Australia, the Dalai Lama told a gathering that since 2011 he had "completely retired from political responsibilities and have put an end to the Dalai Lamas' involvement in such affairs in future". He also said that preserving their traditions was not the concern of Tibetans alone. "Today, people in China—where there are 400 million Buddhists—Japan, Korea and Vietnam are taking an interest in Tibetan Buddhism. What's more, Xi Jinping, premier of China, has publicly acknowledged the importance of Buddhism to Chinese culture," he elaborated.
He pointed to recent research based on Chinese documents, confirming the historical existence of Chinese, Tibetan and Mongolian empires more than a thousand years ago. "But, since Tibet is a landlocked country and is materially backward, it may be in Tibetans' interest to remain within the People's Republic of China," he said. "However, that should not limit their right to preserve their culture, language and rich traditions of Buddhism."
Has he then ceded ground? Clearly, the man who considers himself a son of India, "since all my knowledge comes from India", has not. Even as recently as three months ago, a pro-Chinese Communist party publication called him a "double betrayer" and a "sly trap".
The Chinese authorities have begun talking about their right to find the successor to the 14th Dalai Lama, something that has worried and scared Tibetans in exile. Lobsang Sangay, the prime minister in the Tibetan government in exile, retorted that if they believed in reincarnation and rebirth, they should begin looking for reincarnations of Chairman Mao and Deng Xiaoping!
The Communist Party of China says the Dalai Lama cannot name a successor, as reincarnation will happen only after his death. Usually, the Dalai Lamas leave pointers behind. In 1995, the Dalai Lama had named a seven-year old in Tibet as the reincarnation of the Panchen Lama, the second most influential Tibetan Buddhist monk. The Chinese had named one of their own, and nothing has ever been heard of the boy named by the Dalai Lama.
Undeterred, the Dalai Lama has variously been talking about how he may reincarnate—possibly as a woman, a foreigner or even as someone outside Tibet. Even as some express concern over the state of his health, the Dalai Lama continues to be the jet setter he has been for most of the 55 years he spent in India. Dharamsala has become a pilgrimage centre, not only of Tibetan Buddhism, but also of the Dalai Lama. In Mcleodganj, Nobel Peace laureates and a starry array of the Dalai Lama's friends rub shoulders with local residents.
And, as Tibetans and well-wishers prayed for his long life on June 21, the Dalai Lama reminded them of one truth: "The Buddhas do not wash away the karma of other beings,/ Nor do they remove the consequences with their hands;/ They do not transmit their understanding into others' minds;/ They introduce beings to freedom by educating them about reality."