Tossing a cigarette, twirling his sunglasses or combing his hair, Rajinikanth has habitually infused swagger into the simplest of screenplays. This time, in the teaser of his new film Kabali, he walked slowly yet assuredly, playing up his don persona with a white beard and black sunglasses. The song neruppu da (he is fire) played in the background, igniting a fire within many a fan. In a few days, the teaser garnered millions of views on YouTube. As a 55-year-old Madras don, paired with Radhika Apte, Rajinikanth had gone viral once again. From aircraft and mugs to T-shirts and silver coins, his face graced countless products and the merchandise kept flowing.
Just two years ago, his daughter Soundarya R. Ashwin's live-action film Kochadaiiyaan, starring him, had flopped. As had the Rs 135-crore Lingaa. Disappointed by the box office performance, Rajinikanth returned money to distributors. Now, with Kabali, he would hope for a strong comeback. Pa. Ranjith has directed the movie produced by Rajinikanth's friend and leading Tamil producer Kalaipuli S. Thanu. The movie, made at a cost of Rs 100 crore, will release on July 22 in 4,000 screens in India and 2,000 screens abroad. It has already earned Rs 200 crore through distribution rights. And, even before the release, Rajinikanth has again proved that he is the most saleable actor in India.
Earlier this month, AirAsia painted part of its fleet with Kabali motifs. Amar Abrol, CEO, AirAsia, told THE WEEK: "Only a superstar like him calls for a dedication of this sort. Never in the history of Indian cinema has this been done for any other star. So this is AirAsia's way of paying tribute to thalaivar (leader) and his fans across the globe. We came up with the idea of doing a special flight from Bengaluru to Chennai for the first show of the movie on the day of its release. We have some exciting Kabali merchandise available for sale on board. AirAsia will be serving a special meal for all guests aboard the special flight. That's not all; we have also planned some interesting photo opportunities to create excitement on board."
Top brands like Bharti Airtel and Muthoot Fincorp have also used Kabali for promotions. But this is part of a trend. Over the past few years, Rajinikanth has not endorsed any brands. He is the brand. For instance, Lt Governor Kiran Bedi has requested him to be the Puducherry's ambassador. Writes P.C. Balasubramanian in his book Grand Brand Rajini: "To many, Brand Rajini may appear a facade. But to most it has the power to create an almost visual connect, instantly communicating to the world the idea of a brand that delivers."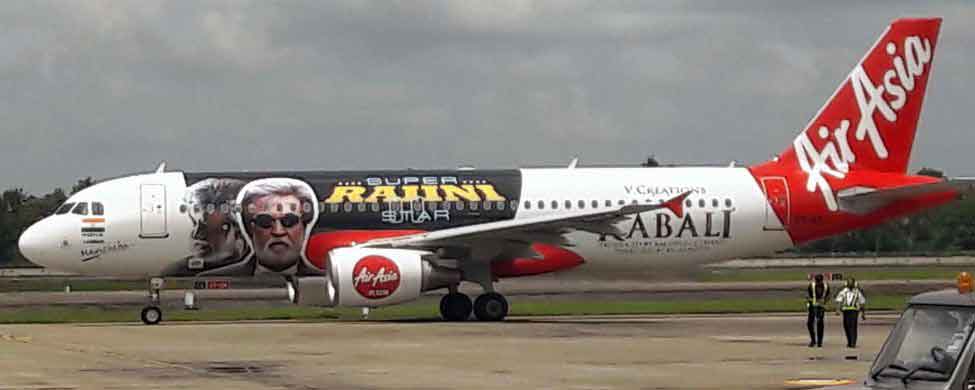 When bookings opened for Kabali on July 18, ticket prices zoomed to Rs 500 in many places. The serpentine queues at Chennai's Sathyam Cinemas, tested the patience of the police. Many people like Rahul Ramnathan, a software employee in Chennai, could not get a multiplex tickets even after standing in queues for long. He then bought a ticket for a 3am show in a small theatre on the outskirts of Chennai. "I don't mind if it is a low-class theatre and even if there is no AC," he said. "I only want to watch thalaivar's movie first day, first show, with all the whistles and coloured papers going up in the air."
On the day bookings opened, Rajinikanth was seeking blessings at his guru Satchidananda's Yogaville ashram in Virginia, US, with his daughter Aishwarya R. Dhanush. Back in Chennai, fans worshipped him as their god. Usually, when his films release, scores of fans, milk packets in hand, wait for the theatre gates to open to bathe his cutouts in milk. Said A. Ponnusamy, president of the Tamil Nadu Milk Dealers Employees Welfare Association: "Ahead of Rajiniknath's film release, milk packets are stolen from trucks before they are unloaded. I request Rajinikanth to appeal to his fans not to perform milk abhishekam."
Anticipating the crowds at cinemas, start-ups such as Chennai-based Fyndus and Bengaluru-based Opus declared a holiday on July 22. Freshdesk, an online support firm in Chennai, sponsored a special screening for all its employees.
K.S. Ravikumar, who has directed a dozen Rajinikanth films, said: "His mannerisms and his signature moves are simply unmatched. But, in real life, he is more humble than anyone. He is a director's actor who would always implement what the director wants on the sets."
Perhaps it is this humility that propelled him to such heights. In public, he is always seen in signature white kurta and has never attempted to hide his baldness.
And, unlike Bollywood stars like Aamir Khan or Shah Rukh Khan, or even his Tamil colleague Kamal Haasan, he does not experiment with new roles or looks. It is the cult image he has cultivated over the years that brought him success. In fact, Kochadaiiyaan failed because it was experimental and did not show Rajinikanth in his true avatar.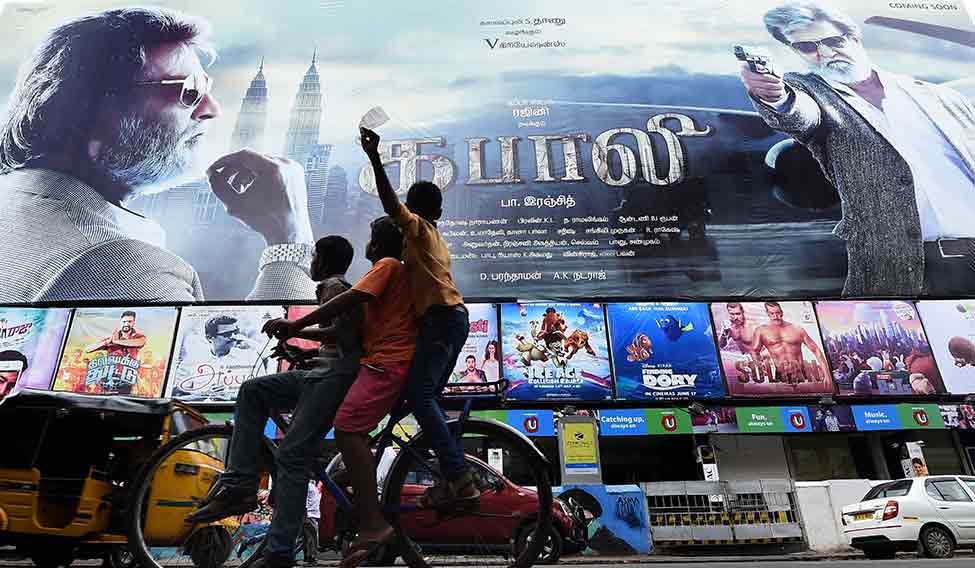 On sets, Rajinikanth is great uniter. He usually works on a 40-day or 60-day schedule for a movie, and every artist on the sets strives to abide by the schedule because it is Rajinikanth and the movie would definitely sell. "Be it on screen or off it, he is a man known for his inclusiveness," said actor Dhansika, who plays a gangster in Kabali. "When director Ranjith met me, his first question was if I would get a haircut," she said. "Though I was a little hesitant, I agreed immediately because it was a role with Rajinikanth."
Unlike other actors who sit with the director and the producer to brainstorm and predict box office collections, Rajinikanth has never interfered in their roles, during or after the shoot.
After more than 125 hits in four decades, perhaps the only challenge left is in the political arena. Rajinikanth comes from a state that has seen actors becoming chief ministers, such as M.G. Ramachandran and Jayalalithaa. Though he hasn't played an active role in politics, Rajinikanth has been a crucial part of Tamil Nadu elections. He supported the alliance of Dravida Munnetra Kazhagam and Tamil Maanila Congress in the 1996 elections, and the All India Anna Dravida Munnetra Kazhagam in 2004. He has been voicing his political opinions. In November 2014, at the audio launch of Lingaa, he said: "Everybody wants me to enter politics. I'm aware of its depth and danger. I'm not afraid, but just a little hesitant."
That frontier apart, the superstar reigns in his inimitable style. And though he is limited in his range—mostly relying on punchy dialogue and mannerisms—he makes sure the masses get their money's worth. And, as he says in the teaser: "Kabali vandutan nu sollu. Tirumbi vandutan nu sollu" (Tell them Kabali has come. Tell them he has come back).