S.S. Rajamouli is not new to taking risks. In 2012, he made Eega, a romantic fantasy in which the hero is reborn as a fly to avenge his death. It became the highest grossing Telugu film of all times, and won two national awards, one for best feature film in Telugu and the other for special effects.
The success of Eega emboldened Rajamouli to attempt a bigger feat. In 2012, he announced his plans to make a mythological drama. Three years later, when Baahubali hit the screens on July 10, it shattered several records. Made on a budget of Rs250 crore, Baahubali is India's most expensive film. On day one, it made Rs60 crore to become the all-time biggest opening grosser in India, breaking the record of Shah Rukh Khan-starrer Happy New Year, which came out in December 2014 and made more than Rs44 crore. It crossed the Rs100-crore mark in just two days.
So, what is so special about Baahubali? The special effects, of course, and also the grand canvas that Rajamouli has chosen to tell the story. He has beautifully recreated Mahishmati, a mythical kingdom that finds a mention in ancient texts, including the Mahabharat. His hero, Sivudu, has superhuman powers. He has the strength to erect a giant gold statue of Bhallala Deva singlehandedly.
Before its release, the film created quite a buzz in India and abroad. Bollywood filmmaker Karan Johar shared on Twitter a video of a long queue outside a theatre in Hyderabad of people waiting to book a ticket in advance for Baahubali. Johar's Dharma Productions is presenting the Hindi version of the film. "The audience usually is not concerned if it is a period film or an action movie or a comedy film. What they are concerned about is how the story is delivered," said Rajamouli in an interview with THE WEEK. "The case in point is the storyline of Eega. It was a ridiculous storyline where a housefly plays a major role. Even that did not deter the audience."
In the past decade, Rajamouli has delivered nine back-to back hits. Every new project he has taken up so far has proved to be bigger and better, whether it is the soap opera Shanti Nivasam, a mega serial that ran for more than 1,500 episodes, or his debut film, Student No 1. "He had always been passionate, committed and dedicated to his work," said filmmaker K. Ragavendhra Rao, who is Rajamouli's mentor and co-producer of Baahubali.
The film is an outcome of Raja-mouli's love for mythology, Rao's belief in his director and the characters created by Rajamouli's father, K.V. Vijayendra Prasad, who is a screenwriter and director.
Baahubali has a simple plot—the fight between good and evil. However, Rajamouli has added a certain depth to his characters, be it the central character Baahubali/ Sivudu played by Prabhas Raju or his uncle Bhallala Deva played by Rana Daggubati. All the actors have done justice to the larger-than-life roles. The audience is reminded of the characters in the Amar Chitra Katha. Not surprising, considering Rajamouli's fascination for Indian comics. "I have always loved such characters from my childhood," he said.
Rajamouli was six when his grandmother first narrated the stories from the Ramayan and the Mahabharat to him. He felt neither fear nor disgust at the blood and gore inherent in the stories because he was more interested in recreating the scenes in his head.
Born and brought up in Amareswara Camp in Raichur district of Karnataka, Rajamouli was one among 13 siblings. He spent his childhood in Chennai and later moved to Eluru in Andhra Pradesh to study at Sir C.R. Reddy College of Engineering.
He had a tough childhood as his father was always in debt. But the problems never deterred him. "I have always tried to learn from every step to just get ahead," he said. "More than my passion, fear is what drives me every time."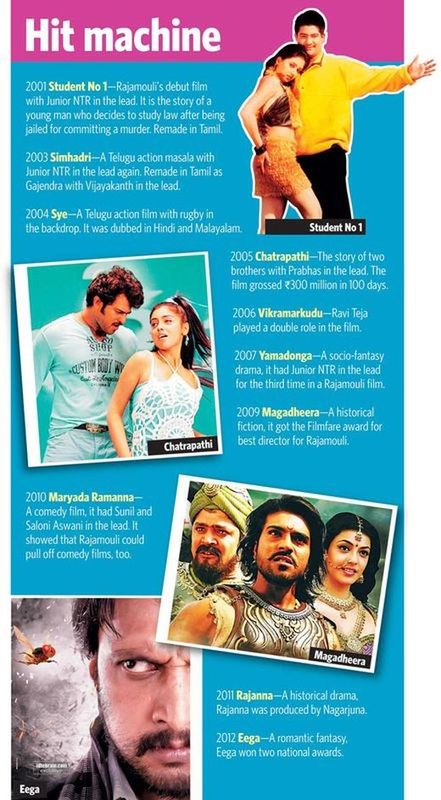 During his initial days of filmmaking, Rajamouli never bothered about camera angles or how the audience would receive his films. He would just place the camera, decide the shot and tell the actors what he wanted.
However, with time, he refined his skills and learnt the finer aspects of filmmaking. "Most of the times, when I finish my script and go for the shoot, I get a certain feeling," he said. "The feeling has to remain constant in me, right from the beginning till the end. It is the only force that drives me."
For Rajamouli, the challenge always has been to take the storytelling to the next level. "His strength lies in recreating the characters and their emotions in a new format with a blend of technology," said Shobu Yarlagadda, co-producer of Baahubali.
While Indian filmmakers are yet to master the art of seamlessly blending technology with storytelling, Rajamouli, 41, is among the few directors who has managed to do a commendable job. "It depends on how you tell it [story]," said Rajamouli. "And, I take pride in the fact that I am a good storyteller."
Rajamouli has a way with his actors. Before starting the shoot, he briefs them about the character they are going to play and the actors deliver what he wants to perfection.
At times, he enacts scenes for them. Like in Magadheera, Rajamouli showed Ramcharan Teja how to ride the horse and hold a sword. He also made a short appearance as a spirit seller in a song sequence.
"The name Rajamouli was enough for me to be convinced about Baahubali," said Johar, while explaining why he collaborated with Rajamouli. "I have seen his work before. I fell in love with his work when I saw Eega."
Unlike most directors in south India, Rajamouli does not worry about the economics involved in making a film like Baahubali. What excites him is the story and the characterisation. "The economics always comes later," he said. "You should not let money dictate your films. In Baahubali, it was the other way round. The creative content might be mine, but Shobu [Yarlagadda] was the main force behind it. He pushed the boundaries."
And, his producers trust him to deliver the best. "He has a rare quality in him. He doesn't look for profit, but for the best output that makes even the producer happy," said Yarlagadda.
Rajamouli gives credit to his family, especially his wife, Rama, who is a costume designer, for giving him strength and courage to pursue his passion. He is also grateful to his technical team, especially cameraman K.K. Senthilkumar and Srinivas Murali Mohan, who managed the visual effects, for not giving up on him during the making of Baahubali. "I work with a team of dedicated professionals. Baahubali was under production for three years. But we had the same dedicated team, who were very efficient," said Rajamouli, who plans to release the second part of the film in 2016.
His ultimate dream is to create characters on the lines of the Mahabharat. "I always loved such characters," he said. "One day, I intend to do that."
Interview/ S.S. Rajamouli
Comic books were my inspiration
In an interview with THE WEEK, S.S. Rajamouli talks about his fascination for all grand things. Excerpts:
How did you come up with Baahubali?
My first foray into mythology and period drama was through comic books. My mentor, K. Ragavendhra Rao, my love for mythology and the characters my father [screenwriter K.V. Vijayendra Prasad] used to discuss with me inspired the story.
You are a passionate director. What drives you?
It could be passion. It could be fear. Most of the times, when I finish my script and go for the shoot, there is a certain feeling inside me. From the beginning till the end, it drives me to make the movie successful.