Dattatreya wrote to the HRD ministry that the university had become a "den of casteist, extremist and anti-national politics...."
I always wanted to be a writer. A writer of science, like Carl Sagan. At last, this is the only letter I am getting to write," wrote Rohith Vemula Chakravarthi, a PhD student at Hyderabad Central University who committed suicide on January 17. The suicide note gives a peek into the personality of the 26-year-old, whose thesis topic was 'science, technology and society studies'; he comes across as a sensitive, intelligent and inquisitive person. In his note, he apologises to a friend in whose room he hanged himself and requests his fellowship arrears be sent to his parents and a part of it to be given to a friend who never asked for a large sum Rohith owed him. After signing off his letter with Jai Bheem, he writes: "I forgot to write the formalities. No one is responsible for my [sic] this act of killing myself." But the very question of who is responsible for his suicide has been making headlines, with fingers being pointed at political pressure and caste discrimination at the university.
Rohith was one of the five dalit scholars, members of the Ambedkar Students Association (ASA), who were expelled from the hostel by the university in December 2015 following a clash with members of the Akhil Bharatiya Vidyarthi Parishad (ABVP). The clash, it is said, took place in August last year after a Facebook post by an ABVP member, N. Susheel Kumar, who called ASA members goons for organising a protest against the hanging of Yakub Memon in the Mumbai blasts case. Though Susheel said he was attacked during the clash, ASA members denied it. An inquiry committee was constituted by the university, and after flip-flops, the students were asked to vacate the hostel rooms.
An ordinary campus clash became a big issue after Union Minister of State for Labour Bandaru Dattatreya wrote to the university and to Human Resource Development Minister Smriti Irani that the university had become a "den of casteist, extremist and anti-national politics," and sought action against the ASA members. The HRD ministry reportedly wrote five letters to the university, asking for details on the matter. Ministry officials say though the first letter was written on August 17, 2015, the university replied only on January 7. Irani said the administrative control belonged to the varsity, and the government has no role to play. The police have booked a case of abetment to suicide against Dattatreya and university vice chancellor P. Appa Rao.
A question being raised is whether the suicide was due to the university's approach or it had to do with a combination of several factors, including the fact that he had no mentor to discuss the despondency when it hit him. He had many friends, some rich and others like him, struggling with matters relating to caste identity. "My birth is my fatal accident. I can never recover from my childhood loneliness. The unappreciated child from my past," he says in the note. But the young man from Guntur did not let his caste or past limit his desire to excel. While his parents—his mother is a tailor and his father a security guard at a hospital—could do little to help him, the university failed to provide a support system and an environment where he could grow without caste being a deterrent.
PROF V. KRISHNA, controller of examinations at the university, however, says, "While there is no culture of having mentors in the university system, there are supervisors. And we were all there to support anyone in trouble. Without the support system, no movement can be sustained. This situation is unfortunate and Rohith was a particularly sensitive student."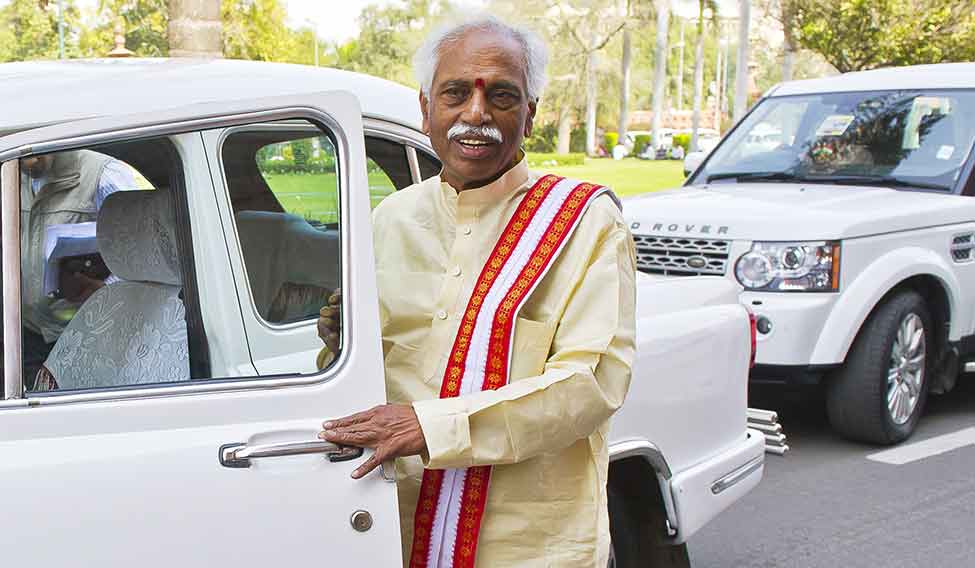 Nonetheless, Rohith was a vocal activist. He was used to confrontations and he braved them all, including aggression and communal politics. A video released by ABVP members after his death shows him standing up to a bunch of ABVP members all alone. When they ask him why he tore their posters, he says, "I saw it, I tore it. I saw ABVP and the saffron colour, so I tore it." Following the expulsion, Rohith and his friends were living in a tent on the university campus as a mark of protest. However, it seems, Rohith lost hope and gave up on his fight against the system.
The university seems to have a history of suicides. On February 24, 2008, Senthil Kumar, who was pursuing his PhD in Physics, committed suicide in his hostel room. At first, the authorities claimed that he died of a heart attack. When his post-mortem examination revealed that he had died of poisoning, a fact-finding committee was set up under Professor Vinod Pavarala, which reported that there was a thriving culture of caste discrimination at the university. Senthil and three of his batchmates, all from reserved categories, were not assigned supervisors. Under pressure to perform and with no guidance, Senthil failed in one of the courses, owing to which his fellowship stipend was denied. He belonged to a poor family of pig-breeders in rural Tamil Nadu. Two others who were not given supervisors left the programme eventually.
ROHITH'S DEATH is not the first dalit student suicide and probably will not be the last. But, behind the suicide of an intelligent dalit student there could be many more reasons than mere depression. It is more of a malaise in the Indian education system, much written and talked about yet seldom worked upon.
Instead, politicians have been busy making visits to the family and offering empty words. Among the first to land was Congress vice president Rahul Gandhi. And, local leaders will use his visit to their advantage for the Greater Hyderabad municipal elections to be held on February 2. Jaganmohan Reddy, too, was there to console Rohith's mother. Though his party, the YSR Congress, is not popular in Telangana, it helps to show solidarity at the time of need. The surprise party was Majlis-e-Ittehadul Muslimeen, which has kept away from student protests, too, has supported the dalit cause.
The BJP, however, has landed itself in a soup. Even as calls for Dattatreya's and Irani's resignation grow louder, the charge of intolerance has come back to haunt the party.
As the blame game over Rohith's suicide continues, his final words ring true: "The value of a man was reduced to his immediate identity and nearest possibility. To a vote. To a number. To a thing...."